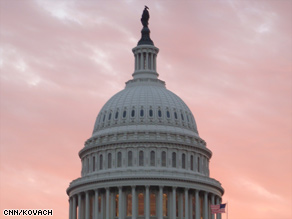 CNN: U.S. celebrates as President Obama vows new era
Barack Obama launched his presidency before an estimated 1.5 million people on the National Mall on Tuesday with somber yet confident tones, saying the country will overcome its serious economic and international challenges.
CNN: Obama calls for halt to Gitmo prosecutions
In one of his first acts in office, President Obama has ordered the U.S. government to suspend prosecutions of prisoners at Guantanamo Bay for 120 days, military officials said Tuesday.
CNN: Inauguration jubilation spreads across the country
Friends and strangers across the country gathered on the streets and in schools, churches, bars and auditoriums to celebrate the inauguration of Barack Obama as the first African-American president of the United States.
CNN: Bush's last day: Calls, candy and a flight to Midland
Former President George W. Bush and Laura Bush have landed in Midland, Texas, the former first lady's hometown and her husband's childhood home.
CNN: Scenes from the inauguration: First couple shares a dance
The president and first lady shared their first ballroom dance togehter since the swearing in when they made an appearance at the Neighborhood Ball Tuesday night.
CNN: Obama's inauguration: iReporters' view of history

CNN: Obama calls on lawmakers to join in 'civility and urgency'
A little more than two hours after taking the oath of office Tuesday, President Barack Obama called on lawmakers to reflect "what we know are in the hearts of the American people."
CNN: World congratulates Obama on taking office
Members of the international community have welcomed Barack Obama becoming the 44th President of the United States - and the first African-American to take leadership of his country.
CNN: Ted Kennedy expected to leave hospital Wednesday
Sen. Edward Kennedy will spend the night in a Washington hospital after suffering a seizure Tuesday afternoon during a luncheon for President Barack Obama.
CNN: Obama unveils new presidential Web site
In keeping with the theme that swept President Obama into the Oval Office, change has come to the official White House Web site.
CNN: World celebrates Obama's inauguration
CNN: Obama Chief of Staff puts a stop to pending Bush regulations
President Obama has wasted no time handling the Bush administration's unfinished business.
CNN: To celebrate Obama, Hollywood comes to Washington
It's unlikely President Obama will stop by, but for Hollywood fans the Ibiza nightclub is the hottest ticket in Washington tonight.
CNN: All eyes on the new first lady
"What should I wear" is a question many women have asked before dressing for a big event, but if you think you have it rough, step into Michelle Obama's shoes – Jimmy Choo shoes that is.
CNN: View from the Western ball
Attendees at tonight's presidential inaugural balls, like the 11,500 at the official Western ball, were lucky to spend maybe 20 minutes of their night with the president. The rest of the time, they were waiting — and not just for the first family to make an appearance.
CNN: A night at the ball
It's Joe Biden's home states ball, but it could be any giant prom or wedding party.
CNN: Scenes from the inauguration: 43 leaves a letter for 44
CNN: Obama signs first presidential proclamation
As his first official action after being sworn in, President Barack Obama signed three documents Tuesday, including a proclamation declaring a day of national renewal and reconciliation.
CNN: Senate confirms 6 Obama Cabinet officials, OMB director
In an early expected victory for President Barack Obama, the U.S. Senate approved seven high-ranking administration officials Tuesday afternoon.