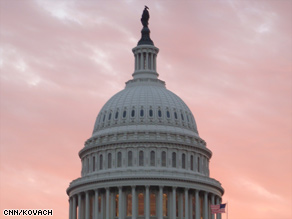 CNN: Obama retakes oath of office after Roberts' mistake
President Obama retook his oath of office Wednesday after Chief Justice John Roberts flubbed while delivering it at Tuesday's inauguration.
CNN: Hillary Clinton sworn in as secretary of state
Hillary Clinton was sworn in as the 67th U.S. secretary of state Wednesday afternoon after the Senate approved her nomination by a vote of 94-2.
CNN: Kennedy cites 'personal reasons' for dropping Senate bid
Caroline Kennedy has given up her bid for the U.S. Senate seat vacated by Hillary Clinton.
CNN: Open or closed, Guantanamo hurts U.S., ex-inmate says
Guantanamo Bay's legacy of torture will hurt the United States even if President Obama makes good on a pledge to close the prison camp, a former inmate says.
CNN: Vowing transparency, Obama OKs ethics guidelines
Promising "a new era of openness in our country," President Obama signed executive orders Wednesday relating to ethics guidelines for staff members of his administration.
CNN: A major Bush rule gets scrapped by Obama
It's the same Oval Office. The same desk. Even the same curtains. But President Obama has already made one major change: Go through eight years of White House photos, and you won't find one of former President Bush in the Oval Office without his jacket on.
CNN: Despite long odds, Coleman confident he will beat Franken
Sen. Norm Coleman, R-Minnesota, began packing his Capitol Hill office Wednesday, but indicated he has no intention of giving up his legal fight to serve another term in Congress.
CNN: Preston on Politics: Obama's 'Senate man'
It was a beautiful autumn day when I bumped into Sen. Joe Biden outside the U.S. Capitol, and I was desperately looking for information about questions that at the time were unanswerable.
CNN: Biden jabs Roberts for oath flub
Vice President Biden isn't letting Supreme Court Chief Justice John Roberts forget about his minor flub while administering the presidential oath of office on Tuesday.

CNN Poll: Americans split on closing Guantanamo Bay prison
A new national poll suggests Americans are split over whether the U.S. should close the detention facility in Guantanamo Bay.
CNN: Black first family 'changes everything'
Jamaal Young was watching Barack Obama and his family greet an ecstatic crowd in Chicago, Illinois, on Election Night when he realized that something seemed wrong.
CNN: Another sign being vice president is different than being president
As is customary with the change in administration, on Wednesday the Pentagon hoisted the new photograph of President Obama at the entrance where official visitors and heads of state are brought in.
CNN: Dean says goodbye as Kaine takes over DNC
After a four-year term that saw Democrats take control of the White House and both chambers of Congress, Howard Dean bid farewell to the Democratic National Committee on Wednesday, but not without offering a hearty endorsement of the incoming chairman, Virginia Gov. Tim Kaine.
CNN: GOP delays Holder confirmation for a week
The initial confirmation vote for Eric Holder, President Barack Obama's pick for attorney general, was postponed for a week Wednesday after a rancorous meeting of the Senate Judiciary Committee.
CNN: Powell names Obama's 'No. 1 problem'
The 300-point drop in the Dow Jones Industrial Average Tuesday reinforced just how dire an economic environment President Obama faces, Colin Powell told CNN.
CNN: Obama issues executive orders on ethics
Promising "a new era of openness in our country," President Barack Obama signed several executive orders Wednesday relating to ethics guidelines for staff members of his administration.
CNN: House GOP leaders want changes in Dems' $825B bill
House Republican leaders Wednesday asked for a meeting with President Obama on Thursday to offer major changes to the $825 billion economic recovery package proposed by House Democrats last week.
CNN: Disappointed inaugural ticket holders turned away
Optimistic chants of "change" and "O-bam-A" morphed into angered shouts of "Let us in!" outside the security gates to the inauguration. These folks had tickets, and they wanted in.
Washington Post: Staff Finds White House in the Technological Dark Ages
If the Obama campaign represented a sleek, new iPhone kind of future, the first day of the Obama administration looked more like the rotary-dial past.
Washington Post: Governor's Mansion Reception Canceled
Gov. Timothy M. Kaine abruptly canceled a reception planned for the governor's mansion next week after he discovered yesterday that the event's organizers were advertising it as a Democratic fundraiser.
NYT: Chinese TV Censors Part of Address by Obama
President Obama's 18-minute Inaugural Address on Tuesday was generally lauded by Americans for its candor and conviction. But the Chinese Communist Party apparently thought the new American president's gilded words were a little too direct.
NYT: Another Perk for Obama's People: Arcade Fire
So how lucky it is to be one of the staffers working for President Barack Obama over these past two years?