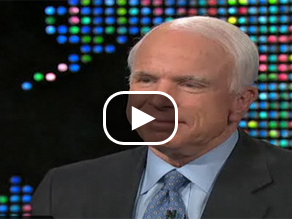 Watch McCain discuss his relationship with Palin.
(CNN) - Despite the post-election battle between Sarah Palin and John McCain's campaign advisors, the former Republican presidential candidate told CNN's Larry King both members of the GOP ticket remain "very close."
McCain — who has been edging his way back into the spotlight Palin never quite left - dismissed questions over his running mate's criticism of his campaign team. "Listen, I think the world of Governor Palin, her husband Todd, her family, I'm honored that she would run with me," he said in an interview Thursday.
"And look, whenever there is a losing campaign there is always a little bit of back and forth, and it happens post-mortem. I am so grateful to have her as a friend, and I believe that she represents a lot to the Republican Party in the future. I think she has a big role to play."
Palin and senior McCain aides, many of them anonymous, have traded criticism since the Republican ticket's defeat.
Last month, the Alaska governor told Human Events that following the campaign's media strategy was her biggest regret of the race. "I was not allowed to do very many interviews, and the interviews that I did were not necessarily those I would have chosen," she said. "But I was so thankful to have the opportunity to run with John McCain that I was not going to argue with the strategy decisions that some of his people were making regarding the media contacts...if I would have been in charge, I would have wanted to speak to more reporters, because that's how you get your message out to the electorate."
The Arizona senator would not tell King Thursday whether he was personally stung by Palin's criticism of his top aides. "Look, we're very close friends, and I talk to her all the time and look forward to seeing her, I think, in a week or so," he said. "We're very close."
McCain also side-stepped the question of whether he'd ever raised those comments with her. "Oh - these things always happen in campaigns," he said. "She has my respect and my affection and that's undying."
Last month, he told an interviewer Sarah Palin could not necessarily count on his support his former running mate if she chose to run for president.
"I can't say something like that. We've got some great other young governors," he told ABC then. "I think you're going to see the governors assume a greater leadership role in our Republican Party," he said, citing Governors Tim Pawlenty of Minnesota and Jon Huntsman of Utah.
"...Have no doubt of my admiration and respect for her and my view of her viability, but at this stage, again … my corpse is still warm, you know?"