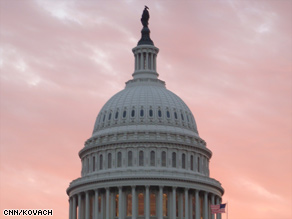 CNN: McCain: Closing Guantanamo Bay is the easy part
President Obama is facing great challenges as he takes office and may have made a hasty decision to close Guantanamo Bay without addressing all of the repercussions, Sen. John McCain told CNN's Larry King Thursday night.
CNN: George Mitchell named special envoy for the Middle East
Former Senate Majority Leader George Mitchell was named special envoy for the Middle East during an event at the State Department on Thursday afternoon. But the sleepy halls of the department's Foggy Bottom headquarters woke up and began buzzing with excitement this week, anticipating Secretary of State Hillary Clinton's arrival.
CNN: Obama gives military's interrogation rules to CIA
With the signing of an executive order Thursday, President Obama put the U.S. military and CIA on the same page when it comes to interrogating prisoners captured in the war on terrorism.
CNN: Questions surround Obama nominee's contractor ties
The head of the Senate Armed Services committee said Thursday that he needed more information on how the nominee for deputy secretary of defense would handle conflicts of interests in his Pentagon post.
CNN: Reporter's notebook: Clinton gets rock-star welcome
The State Department might have been slow the past few months, as the Bush administration wound down and everyone focused on the presidential campaign.
CNN: Gibbs meets the press, reveals daily Obama economy briefing
In his first official briefing for journalists since the inauguration, White House press secretary Robert Gibbs said Thursday that President Obama is now receiving a daily economic briefing, similar to the daily intelligence briefing presidents have received for decades.
CNN: Palin looking for book deal?
Could Alaska Gov. Sarah Palin be coming to a bookstore or television near you?

CNN: Source: Paterson was not going to pick Kennedy
Gov. David Paterson had no intention of appointing Caroline Kennedy to fill the Senate seat vacated by Hillary Clinton, a source close to the New York governor told CNN Thursday.
CNN: McCain says he and Palin plan to meet this month
Despite the post-election battle between Sarah Palin and John McCain's campaign advisors, the former Republican presidential candidate told CNN's Larry King both members of the GOP ticket remain "very close."
CNN: Cheney to magazine: Bush should have pardoned Libby
George Bush should have pardoned I. Lewis "Scooter" Libby, Dick Cheney said after stepping down as vice president this week.
CNN: Malveaux: Presidential plaudits for Gibbs' podium debut
It was a funny moment in the White House Press Office. And a rare one. I was in the White House press office when in walks President Obama. It happened so fast, it even startled his aides.
CNN: Obama-world begins shake-up of DNC
The Obama administration began its expected shake-up of the Democratic National Committee on Thursday, as staff members learned that every department and job at the organization will be subject to a review over the next four weeks.
CNN: Official Inauguration crowd estimate: 1.8 million
A record crowd lined the National Mall and parade route on Inauguration Day, Washington officials said Thursday.
CNN: Gibbs: Obama enjoys 'living above the company store'
The Obamas are settling into the new home just fine, White House Press Secretary Robert Gibbs said Thursday.
CNN: Obama says U.S. will actively seek peace between Israel, Palestinians
President Barack Obama weighed in Thursday on the conflict between Israel and Hamas, urging Israel to open Gaza border crossings and telling the Islamic fundamentalist organization to stop rocket fire into the Jewish state.
CNN: Cindy McCain's two worst days
It was a long and grueling presidential campaign, but two days were particularly hard for Cindy McCain.
CNN: iReport: 'Survivors of the purple tunnel of doom' weigh in
The oath of office flub wasn't the only Inauguration Day snafu: Thousands of ticket-holders were trapped in a tunnel just yards away from the site of President Obama's swearing-in.
Washington Post: Senate Gets Reacquainted With McCain the Maverick
A joke made its way around the Capitol yesterday: How do you know the 2008 election is really over? Because John McCain is causing trouble for Republicans again.