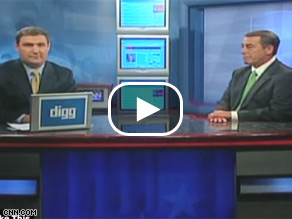 CNN Political Editor Mark Preston sat down with House Republican Leader John Boehner Friday. Watch the interview.
WASHINGTON (CNN) – Should marijuana be legalized? What will you do to reach out to the Ron Paul Republicans and like-minded libertarian-leaning Republicans? Is waterboarding torture?
House Minority Leader John Boehner of Ohio fields a lot questions each day here in the nation's capital - but they're usually tossed at him by professional journalists. And I can't recall the last time any of them were marijuana-related.
On Friday, Boehner sat down with me for a 20-minute interview. But most of the questions weren't mine — they were yours.
The interview was a joint venture between CNN.com and the popular social news site Digg.  Nearly 1,500 questions for Boehner were submitted over a two-day period. The Digg community voted on each question, and ranked them in the order of interest. I was able to ask the Republican leader the top 10, as well as a very sharp question submitted through CNN's iReport about what the Republican Party can do to attract young voters.
The interview took place right after Boehner met with President Barack Obama at the White House. Before I dove into the Digg questions, I had to ask the Republican leader if he thought he could work with the new president.
"Only time will tell," the Republican leader told me. "The country needs for the president to succeed and for the president to succeed, Congress needs to work with him, and I think that we need to continue to work together to try to resolve issues that the American people expect their government to resolve."
So what were his thoughts on marijuana, waterboarding, and Ron Paul?
Click here to find out.