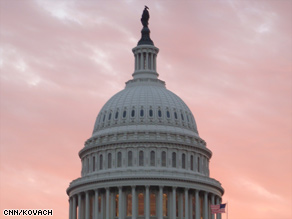 CNN: Will Obama's economic plan stimulate bipartisan support?
President Barack Obama, who arguably won a large chunk of political capital in the 2008 election, is now looking to cash in as he urges Congress to pass a massive economic stimulus package.
CNN: Obama's unsung hero
CNN's John King talks to President Obama's campaign manager, David Plouffe.
CNN: Paterson: 'No signal from me' for Kennedy to quit Senate effort
New York Gov. David Paterson said Sunday that Caroline Kennedy received "no signal from me that she had to withdraw" from her campaign to fill Hillary Clinton's vacant U.S. Senate.
CNN: Senator: End Blagojevich-type appointments
First it was the uproar over the appointment by Illinois Gov. Roy Blagojevich of former state attorney general Roland Burris to fill President Barack Obama's remaining term in the Senate.
CNN: McCain: I won't be a 'rubber stamp' for Obama
Sen. John McCain, who faced a long, bruising campaign against President Obama, has taken on a new role in the Obama administration: "Loyal opposition."

CNN: Can Obama broker Middle East peace?
President Barack Obama got off to a good start last week where the Middle East is concerned, using his first full day on the the job to phone four key regional leaders to discuss peacemaking plans, then following that up on Thursday by announcing the appointment of former Sen. George Mitchell — widely respected for his work in brokering peace in Northern Ireland and previous mediation efforts in the Israeli-Palestinian conflict — as the U.S. special envoy to the Middle East.
Anchorage Daily News: Governor rekindles massive dam plan
Gov. Sarah Palin's goal for Alaska to receive 50 percent of its electricity from renewable energy by 2025 is reviving long-held dreams of the state building a giant hydro project like the Susitna dam. It's also inspiring skeptical questions about realism and expense.
Washington Post: At Noon on Jan. 20, Lots of Things Turned to Pumpkins
As George W. Bush learned, there's an upside to being president: He amassed a dazzling array of gifts from foreign dignitaries.
Minneapolis Star Tribune: Pawlenty to release budget plan on Tuesday
State leaders have lamented the giant hole in Minnesota's budget for two months now. This week, they get down to the business of fixing it.
Gov. Tim Pawlenty is due to release his budget blueprint for the state on Tuesday.
Portland Tribune: Adams: I will not resign
Embattled Mayor Sam Adams said he will not resign in the wake of a teenage sex scandal Sunday evening.
Washington Post: Senate Seat Is Latest Stop On Bennet's Unlikely Ride
Michael Bennet has been sleeping in his mother's Woodley Park house and taking the Metro to a borrowed conference room in the Hart Senate Office Building to meet with staff members, who are also on loan.