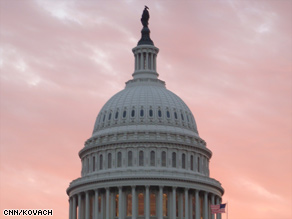 CNN: 'Americans are not your enemy,' Obama tells Muslims
President Obama said his administration will offer a hand of friendship to the Muslim world, but will hunt down terrorist organizations that kill innocent civilians.
CNN: Will Obama's economic plan stimulate bipartisan support?
President Barack Obama, who arguably won a large chunk of political capital in the 2008 election, is now looking to cash in as he urges Congress to pass a massive economic stimulus package.
CNN: Blagojevich takes his case to TV circuit
As Gov. Rod Blagojevich's impeachment trial proceedings got under way Monday, the embattled Illinois governor hit the media circuit, answering questions about Oprah, foul language and why he isn't resigning.
CNN: Senate confirms Geithner as Treasury Secretary
Senate lawmakers voted Monday to confirm Tim Geithner as the next Treasury secretary amid ongoing uncertainty about the nation's economic future.
CNN: Presidential regrets? They have a few
Two former presidents reflected on their greatest regrets in office Monday, each looking back to issues that continue to plague the nation years later.
CNN: Limbaugh: Obama is 'frightened of me'
Radio host Rush Limbaugh said Monday that President Obama is "frightened of me."
CNN: Podcast: Saving the economy — and the planet
It was a one-day unemployment bloodbath as tens of thousands of people lost their jobs at some of America's biggest and best-known corporations.

CNN: Conyers again subpoenas Rove
House Judiciary Committee Chairman John Conyers issued a new subpoena for former Bush adviser Karl Rove Monday.
CNN: Borger: Obama, GOP on their first date
If there was one message that resonated loud and clear from the Obama campaign, it was this: Let's get past all of the partisanship and work together to get something done.
CNN: What's next for Guantanamo Bay detainees?
With President Barack Obama limiting how and where detainees at Guantanamo Bay can be interrogated, some analysts are asking if intelligence agencies will be able to get the information they need to keep the country safe — and where the prisoners will eventually end up.
CNN: Winfrey shocked over 'Senator Oprah' news
Surprised to hear Illinois might have had a Senator Oprah? So was Winfrey herself.
CNN: White House press office hit by e-mail outage
President Obama has his blackberry — but his tech-savvy press operation has been without e-mail for most of the day, and it's not yet clear when they'll get it back.
CNN: Poll: Caroline Kennedy to blame for Clinton replacement process
More than three times as many New Yorkers in a new poll blame Caroline Kennedy and her team for the messy process surrounding the search for Hillary Clinton's Senate replacement than fault the state's governor, David Paterson — although, on balance, his final selection meets with their approval.
CNN: Senator accuses Pres. Obama of 'environmental thuggery'
Sen. James Inhofe called President Barack Obama's plan to allow 14 states to regulate their own fuel emission standards "environmental thuggery" in an interview published Monday.
CNN: President Obama's aunt remains in US legally for now
President Barack Obama's Kenyan aunt is in the United States legally, at least for the time being, CNN has learned.
CNN: Obama U.N. ambassador outlines goals
President Barack Obama's ambassador to the United Nations, Susan Rice, arrived for her first day on the job Monday calling the U.N. a "great institution" but saying there is "room for improvement."
CNN: Coleman attends trial, challenges recount results
Former Republican Sen. Norm Coleman has not given up the fight for Minnesota's Senate seat.
CNN: Obama to let states set auto emission rules
President Obama signed a memorandum Monday requiring the Environmental Protection Agency to reconsider an application by California to set more stringent auto emissions and fuel efficiency standards than required by federal law.
CNN: Clinton to name special envoy on climate change
Secretary of State Hillary Clinton will name a former Clinton White House official as her special envoy for climate change, senior State Department officials told CNN on Monday.
Washington Times: Taxes at the golf course, car work possible
Golf course owners and some of their customers are teed off at Gov. Arnold Schwarzenegger. So are veterinarians, auto mechanics and amusement park operators.
The Hill: Welch gives back $20K from Rangel
Rep. Peter Welch (Vt.), a new Democratic member of the House ethics committee, gave back nearly $20,000 in donations he received from Rep. Charles Rangel (D-N.Y.), who is under investigation by the panel for an array of ethics charges.
NYT: At the C.I.A., a Wait to Meet the New Boss
With President Obama's national security team nearly all in place, there is one high-level appointee who could still be weeks away from walking into his new office: Leon E. Panetta, the White House choice to become director of the Central Intelligence Agency.
NYT: A First-Class Show
The inauguration of Barack Obama stirred up a lot of emotions, and one of them might have been air rage of the kind that nowadays ends up involving cops and lawyers.