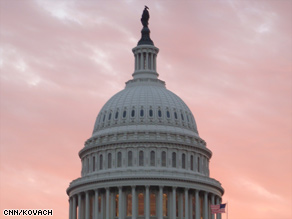 CNN: GOP targets Reid in new ad buy
National Republicans are using their first television ad buy of the 2010 election cycle to criticize Senate Majority Leader Harry Reid, D-Nevada, in his own backyard, a Republican source tells CNN.
CNN: Obama tells GOP no compromise on tax rebates
President Obama told Republican House leaders Tuesday he plans to stand firm on the part of his $825 billion economic recovery plan that calls for tax rebates for nearly all working Americans - including those who make too little to owe income taxes.
CNN: Palin launches political action committee
Sarah Palin has launched a new political action committee called SarahPac, signaling that the Alaska Governor intends to remain a player in national politics even after her failed bid to become the country's first female vice president.
CNN: After suspension for nodding at Obama, drum major quits
An Ohio man who was suspended as the drum major of a band for giving President Obama a nod during last week's inaugural parade is calling it quits.
CNN: Biden apologizes to Roberts for oath of office joke
An aide to Vice President Joe Biden tells CNN he called Chief Justice John Roberts last week to apologize for a light-hearted remark he made over the flubbed Inauguration Day oath of office.
CNN: Bunning defiantly promises to seek re-election in 2010
Republican Senator Jim Bunning declared emphatically Tuesday that he is running for re-election in 2010, despite his cash-poor war chest and reports that some Republicans want him to step aside.

CNN: Specter will support Holder
The top Republican on the Senate Judiciary Committee announced Tuesday he will support the nomination of Attorney General-designate Eric Holder when the panel votes on it Wednesday.
CNN: Jill Biden begins teaching at DC-area community college
Jill Biden is back in the classroom: The veteran professor and wife of Vice President Jill Biden began a new job at a DC-area community college Tuesday.
CNN: New Yorkers back Bloomberg, but want term limits restored
A new poll suggests that New York City voters approve of the way Michael Bloomberg is handling his job as mayor, even if they oppose the extension of term limits that allowed him to run for a third term.
CNN: Obama downplays expectations of GOP support
President Obama seemed to lower expectations Tuesday on how many Republicans he expects to vote for his stimulus package, telling CNN Radio he's not sure even 50 percent of GOP caucus will support the bill when it comes to a vote.
CNN: Stimulus bill writes out Blagojevich
The $825 billion stimulus bill the Obama administration is trying to push through Congress would prevent any money given to the state of Illinois from being handled by the state's impeached governor, Rod Blagojevich.
CNN: Gates: Ethics reform has a cost
Defense Secretary Robert Gates said Tuesday the continued push to make sure administration officials and government employees do not have ties to private industry has a cost — the inability to find experienced people to fill important jobs.
CNN: Obama presses Republicans on stimulus plan
In the first real test of bipartisanship for his new administration, President Barack Obama met with Republican representatives on Capitol Hill Tuesday to discuss his proposed $825 billion economic stimulus plan.
CNN: New York Senate chaos takes toll on governor
The perceived chaos surrounding the appointment to fill Secretary of State Hillary Clinton's Senate seat has taken a toll on New York's governor, according to a new poll.
CNN: Nation's chief intelligence officer resigns
Director of National Intelligence Michael McConnell has resigned effective immediately, DNI spokesman Ross Feinstein said Tuesday.
CNN: Obama scores well in second post-inauguration poll
So far, so good for President Barack Obama, at least in the court of public opinion.
CNN: GOP leaders urge colleagues to vote no on Stimulus
House Republican Leader John Boehner and House Republican Whip Eric Cantor urged members to vote no on the House Democrats' stimulus bill Wednesday, unless there are some changes.
CNN: Gillibrand sworn in as U.S. senator
After serving only two years in the House, former Rep. Kirsten Gillibrand was sworn in as the junior senator from New York Tuesday afternoon.
Detroit News: Kilpatrick wants to pack up, leave Mich.
Kwame Kilpatrick's plans to leave Michigan will make a political comeback by the former mayor more difficult, analysts said Tuesday.