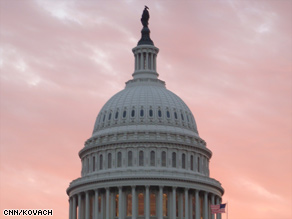 CNN: House passes $819 billion stimulus bill
The House on Wednesday evening passed an $819 billion economic stimulus package Wednesday on a party-line vote, despite President Obama's efforts to achieve bipartisan support for the bill.
CNN: Senate stimulus bill would fund stop-smoking programs
Smoking cessation programs make up $75 million of the economic stimulus bill making its way through the Senate, according to Sen. Tom Harkin, D-Iowa, who sponsored the funding.
CNN: Preston on Politics: GOP's eternal flame burns outside D.C.
The only bright spot in the nation's capital for Republicans these days seems to be a flame that burns 24 hours a day in the courtyard at the campaign headquarters for Republican senators.
CNN: Schneider: Republicans take on a new rallying cry
With the departure of President George W. Bush, Republicans have a new rallying cry: "Back to basics!"
CNN: Senate confirms Blair as director of national intelligence
The Senate confirmed by unanimous consent retired Adm. Dennis Blair as director of national intelligence Wednesday.
CNN: In first week, Obama takes initial steps on ambitious agenda
President Obama stepped into office with big approval ratings met with high expectations as he faces a deteriorating economic situation, an unpopular war in Iraq and the Middle East conflict.

CNN: Blagojevich wants to speak at impeachment trial, lawmaker says
Embattled Illinois Gov. Rod Blagojevich wants to speak at his impeachment hearing before the state Senate on Thursday if lawmakers allow him to do so, Senate President John Cullerton said Wednesday.
CNN: Gore warns of damage from climate change
Suggesting that the planet will soon reach an irreversible "tipping point" of damage to the climate, former Vice President Al Gore told members of Congress on Wednesday that the United States needs to join international talks on a treaty.
CNN: Holder's AG nomination heads to full Senate
The Senate Judiciary Committee voted 17-2 on Wednesday to send the nomination of Attorney General-designate Eric Holder to the full Senate.
CNN: Islamabad: No deal allowing U.S. Predators into Pakistan
Islamabad has not given the U.S. permission to strike suspected al Qaeda targets in Pakistan with unmanned aircraft, a Pakistan Foreign Ministry spokesman said Wednesday.
CNN: Ahmadinejad welcomes Obama's offer of change
Iranian President Mahmoud Ahmadinejad said Wednesday that he welcomes the kind of change U.S. President Barack Obama offered in an interview with an Arab-language television network.
CNN: Gingrey apologizes for Limbaugh criticism
Republican Rep. Phil Gingrey of Georgia apologized Wednesday for criticizing conservative hosts Rush Limbaugh and Sean Hanity, assuring his supporters that "I am one of you."
CNN: Podcast: The results are in
The results are in. In the latest installment of CNN=Politics Daily, the House weighs in on the stimulus. CNN Senior Congressional Correspondent Dana Bash takes a look as the president's economic plans are put to the test.
CNN: Obama toasts bipartisanship
Even if they disagreed on the stimulus bill, President Obama and a dozen bipartisan members of Congress can agree on the post-vote agenda: the group will raise their glasses at the first cocktail party in the new president's White House on Wednesday night.
CNN: President Obama's first foreign trip to Canada
President Obama will take his first foreign trip as commander in chief to Canada next month, his press secretary announced Wednesday.
CNN: New analysis suggests growing Democratic edge
The nation was evenly divided during the bitterly fought 2000 campaign, but the election night map was not: Viewers saw a sea of red flooding most of the country, with blue states ringing the coasts.
CNN: Obama envoy arrives for talks with Israelis
President Obama's newly appointed envoy to the Middle East, George Mitchell, arrived in Israel on Wednesday as part of a new U.S. effort to work toward a broader peace between Israel and the Palestinians.