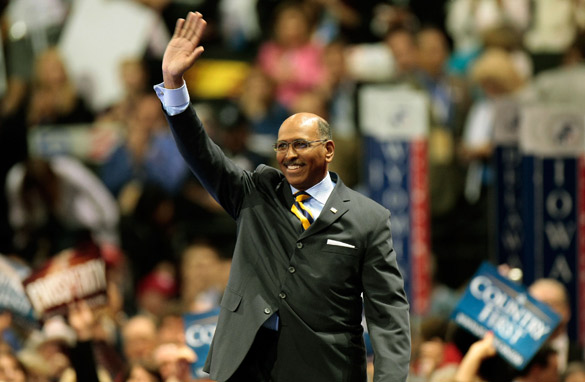 Michael Steele was picked Friday to be the RNC's first African-American chairman. (Photo Credit: Getty Images/File)
WASHINGTON (CNN) - Members of the Republican National Committee elected their first-ever African-American party chief on Friday, choosing former Maryland Lt. Gov. Michael Steele to chair the organization after six tumultuous rounds of voting.
Watch: 'It's time for something completely different,' says Steele
The often contentious race for the chairmanship came down to a choice on the final ballot between Steele and Katon Dawson, the South Carolina GOP chairman who secured strong support from party insiders after former RNC leader Mike Duncan dropped out of the race earlier in the day.
Steele emerged as the winner on the sixth ballot, earning 91 votes to Dawson's 77.
"We're going to say to friend and foe alike, we want you to be a part of us," Steele told party members in his victory speech. "And to those of you who will obstruct, get ready to get knocked over."
For the duration of his campaign, Steele fought suspicions that he was too moderate to lead the party because of his blue state roots and his former membership in the Republican Leadership Council, a group that sought to curb the influence of social conservatives in the party.
"I'm proud to say I'm a conservative, have been, always will be," Steele told CNN earlier this month. "So this notion that I'm a moderate is slightly overblown, and quite frankly a lie."
Steele was similarly hampered by the perception that he was too much of an outsider to run the 168-member party, but he was able to demonstrate momentum in the final days of the campaign by rolling out a cluster of endorsements.
He also boasted the help of some of the country's top political consultants: At a closed-door question-and-answer session with members late Thursday, Steele told the crowd he had spent over $200,000 on the race, more than any other contender.
The new chairman brings a national profile to the committee, having shot to fame in the political world during an underdog Senate bid in 2006 distinguished by a series of clever TV commercials. He has since become a fixture on cable talk shows, experience that boosted his reputation as the most able communicator in the field of candidates.
During the Republican National Convention in St. Paul last summer, Steele made a splash by coining the phrase "Drill, baby, drill!," which quickly morphed into a rallying cry for the GOP base at campaign rallies around the country.
After Friday's final vote, Steele assembled a press conference and told reporters that the GOP needs to fix their "image problem" by focusing on "issues that touch the fabric of people's lives."
"We have been mis-defined as a party that doesn't care, a party that's insensitive, a party that is unconcerned about minorities, a party that is unconcerned about the lives and the expectations and dreams of average Americans," Steele said. "Nothing could be further from the truth."
Steele promised that the party will be run as a bottom-up organization and that the RNC will be "moved into the grassroots." But he offered few specifics on his plans to re-structure the party, saying only that he hopes to get fresh ideas from state parties.
"My expectation is that they're going to come to me with a plan, a strategy," he said of the states.
Steele's victory capped off a tumultuous day that saw six arduous rounds of voting and an acknowledgment of defeat from Duncan, who stepped aside after the third ballot, having bled support throughout the voting process.
"Obviously the winds of change are blowing here at the RNC," Duncan told party members, who gave him a standing ovation.
On the fourth ballot of the day, with many members no longer having to consider their loyalty to Duncan, Dawson rocketed into the lead with 62 votes, putting him ahead of Steele's 60.
But Dawson's short burst of momentum was blunted minutes later when former Ohio Secretary of State Ken Blackwell quit the race and surprised the audience by throwing his support behind Duncan. On the subsequent ballot, Steele picked up 19 votes while Dawson gained just seven.
Michigan GOP chairman Saul Anuzis, whose support topped out at 31 votes, dropped out after the fifth round of voting but did not endorse a candidate. Most of his supporters then backed Steele in the final vote.