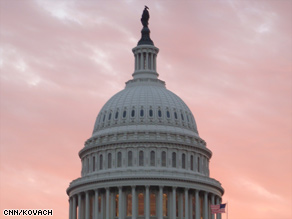 CNN: Illinois senators vote to oust Blagojevich from office
The Illinois Senate on Thursday voted unanimously to remove impeached Gov. Rod Blagojevich from office.
CNN: Obama blasts bonuses for struggling Wall Street
President Barack Obama called the prospect that some of the $700 billion Wall Street bailout could end up paying for bonuses to managers of struggling financial institutions "shameful" Thursday.
CNN: GOP will face more pressure to back Obama's plan
Voters in Cleveland, Philadelphia and Reno will wake Friday morning to a new radio advertisement calling on them to urge their Republican senators to support President Obama's stimulus plan.
CNN: Politics plays a part in President Obama's Super Bowl pick
President Obama made a major endorsement Thursday, announcing his support for the Pittsburgh Steelers in this Sunday's Super Bowl showdown.
CNN: Obama and Palin attending same weekend dinner
Guess who's attending the same dinner this weekend?
CNN: Day of vindication for grandma as pay law signed
For Lilly Ledbetter, it was a day of vindication over a decade in the making.
CNN: Commentary: Republicans, don't patronize Hispanics
As the members of the Republican National Committee prepare to choose a party chairman to serve for the next two years, the calls for new "Hispanic outreach" initiatives are flying - in my view, unnecessarily.

CNN: McConnell warns of grim GOP future
Senate Minority Leader Mitch McConnell painted a downright dismal view of the state of his party Thursday afternoon, telling Republican National Committee members the GOP is in grave danger of being marginalized to a regional party.
CNN: Podcast: The fundamental principle of equality
It's an important act to further an important goal. In the latest installment of CNN=Politics Daily, the president signs his first bill and makes a statement about equal pay for equal work. Watch President Obama talk about one woman's fight, and what this new law will mean for all women.
CNN: RNC members have mixed emotions about Obama
One person definitely won't be winning the topsy-turvy race to lead the Republican National Committee: Barack Obama.
CNN: Sam Kass joins White House kitchen staff
There's a new face in President Obama's kitchen cabinet.
CNN: DNC seeks to join RNC suit over McCain's reform law
The Democratic National Committee is backing a piece of trademark legislation championed by former GOP presidential nominee Sen. John McCain — asking the courts to allow it to defend the McCain Feingold campaign finance reform law against a challenge by the Republican National Committee.
CNN: Holbrooke to travel to South Asia
Richard Holbrooke, the administration's new envoy for Afghanistan and Pakistan will make his first trip to the region next week, the State Department said Thursday.
CNN: Who is Blago's replacement?
Illinois Lt. Gov. Patrick Quinn steps up to replace Rod Blagojevich Thursday now that the state Senate has voted to removed the Democratic governor from office.
CNN: Saltsman out of the running for RNC chair
There are now just five candidates in the race to chair the Republican National Committee.
CNN: In sharp reversal, Lieberman praises Obama's Afghanistan policy
Months after slamming then-presidential candidate Barack Obama's world view as "naive," Sen. Joe Lieberman reversed course in a critical foreign policy arena Thursday, praising the new administration's approach in Afghanistan.
CNN: Capitol Visitors Center told to send back 'Made in China' items
Washington souvenirs worth $100,000 — including images of the Capitol dome and printings of the U.S. Constitution — are locked in storage, blocked from sale in the new U.S. Capitol Visitors Center because the items are made in China.
CNN: A shoe monument shines at Iraqi orphanage
For the war-beaten orphans of the northern Iraqi city of Tikrit, this big old shoe fits right in their hearts.
WSJ: After Jabs at Cheney, Biden Pursues an Activist Role
Vice President Joe Biden, in a bid to become an influential second-in-command, is striving to carve out meaty roles for himself quickly.
NYT: The White House Spray
At the White House today, news photographers streamed into the Oval Office for what's known as a "pool spray," a very brief photo opportunity. This one, in fact, lasted 30 seconds.