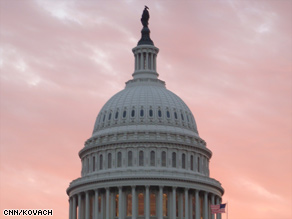 Senate stimulus plan: $885 billion
NEW YORK (CNNMoney.com) - The stimulus plan before the Senate would increase the deficit over 10 years by $885 billion, according to a new analysis released on Monday by the Congressional Budget Office.
GOP senators draft stimulus alternative
WASHINGTON (CNN)– A group of Republican senators drafted an alternative stimulus measure that narrows government spending to infrastructure programs and helping unemployed Americans, addresses the housing crisis and relies mostly on tax cuts.
Gates to brief Obama on shifting troops to Afghanistan
(CNN)– Defense Secretary Robert Gates will brief President Obama on Monday afternoon about specific plans for adding 15,000 troops to Afghanistan.
Gregg accepts Commerce offer, Newman to take his seat
(CNN)–Two senior administration officials say Judd Gregg has accepted an offer to be Commerce Secretary. An announcement will be made Tuesday morning at the White House.
Florida governor considers Senate run
WASHINGTON (CNN) – Florida Gov. Charlie Crist is not ruling out a run for the Senate in 2010, but for now is focusing all of his attention on the legislative session, a top ally tells CNN.
Grassley takes aim at Obama vetting process
WASHINGTON (CNN) — Immediately before the Senate Finance Committee began its closed-door meeting to consider former Sen. Tom Daschle's failure to pay certain taxes, the panel's top Republican said he had concerns about the Obama administration's vetting process.
First lady rallies education department staffers
WASHINGTON (CNN) — In one of her first public speaking events as first lady, Michelle Obama told employees at the federal Department of Education on Monday to "roll up (their) sleeves" and prepare for "hard work" as the new administration seeks to expand education funding in the face of the economic downturn.
Gingrich says Palin has head start in 2012
(CNN) — It's impossible to know how the Republican presidential field will stack up three years from now, yet former House Speaker Newt Gingrich says one candidate in particular may have a big head start.
NYT: Obama's Ethics Reform Promise Faces Early Test
During almost two years on the campaign trail, Barack Obama vowed to slay the demons of Washington, bar lobbyists from his administration and usher in what he would later call in his Inaugural Address a "new era of responsibility." What he did not talk much about were the asterisks.
The Hill: Bankrolling charitable gifts
Financial firms and other companies receiving billions of dollars in federal bailout money spent hundreds of thousands of dollars to pay for meetings and charitable gifts on behalf of lawmakers.
Washington Post: Daschle's Woes Test An Insider's Insider
As he battles this week to save his nomination to be secretary of health and human services, one thing is certain: No one in Washington has a better-positioned network of allies in the Obama administration than Thomas A. Daschle.
CQ Politics: Gregg Voted to Kill Commerce Before He Agreed to Lead It
President Obama's new candidate to run the Commerce Department voted in favor of abolishing the agency as a member of the Budget Committee and on the Senate floor in 1995.
NYT: Political Lessons Taken on the Fly by Gillibrand
That smile never disappears.
A Long Island congresswoman is so angry about the new senator's views on gun rights that she threatens a primary challenge next year? Senator Kristen E. Gillibrand murmurs that she really looks forward to working with her.
WSJ: Lobbyists Raise Stimulus Price Tag
Lobbyists for industry and labor are gearing up to add costly proposals Tuesday to the Senate's nearly $890 billion economic stimulus plan