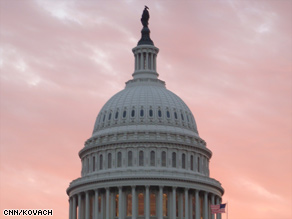 CNN: Geithner Unveiling New "Financial Stability" Plan Monday
Even as the Obama administration struggles to sell a massive economic stimulus plan, Treasury Secretary Timothy Geithner is planning Monday to unveil a separate financial stability plan that could cost hundreds of billions of dollars more to buy up troubled assets from banks and more broadly deal with the credit crunch and foreclosure crisis, according to two senior administration officials.
CNN: Justice Ginsburg has surgery for cancer
Justice Ruth Bader Ginsburg, the only woman on the Supreme Court, had surgery Thursday for early stage pancreatic cancer, the Supreme Court announced.
CNN: Clinton calls Kyrgyzstan base-closure decision 'regrettable'
Kyrgyzstan's decision to close a strategic U.S. military base is "regrettable," Secretary of State Hillary Clinton said Thursday, but it won't affect the U.S. military effort in nearby Afghanistan.
CNN: Senate adjourns without deal on stimulus package
The Senate wrapped up Thursday night after hours of sometimes acrimonious work without voting on a massive economic recovery plan championed by President Barack Obama.
CNN: Committee vote on Labor Department nominee postponed
A Senate committee Thursday delayed its confirmation vote for Labor Secretary-designate Hilda Solis, citing a need to review additional documentation.
CNN: Possible nominees for HHS being vetted
A senior administration official tells CNN that a list of names for consideration to the top post at Health and Human Services has been compiled, and that the people on that list are now being vetted.
CNN: Senate committee approves controversial lobbyist
The Senate Armed Services Committee on Thursday approved all four Pentagon officials nominated by the Obama administration, including a Raytheon lobbyist whose potential conflict of interest led to objections to the nomination.
WSJ: When People Stop Moving, So Do Congressional Seats
Here's something else that's likely to be affected by the recession: voting power on Capitol Hill. Just a year or two ago, New York seemed set to lose two seats in the House of Representatives after the 2010 census as its retirees fled south. Fast-growing Florida was expected to pick them up, giving each state 27 representatives. And North Carolina, the focus of massive Hispanic immigration, looked poised to add a seat…Suddenly, Americans are less willing and able to move, and that's likely to have an impact on the Congressional map - and on the political muscle that some states will have in electing the next three presidents, angling for federal dollars and setting the national agenda.
NYT: Campaigners for Bloomberg Taste High Life
Aides to Mayor Michael R. Bloomberg hopscotch around the world on two Falcon 900 private jets, where wine and sushi are served.
NYT: High Stakes for Obama at Weekend Security Conference
The Obama administration is facing its first big international test this weekend as Vice President Joseph R. Biden Jr. heads to a conference in Europe in the face of a confrontational stance from an old cold war adversary.
Washington Post: For Obama, a Trusted Voice Who Knows the Terrain
After decades moving through the revolving door between the private sector and government service, Gregory B. Craig has landed again at the White House, serving as counsel to a young administration in need of a steadying hand.
Bloomberg: Obama 35 Years Ahead of Bush in Emissions Plans, Denmark Says
U.S. President Barack Obama is 35 years ahead of his predecessor George W. Bush in plans to cut greenhouse- gas emissions, Denmark's climate minister said.
WSJ: Afghanistan Will Be a Quagmire for al Qaeda
Although President Barack Obama and all of us in Congress are understandably focused on the economic crisis, we also face multiple crises in the rest of the world - beginning with the war in Afghanistan. Security there has been deteriorating as the insurgents have grown in strength, size and sophistication, expanding their influence over an increasing swath of territory.
Washington Post: Masked Intruders Roaming The White House Grounds
President Obama mocked the Washington area's Defcon 1 response to a few snowflakes last week. Let's see how the flinty Chicagoan does with the latest living-in-Washington challenge: critters.