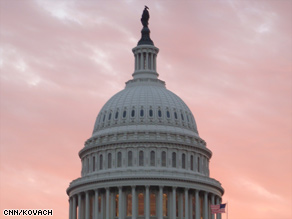 CNN: Bank CEOs to defend use of TARP money
The chief executive officers of eight of the nation's largest banks will defend the use of hundreds of billions of dollars in bailout money to lawmakers on Capitol Hill Wednesday.
CNN: House and Senate close in on compromise
Top lawmakers and White House officials ended more than nine hours of closed-door negotiations on the economic stimulus bill shortly before midnight Tuesday indicating a final deal on the roughly $800 billion bill is possible as early as Wednesday.
CNN: Palin won't be making CPAC appearance
Sarah Palin will not be attending the Conservative Political Action Conference in Washington later this month, her office confirmed to CNN Tuesday.
CNN: Franken back in DC for Senate updates
Democrat Al Franken will return to the nation's capitol Tuesday night in order to "prepare" for the possibility that he will be named the junior senator from Minnesota, his spokeswoman Jess McIntosh confirmed to CNN.
CNN: Parton hoping Obama isn't a 'boob'
Famed entertainer Dolly Parton said Tuesday she thinks a woman would make a good president — but she wouldn't.
CNN: MoveOn.org names new Executive Director
MoveOn.org named a new executive director Tuesday to head up the daily operations of one of the largest liberal political action committees in the nation.
CNN: Gates: Obama to decide on troop increase in 'days'
President Barack Obama will likely make a decision on sending additional troops to Afghanistan "in the course of the next few days," Defense Secretary Robert Gates said Tuesday.
CNN: Poll suggests Sen. Dodd could face tough re-election next year
A new poll of Connecticut voters could raise alarm bells for Sen. Chris Dodd as he looks ahead to his re-election bid next year.
CNN: Begala: Republican strategy of deny, delay and do nothing
As the fight over President Obama's economic recovery package heats up, the two sides are beginning to define themselves with admirable clarity.
LA Times Exclusive: Whitman unveils conservative positions
A day after launching her campaign for governor, former EBay Chief Executive Meg Whitman on Tuesday unveiled a sharply conservative approach to California's fiscal crisis and offered a fusillade of positions on other issues that are likely to complicate her run for office in 2010.
WSJ: Palin Ally, Under Fire, Resigns Alaska Post
Alaska Attorney General Talis Colberg, an ally of Gov. Sarah Palin, resigned Tuesday, two weeks after a hearing in which state legislators criticized his handling of a probe involving the governor.
Politico: Huckabee: Stimulus is 'anti-religious'
Former Arkansas Gov. Mike Huckabee warned supporters Tuesday that the $828 billion stimulus package is "anti-religious.
Boston Globe: To a degree, rhetoric contrasts with stimulus plan
As President Obama seeks final passage of his economic stimulus bill, he is urging congressional negotiators not to succumb to "failed" Republican suggestions that an economic rebound can come from tax cuts. But one of the biggest items in the stimulus bill passed by the Senate yesterday, and also in the version approved last month by the House, is a tax-cut proposal that Obama himself is insisting upon – and which one of his newly announced advisers doubts will work.
The Hill: Dems table GOP ethics resolution on Rangel
The House voted on Tuesday to let Rep. Charles B. Rangel (D-N.Y.) keep his gavel while a special investigative panel resumes an inquiry into the Ways and Means chairman's tax practices among other possible ethical violations.
Politico: Cornyn overhauls NRSC fund raising
Sen. John Cornyn is overhauling the way the National Republican Senatorial Committee does business, tossing out the fund raising quotas — which senators bristled at — in favor of a more personalized approach.
LA Times: For Obama campaign advisors, there's no sure thing
The spoils go to the victors in politics, and usually a candidate's campaign advisors are generously rewarded with top jobs in the government when an election is won.
Washington Post: Grover Norquist: Geithner's Magic Tricks
Treasury Secretary Tim Geithner says he has a "financial stability plan." He has not. He has brought back an old trick: alchemy. The ability to turn lead into gold, spin straw into silver. The only difference between Geithner's plan and the Pelosi-Reid spend-fest is that the House speaker and Senate majority leader are going to make us rich by spending our money, and Geithner is going to make us rich by lending/giving our money to other people.
The Hill: Young and wealthy Illinois treasurer eyes Burris seat
Sen. Roland Burris (D-Ill.) has barely been in office a month, but he already has a potential primary challenger in wealthy, young and ambitious state Treasurer Alexi Giannoulias.