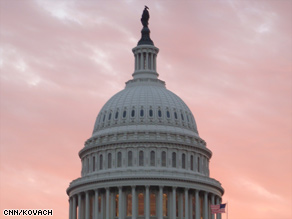 CNN: Obama makes 11th hour push for stimulus package
Taking no chances, President Barack Obama is exerting last-minute pressure on Congress to approve his stimulus plan by highlighting stories of people affected by the economic downturn.
CNN: Senate Democrats optimistic about 2010, targeting nine states
Nearly two years before Election Day 2010, the Senate Democrat charged with expanding the party's already-strong majority sounded a bullish tone Thursday, suggesting the national mood and political environment make it nearly impossible for the GOP to pick up seats.
CNN: Gregg 'probably' won't seek re-election in 2010
Judd Gregg made clear Thursday he would rather serve in the Senate than in the Obama administration, but the New Hampshire Republican said he "probably" will not seek a fourth term next year.
CNN: House, Senate plan Friday votes on economic stimulus
The Senate plans to vote on the $789 billion compromise stimulus late Friday after an all-day debate, Majority Leader Harry Reid said Thursday from the chamber floor.
CNN: Republican Gregg withdraws from commerce post consideration
Republican Sen. Judd Gregg withdrew his nomination as President Barack Obama's commerce secretary Thursday, citing "irresolvable conflicts" over the administration's stimulus bill and the upcoming 2010 census.
Politico: Conflicting WH responses to Gregg
The White House again seemed caught off guard by nominee troubles on Thursday, when Judd Gregg's statement announcing he'd withdrawn his bid for Commerce Secretary was met by conflicting responses and explanations from top officials of when and how the president learned the news.
The Hill: Conference tactics leave deep House resentment
Leading House Democrats were smiling on Thursday, but some of them are furious with the Senate on its handling of the economic stimulus bill.
LA Times: Feinstein comment on U.S. drones likely to embarrass Pakistan
A senior U.S. lawmaker said Thursday that unmanned CIA Predator aircraft operating in Pakistan are flown from an air base in that country, a revelation likely to embarrass the Pakistani government and complicate its counter-terrorism collaboration with the United States. The disclosure by Sen. Dianne Feinstein (D-Calif.), chairwoman of the Senate Intelligence Committee, marked the first time a U.S. official had publicly commented on where the Predator aircraft patrolling Pakistan take off and land.
The Economist: America's banking crisis Worse than Japan?
There is one consolation for the depressing instability of finance. History offers a rich array of banking crises from which policymakers can draw lessons—and against which today's rescue plans can be judged. According to an IMF database, there have been 124 "systemic" banking crises since 1970—episodes in which bad debts soared across the economy and much of the banking sector was insolvent.
Chicago Sun-Times: Blago probe hits city, O'Hare deals
Federal authorities are investigating five construction companies that collectively have gotten hundreds of millions of dollars in construction work at O'Hare Airport under Mayor Daley, the Chicago Sun-Times has learned.
Politico: Plouffe speech in Azerbaijan draws fire
For two years, he was the brains behind the Obama political juggernaut, quietly engineering what he recently boasted was perhaps the biggest political upset in history.
Washington Times: CBO predicts lower GDP in a decade
The Congressional Budget Office says President Obama's giant economic recovery bill will actually hurt Americans' paychecks in the long run, even if the plan's tax cuts start out putting an extra $13 a week in most worker's pockets.
The Hill: Lobbyists pull all-nighters
For lobbyists, the cost of a $789 billion economic recovery package can be measured in sore thumbs, lack of sleep and delayed vacations.
Washington Times: Emanuel: White House not 'amateur hour'
Defending the White House in the wake of Sen. Judd Gregg's withdrawal as Commerce Secretary, Chief of Staff Rahm Emanuel said it is not "amateur hour" and that the Obama administration is still doing better than President Clinton was at this point.