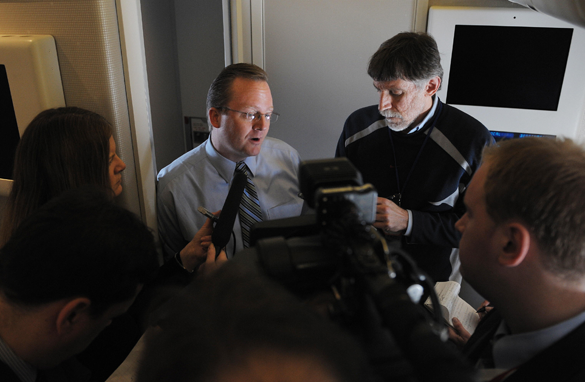 White House Press Secretary Robert Gibbs briefed reporters on board Air Force One Monday. (GETTY IMAGES)
WASHINGTON (CNN) — President Obama will decide "shortly" whether to increase the number of U.S. forces in Afghanistan, White House press secretary Robert Gibbs said Monday.
"He's been working on this in consultation with military leaders and in conjunction with his foreign policy team," Gibbs told reporters on board Air Force One. "The administration continues its review of our policy relating to Afghanistan." Read full transcript of Gibbs briefing [PDF]
Politico reported Monday Obama did not want to be rushed in making a decision on troops, even as Secretary of Defense Robert Gates said that decision would come "within days." But Gates, one of three Republicans appointed to Obama's Cabinet, also said the administration will wait until a strategic review of military operations is complete to make decisions on "the strategies going forward."
Speaking to reporters Monday, Gibbs refused to put a definitive timeline on the decision. "Without getting into broad time lines, I wouldn't - I don't think this is anything that involves weeks, Gibbs said. "As soon as he's ready to communicate that to commanders and to families that would have to implement anything like that, I think at that point we'll be able to communicate that decision to you all."
Watch: Afghan President Hamid Karzai talks to Fareed Zakaria
Earlier this month, General David McKiernan - the senior U.S. commander in Afghanistan - requested an additional 30,000 U.S. soldiers over the next 18 months to battle the strengthening Taliban-led insurgency. The additional troops would approximately double the current number of American soldiers in the country.

Yesterday, Afghan President Hamid Karzai lashed out at President Obama in an interview on CNN after Obama suggested Karzai's government has a bunker mentality, and is "very detached" from events happening around it.
"I saw that statement, and I was surprised to see that statement. Perhaps it's because the administration has not yet put itself together. Perhaps they have not been given the information yet," Karzai said of Obama's comments.