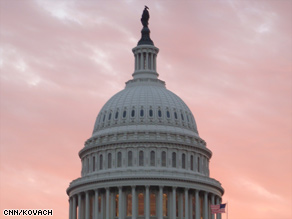 WASHINGTON/POLITICAL
For the latest political news: www.CNNPolitics.com.
CNN: Analysis: Clinton's mockery of Obama proves true
During the most contentious stretch of the Democratic presidential primary campaign last winter, then-candidate Hillary Clinton mocked Barack Obama for his pledge to transcend Washington's entrenched partisanship.
CNN: GOP rising star Jindal's speech a 'coming-out party'
Thrust into the spotlight as a Republican rising star, Louisiana Gov. Bobby Jindal has been depicted as an up-and-comer capable of helping reshape the party and jockeying for the 2012 GOP presidential nomination.
CNN: Obama likely to tap Locke for commerce, sources say
President Barack Obama's pick for commerce secretary is likely to be former Washington Gov. Gary Locke, two administration sources told CNN Monday.
WSJ: Stanford Had Links to a Fund Run by Bidens
A fund of hedge funds run by two members of Vice President Joe Biden's family was marketed exclusively by companies controlled by Texas financier R. Allen Stanford, who is facing Securities and Exchange Commission accusations of engaging in an $8 billion fraud.
The New Yorker: Toobin: Voter, Beware
The Voting Rights Act, which passed in 1965, stands as one of the great monuments to civil rights in American history. The Fifteenth Amendment, ratified in 1870, purported to give Americans the right to vote regardless of "race, color, or previous condition of servitude," but it was not until a century later, with the passage of the act, that the right was enforced, and Southern blacks were finally free to cast a ballot. Over the years, an ideologically diverse group of Supreme Court Justices has reviewed and approved the constitutionality of the act many times. But, in a case to be argued before the Court this spring, the current conservative majority has a chance to undo this signal achievement of American democracy.
Washington Post: Bill Would Reimburse $59 Million For Local Inauguration Security
The federal government would provide $59 million to compensate the District, Maryland and Virginia for their security costs for the presidential inauguration and other national events, under a spending bill unveiled yesterday, officials said.
Washington Times: Utah governor ignores GOP legislators
The Republican governor of Utah on Monday said his party is blighted by leaders in Congress whose lack of new ideas renders them so "inconsequential" that he doesn't even bother to talk to them.
NYT: Politics in the Guise of Pure Science
Why, since President Obama promised to "restore science to its rightful place" in Washington, do some things feel not quite right?
CNN: McCain presses Obama on pricey helicopters
President Obama said Monday he's pretty happy with helicopter he has — though the new commander-in-chief joked he's never had one to compare it to.
NATIONAL/INTERNATIONAL
For the latest national and international news: www.CNN.com.
CNN: N. Korea: Ready to launch satellite
North Korea announced Tuesday it was preparing to launch a satellite from its northeastern coast, denying recent intelligence suggesting it was ready to test a long-range missile.
CNN: Guantanamo detainees treated humanely, Pentagon report says
A new Defense Department review of detainee operations at Guantanamo Bay, Cuba, concludes that the operation does not torture detainees but rather treats them humanely and in accordance with the Geneva Conventions.
CNN: Iraq's National Museum re-opens 6 years after looting
Iraq's National Museum re-opened to the public Monday, nearly six years after it was pillaged in the chaotic days following the fall of Saddam Hussein.
CNN: Clooney returns from Darfur, on a quest for peace
On Monday night, CNN's Larry King had an exclusive interview with actor George Clooney, who returned from the strife-torn Darfur region of Sudan and just finished meeting with Vice President Joe Biden.
Washington Times: Pakistani Taliban unite against U.S.
Three major Pakistani Taliban commanders have joined forces, a development that poses a significant threat to Pakistan's stability and could hamper U.S. efforts to flush out al Qaeda from a safe haven in the country's lawless borderlands.
London Times: Barack Obama fundraiser Louis Susman tipped to be US ambassador in London
President Obama, having campaigned on a promise to end the culture of cronyism, seems poised to appoint one of his biggest campaign fundraisers as the next American ambassador in London.
Roll Call: Are Republicans Ready To Mount a Comeback In the Northeast?
It's so widely accepted as a truth that the Republican Party is clinically dead in the Northeast that no warnings to the contrary would even get a second look. But like so many other sweeping generalizations with more than a grain of truth, the death of the GOP in the Mid-Atlantic and New England states has been greatly exaggerated.
NYT: Many Plans to Curtail Use of Plastic Bags, but Not Much Action
Last summer, city officials here became the first in the nation to approve a fee on paper and plastic shopping bags in many retail stores. The 20-cent charge was intended to reduce pollution by encouraging reusable bags.
USA Today: 'Smart' parking meters catching on across U.S.
The brick and cobblestone streets in the historical district of Charleston, S.C., are getting a high-tech touch.
BUSINESS
For the latest business news: www.CNNMoney.com.
CNN: Dow and S&P 500 at '97 lows
The Dow and S&P 500 tumbled to levels not seen in nearly 12 years Monday, as investors continue to worry that the government's efforts to slow the recession won't be sufficient.
CNN: Citigroup's road to nationalization
Citigroup may be on the verge of nationalization. But what exactly that means remains to be seen.
CNN: Obama's deficit goal: Hurdles ahead
President Obama has set a very public and very tough challenge for himself: To cut the annual 2013 deficit in half.
Bloomberg: Goldman Sachs Said to Be Cutting Japan Research Team
Goldman Sachs Group Inc., which cut 10 percent of its global workforce in the past year, will trim its equity research team in Japan as early as this week, according to two people with knowledge of the matter.
Forbes: Ford Shows GM The Way On Health Care
As the health of the American auto industry deteriorates by the day, the United Auto Workers union appears ready to concede on a major issue: how to fund health care benefits for retirees.
Financial Times: Central Europe acts to bolster currencies
Central Europe's battered currencies rallied on Monday after four of the region's central banks issued co-ordinated statements calling recent currency weakness unjustified and raising the possibility of intervention on foreign exchange markets.
U.S. News and World Report: 401(k) Fixes for Every Age
Most retirement accounts are battered and bruised these days, as the financial turbulence of the past year has swallowed the gains of the 2003-07 bull market. Younger investors still have decades to reclaim (and surpass) their previous balances, but the market plunge has been agonizing for investors at the other end of the spectrum. At this point, those nearing retirement desperately need growth to bring their portfolios back to where there were a year ago. At the same time, they're seeking to ensure that their painstakingly built 401(k) and IRA balances won't deteriorate even more. Regrowing retirement savings will be difficult for any age: Older investors may need to work longer and scale back on their expenses; meanwhile, the younger set may need to invest smarter and save even more money. Here's how to take back control of your retirement at any life stage.
In Case You Missed It
To watch the latest interviews and reporting: http://www.cnn.com/video.
CNN: Obama answers critics
President Obama responds to GOP governors who threaten to turn down stimulus aid. CNN's Dan Lothian reports.
CNN: Freshman urges accountability
Freshman Rep. Jason Chaffetz (R-UT) urges congressional leaders to make their expense report more available to the public.
CNN: Pakistan political crisis
Pakistani political activist Imran Khan speaks out against the Pakistani government and how to fight terrorism.
CNN: Iraq museum reopens
Iraq's National Museum reopens after it was pillaged following the fall of Saddam Hussein. CNN's Arwa Damon reports.