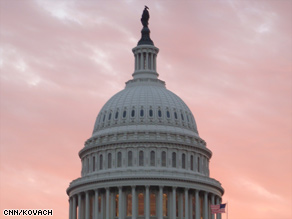 WASHINGTON/POLITICAL
For the latest political news: www.CNNPolitics.com.
CNN: Obama outlines ambitious agenda for 'lasting prosperity'
President Obama on Tuesday outlined an ambitious agenda that requires "significant resources," even as he aims to halve the deficit by the end of his first term.
CNN: Poll: Viewers feel positive about Obama speech
A national poll indicates that two-thirds of those who watched President Barack Obama's address to a joint session of Congress on Tuesday night had a very positive reaction to his speech.
CNN: Members of Congress twitter through Obama's big speech
Members of Congress twittered their way through President Obama's nationally televised speech Tuesday night, providing a first-of-its-kind running commentary that took users of the social networking site inside the packed House chamber.
NYT: First Lady's Guests Reflect Themes of the Speech
Seated in Michelle Obama's box on Tuesday night were living symbols of the ideas in President Obama's first speech to a joint session of Congress, including a bank executive, Leonard Abess, who shared a vast fortune with his employees, and an eighth-grade student from South Carolina, Ty'Sheoma Bethea, who in a letter had urged Congress not to neglect education financing.
Washington Times: ANALYSIS: Obama offers silver lining
After weeks of dire warnings about looming economic catastrophe, President Obama sought to become rallier in chief Tuesday night, offering a hopeful message of brighter days ahead while being honest about the challenges confronting the nation.
Washington Post Op-Ed: Gerson: The Jindal Phenomenon
Louisiana Gov. Bobby Jindal - selected to deliver the Republicans' Fat Tuesday response to President Obama - might also be voted the man least likely to let the good times roll. Slight, earnest, deeply religious and supremely wonkish, Jindal resembles neither his flamboyant predecessors as governor nor his reveling, 30-something contemporaries on Bourbon Street. Somehow the hall-monitoring, library-inhabiting, science-fair-winning class president has seized control of the Big Easy. And his coup has been an inspiration to policy geeks everywhere.
WSJ Op-Ed: Obama Needs a 'Not To Do' List
Put away childish things, President Obama said during his inauguration. He couldn't have found a theme more suited to the moment. The preoccupations that he and most politicians are used to running on, and that still characterize too many of his administration's utterances, are being exposed in the global economic disaster as the soppy indulgences they always were.
Jerusalem Post: UNRWA providing political cover for Hamas, Israeli official says
The UN Relief and Works Agency is systematically providing political cover to Hamas, a senior government official told The Jerusalem Post on Tuesday, lashing out at the agency for passing a Hamas letter to US Sen. John Kerry when he visited Gaza last week.
NATIONAL/INTERNATIONAL
For the latest national and international news: www.CNN.com.
CNN: Syria set up missile facility at suspect nuclear site
Syria's nuclear chief told members of the United Nations' nuclear watchdog agency Tuesday that his country has built a military missile facility at a site where traces of uranium have been detected in the past, a source who attended the meeting told CNN.
CNN: Pakistan sees 'hope' in Obama approach
Pakistan is optimistic about the Obama administration's commitment to its region and will work with the United States on trying to root out extremism within its borders, Pakistan's foreign minister said.
NYT: Citing Cost, States Consider Halting Death Penalty
When Gov. Martin O'Malley appeared before the Maryland Senate last week, he made an unconventional argument that is becoming increasingly popular in cash-strapped states: abolish the death penalty to cut costs.
NYT: In Innovation, U.S. Said to Be Losing Competitive Edge
The competitive edge of the United States economy has eroded sharply over the last decade, according to a new study by a nonpartisan research group.
WSJ: Renters Lose Edge on Homeowners
The relative cost of owning versus renting is swinging back in favor of homeownership in some U.S. markets, buoyed by several quarters of sharp declines in home prices.
Washington Post: A Drink a Day Raises Women's Risk of Cancer, Study Indicates
For years, many women have been buoyed by the news about one of life's guilty pleasures: That nightly glass of wine may not only take the edge off a day but also improve their health.
BUSINESS
For the latest business news: www.CNNMoney.com.
CNN: Bernanke: Recovery will take years
Federal Reserve Chairman Ben Bernanke said he's hoping the recession could end later this year, but he cautioned that a full economic recovery will take "more than two or three years."
USA Today: SunTrust board OK'd a 75% raise in CEO's compensation
The profit at SunTrust Banks (STI) last year was half of what it was in 2007. The stock price was also cut in half, but the company's board of directors approved a 75% increase in the 2008 total compensation of CEO James Wells to $8.1 million, according to the SunTrust proxy filed late Monday with the Securities and Exchange Commission.
WSJ: TARP Said to Be Ripe for Fraud
The U.S. government's rescue of the financial system is vulnerable to fraud that could potentially cost taxpayers tens of billions of dollars, government watchdogs warned lawmakers Tuesday.
Bloomberg: UBS Makes 3 Trillion Yen Mistaken Order, TSE Says
UBS AG's Japanese unit placed an erroneous 3 trillion yen ($30.9 billion) Capcom Co. convertible- bond order that was subsequently canceled, the Tokyo Stock Exchange said.
Forbes:Regulation By Evolution, Or Revolution?
A popular theme in the press and among the chatterers is that the current financial mess had its origins in the Reagan revolution. According to this theory, the current crisis is largely due to the dismantling of the regulatory system that was put in place in the 1930s to protect individual investors and stabilize the banking system.
In Case You Missed It
To watch the latest interviews and reporting: http://www.cnn.com/video.
President Obama lays out his administrations goals for the country during a speech to congress.
Larry talks with Sen. John McCain about his reaction to President Obama's State of the nation address.
CNN's Lou Dobbs interviews civil rights leader and activist Al Sharpton.
CNN: Facebookers on Obama's speech
Randi Zuckerberg of Facebook shows the spike in status updates during President Obama's speech.