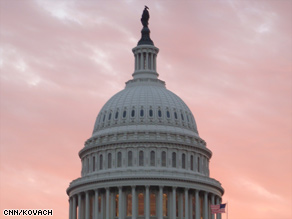 CNN: Obama seeks tax hike, higher Medicare payments
President Obama will ask wealthy Americans to deal with a tax increase and pay higher Medicare premiums to help fund a $634 billion health care "reserve fund" aimed at reforming the system, according to senior administration officials familiar with the budget being unveiled Thursday.
Washington Times: Outlook grim for budget's costly initiatives
A new report reveals how difficult it will be for President Obama to increase spending on health care, energy and education while cutting the deficit in half. Based on budget scenarios outlined by House Speaker Nancy Pelosi, California Democrat, federal budget deficits will average $870 billion for the next 10 years, according to a new analysis by the nonpartisan Congressional Budget Office (CBO).
View the CBO's report here.
CNNMoney: Treasury unveils 'stress test' for banks
The Obama administration unveiled plans aimed at assessing the health of the nation's leading lenders Wednesday, particularly banks' ability to withstand more dire economic conditions.
CNN: Obama to ask Congress for $200 billion for war spending
President Barack Obama will ask Congress for more than $200 billion to fund U.S. war efforts for the next year and a half, according to defense officials.
CNN: CIA chief sees no place for coercive interrogation techniques
CIA Chief Leon Panetta said Wednesday he cannot envision any circumstance in which he would consider asking President Barack Obama for permission to use a coercive interrogation technique on a terrorist detainee.
Washington Post: CIA Adds Economy To Threat Updates
The daily White House intelligence report that catalogs the top security threats to the nation has a grim new addition, reflecting the realities of the age: a daily update on the global financial crisis and its cascading effects on the stability of countries through the world.
CNN: House passes $410 billion FY09 spending bill
The House of Representatives passed a $410 billion spending bill Wednesday to keep the federal government operating for the remainder of fiscal year 2009, which ends September 30.
Washington Post: Ambitious Blueprint Poses Test for Congress
In the budget he will submit to Congress today, President Obama will outline an agenda that confronts the era's most intractable problems, from a tattered financial system that has helped fuel a deepening recession to health-care, education and energy policies that have long defied meaningful reform.
Washington Post: Seeking Representation - but Probably Not From Burris
Here is the good news for D.C. residents: You have a new friend in the U.S. Senate. Ready for the bad news? His name is Roland Burris.
CNN: DNC to hold first Obama-era fundraiser
The Democratic National Committee is set to hold its first fundraiser since President Barack Obama was sworn into office, a DNC official said Wednesday evening. Obama will not appear at the fundraiser on Thursday and there will be no major headliner, the DNC official said by e-mail.
CNN: Officials: Obama expected to OK 19-month Iraq plan
President Barack Obama is expected to approve a proposal to withdraw most combat troops from Iraq within 19 months, several Pentagon officials told CNN Wednesday. The decision will be announced at Camp Lejeune in North Carolina on Friday, according to one senior administration official.
CNN: Jindal earns bad reviews in national debut
It was billed as a "coming out party" for one of the GOP's most promising young stars. Gov. Bobby Jindal seemed "over-coached and over-rehearsed," CNN's Candy Crowley said.
CNN: Orszag emerges from behind the scenes as budget is unveiled
At 40, Peter Orszag is the youngest member of the Obama Cabinet and one of People magazine's "hottest." These days he's also front and center of the president's key policy initiatives.
CNN: Gov. Bobby Jindal's volcano remark has some fuming
Louisiana Gov. Bobby Jindal's swipe at federal spending to monitor volcanoes has the mayor of one city in the shadow of Mount St. Helens fuming.
CNN: Biden convenes first stimulus oversight meeting
Vice President Joe Biden convened the first of what is expected to be a series of weekly stimulus plan implementation meetings Wednesday, saying it's critical to ensure that "the money that is spent is spent well."
CNN: McCain 2.0: Senator on Twitter, with a new BlackBerry to boot
John McCain said during the presidential campaign that he "never felt the particular need to e-mail," but he has apparently developed an urge to Twitter.
CNN: China accuses U.S. of interference after critical human rights report
China accused the United States of interfering in its internal affairs and those of other nations on Thursday after the State Department issued a report sharply critical of Beijing's human rights record, state-run media reported.
CNN: White House menace caught
After weeks on the run, officials have nabbed a fugitive who infiltrated White House grounds: on Wednesday, they announced the capture of one of the raccoons raising mayhem around the executive mansion over the last month.