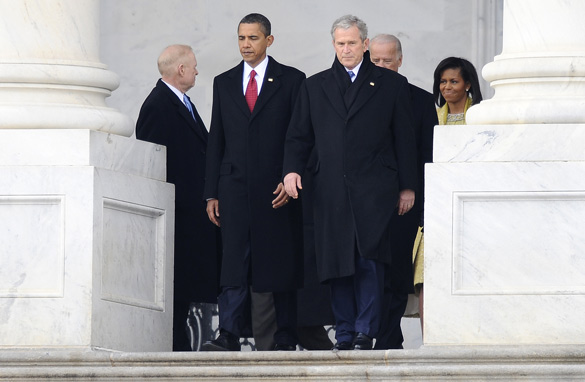 Before laying out his administration's plans for the U.S. military in Iraq Friday, the President called former President George W. Bush. (Photo Credit: Getty Images/File)
(CNN) – President Barack Obama called former President Bush on this morning to tell him about his plan to withdraw troops from Iraq, the White House said Friday.
Obama called the former president "as a courtesy" right before his speech at Camp Lejeune in North Carolina, according to White House Press Secretary Robert Gibbs.
Obama also called Iraqi Prime Minister Nuri Al-Maliki from Air Force One to brief him on his plan to withdraw most troops from that country by the end of August 2010. The preident also "sought and received" an agreement from the prime minister that he would receive Christopher Hill as the next U.S. ambassador to Iraq.
On Friday, Obama released his plan to end combat operation in Iraq by August 31, 2010.