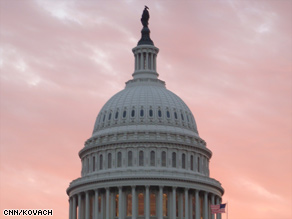 WASHINGTON/POLITICAL
For the latest political news: www.CNNPolitics.com.
CNN: GOP chairman Steele backs off Limbaugh criticism
Over the weekend, Republican Party Chairman Michael Steele called Rush Limbaugh's rhetoric "incendiary" and "ugly" and insisted that he, not Limbaugh, is in charge of the GOP.
CNN: Jindal on Obama: I'm 'not nearly as good of a speaker'
CNN's Larry King talked with Republican Gov. Bobby Jindal in a prime-time exclusive interview Monday night.
NYT: Obama Offered Deal to Russia in Secret Letter
President Obama sent a secret letter to Russia's president last month suggesting that he would back off deploying a new missile defense system in Eastern Europe if Moscow would help stop Iran from developing long-range weapons, American officials said Monday.
Washington Post: Nominations on Hold For 2 Top Science Posts
The nominations of two of President Obama's top science advisers have stalled in the Senate, according to several sources, posing a challenge to the administration as it seeks to frame new policies on climate change and other environmental issues.
Washington Post Op-Ed: Candidate Obama vs. President Obama
One of the challenges for presidential candidates who turn into presidents is finding ways to wiggle out of unaffordable or ill-advised campaign positions without attracting too much notice. President Obama managed to do this twice in his new budget: once explicitly, once by implication. Good for him, because both moves signal a better, more fiscally responsible approach.
The Weekly Standard: Thinking About the Unthinkable
Almost fifty years ago, the legendary defense strategist Herman Kahn published his classic work on nuclear strategy, On Thermonuclear War (1960), followed just two years later by a popularized rendering entitled Thinking About the Unthinkable (1962). An iconoclast and one of America's unsung Cold War heroes, Kahn argued throughout his career that it was the responsibility of the United States government to think creatively, honestly, and unemotionally about the prospects of nuclear war. Today, the need for an honest and open debate on the role of nuclear weapons continues, and the upcoming Nuclear Posture Review (NPR) presents an ideal forum. While competing priorities such as the campaigns in Iraq and Afghanistan and a deteriorating economy at home have decreased the attention paid to the issue of nuclear strategy, its importance remains undiminished.
Washington Post: Many Hires Needed for Budget Goals
President Obama's budget is so ambitious, with vast new spending on health care, energy independence, education and services for veterans, that experts say he probably will need to hire tens of thousands of new federal government workers to realize his goals.
Seattle Times: 16 Emanuel earmarks in federal spending bill
Although President Obama has repeatedly pledged to ban congressional earmarks, White House chief of staff Rahm Emanuel has 16 such projects, worth $8.5 million, in the bill the Senate is to begin debating today.
Boston Globe: Sebelius pick shows Obama personnel strategy
When President Obama announced his first nominee to be secretary of health and human services, he declared that former Senate majority leader Tom Daschle was uniquely able to direct White House efforts to change the healthcare system because of the "respect that he earned during his years of leadership in Congress."
NATIONAL/INTERNATIONAL
For the latest national and international news: www.CNN.com.
CNN: Gunmen attack Sri Lankan cricket team
At least seven security people were killed and at least eight members of the Sri Lankan cricket team were wounded Tuesday in a well-coordinated attack in Lahore, Pakistan, officials said.
CNN: Lawyer: Soldier to be discharged after reporting for duty with kids
A soldier who reported for duty with her children in tow has been granted her request for a discharge, her lawyer said Monday.
NYT: Supreme Court Enters the YouTube Era
The Supreme Court is entering the YouTube era. The first citation in a petition filed with the court last month, for instance, was not to an affidavit or a legal precedent but rather to a YouTube video link.
WSJ: In-Vitro Fertilization Limit Is Sought
Influential Georgia lawmakers have introduced a bill that would make illegal in their state some of the fertilization procedures used in the high-profile case of a California mother who recently gave birth to octuplets.
Washington Times: 'Bridge to nowhere' OK'd for Everglades
A provision buried inside Congress' giant spending bill would overturn a federal court order, discard part of environmental law and reject an Indian tribe's plea, forcing the government to build a bridge in Everglades National Park that a federal judge has declared "a complete waste of taxpayer dollars."
BBC: UN concern over Afghan elections
Alain le Roy said organising elections before August would be very difficult for logistical and technical reasons, and the prevailing security situation.
USA Today: Flu viruses growing resistant to key weapon Tamiflu
Evidence that flu viruses are becoming more resistant to the drug Tamiflu has sown deep concern among doctors who are worried that their best flu treatment is losing its punch.
Christian Science Monitor: US Muslims: young, diverse, striving
A "national portrait" of Muslim Americans, released Monday by Gallup, depicts the youngest and most racially diverse religious community in the country as striving for a secure place in American society and an active role in public life.
BUSINESS
For the latest business news: www.CNNMoney.com.
CNN: Asian markets mixed after day of global selling
Asian markets turned mixed, but mostly lower, on Tuesday after traders launched a global selling spree a day earlier. Tokyo's Nikkei average closed 0.7 percent lower and the All Ordinaries index in Australia shed 1 percent. In Seoul, the KOSPI gained 0.7 percent, while Hong Kong's Hang Seng plunged 2.1 percent. Stocks tumbled Monday on Wall Street, with the Dow and Standard and Poor's 500 falling to 12-year lows after insurance company American International Group's huge quarterly loss added to worries about the financial sector and the economy.
CNN: AIG Band-Aid offers no cure
The government has a new remedy for sickly financial giants - but signs of healing remain scarce.
CNN: Time to nationalize GM?
Perhaps the best way to fix the troubled auto industry is to treat it like a financial firm and have the government take it over.
Business Week: Stocks: After Dow 7,000, What Next?
Investors don't lack ways to measure the carnage on Wall Street. What they're missing is a way to calculate when the losses will stop.
Forbes: Greenberg Claims He Was Deceived By AIG
Just a little over a year ago Maurice "Hank" Greenberg, the man who built American International Group into the world's biggest insurer, pondered starting a war to take back control of the company that fired him. Now he says AIG executives fooled him into purchasing shares months before they revealed the insurer was essentially bankrupt.
In Case You Missed It
To watch the latest interviews and reporting: http://www.cnn.com/video.
CNN: Larry King: Gov. Jindal
Larry talks with Louisiana Gov. Bobby Jindal about President Obama's plans for the economy and criticism of Jindal's speech.
CNN: Freshman year in Congress
In the fourth installment, two freshman Congressmen document their experience on the Hill.
CNN: Obama's health care team
CNN's Dan Lothian reports on Obama's Healthcare push as he names his HHS nominee and Health Czar.
CNN: New Facebook worm threat
CNN's Errol Barnett looks into a new worm infecting users of Facebook and other social networking sites.