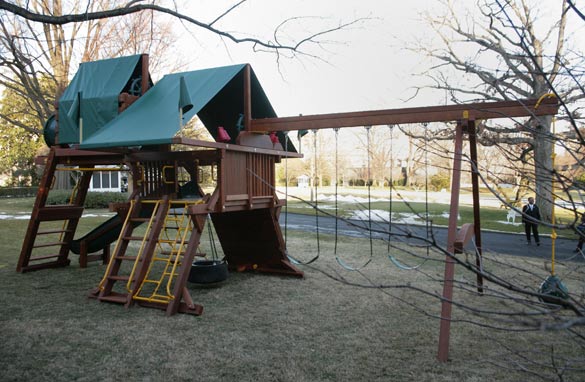 The President and first lady surprised their daughters with this new swing set which arrived at the White House on Wednesday afternoon. (Photo Credit: CHRIS KLEPONIS/AFP/Getty Images)
(CNN) - The Obama girls still don't have a puppy, but they did receive another surprise when they arrived home from school Wednesday– a brand new swing set.
A spokeswoman for First Lady Michelle Obama says Malia and Sasha, ages 10 and 7, "squealed with delight" when they saw their surprise, playing on the swing set for almost an hour in the chilly weather.
The girls' parents arranged for the play set to be installed Wednesday at the White House grounds, within sight of the Oval Office, before Malia and Sasha arrived home from Sidwell Friends school.