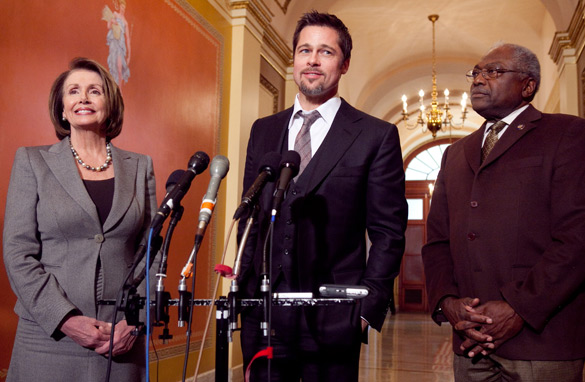 Photo Credit: Getty Images
(CNN) –- Actor and sustainable housing advocate Brad Pitt brought his pitch to the nation's capital Thursday, meeting with President Obama at the White House and Speaker Nancy Pelosi on Capitol Hill.
Watch: Brad Pitt visits Capitol Hill
After a brief stop by the executive mansion to meet with the president and his climate czar, Pitt met with Pelosi in her Capitol office to share details of his charity housing efforts in New Orleans.
One thing's for sure: policy conferences on the Hill don't usually pull out a crowd like this.
A throng of giggling fans, mostly female, gathered to catch a glimpse of "The Curious Case of Benjamin Button" star as he posed for pictures following their meeting.
Pelosi hailed Pitt's work for the city of New Orleans as a "model for the nation."
"It really is an honor to have him here and I know for some of my staff, and for bragging rights for my children and grandchildren, a real treat for me as well," she said.
Pelosi, posing with Pitt and South Carolina Rep. James Clyburn at the congressional photo-op following their meeting, said the actor had been telling her about how the homes his foundation has built built to a "green standard," with utility bills of less than $10 a month.
"It's possible," said Pitt.
The actor's foundation, "Make it Right," works to construct sustainable housing for low-income residents in New Orleans who lost their homes in Hurricane Katrina. Launched in 2007, Pitt's project focuses on NOLA's Lower Ninth Ward, a region ravaged by the 2005 hurricane. Pitt shares a home in the French Quarter with his girlfriend, actress Angelina Jolie.
"I just want to say thank you to the Speaker for opening up the doors for us to come in and discuss the rebuilding efforts, the current rebuilding efforts going on in New Orleans, and to how we can expand this idea of affordability and sustainability which we think we have a model that works," Pitt said, amid a flurry of camera flashes.
Pitt's companion Angelina Jolie was also in Washington Thursday, shooting scenes for her upcoming film, "Salt."