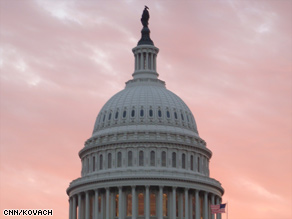 WASHINGTON/POLITICAL
For the latest political news: www.CNNPolitics.com.
CNN: Potential Geithner deputy out of the running
A leading contender to serve as the top deputy to Treasury Secretary Timothy Geithner is no longer under consideration for the post, as 17 top jobs at the department remain unfilled in the middle of the financial crisis.
CNN: Obama calls for overhaul of U.S. health care system
President Obama on Thursday called for a comprehensive overhaul of the U.S. health care system, warning that soaring medical costs present "one of the greatest threats not just to the well-being of our families ... but to the very foundation of our economy."
CNN: Gupta opts out of surgeon general consideration
Dr. Sanjay Gupta, CNN's chief medical correspondent, has withdrawn his name from consideration as surgeon general of the United States, he said Thursday.
Washington Post: Presidential Copter Cost in Rapid Climb
The defense contractor building a fleet of new presidential helicopters has privately advised the Pentagon that its total cost has gone up by at least $1.8 billion in the past year to $13 billion, several government officials said. The development makes the embattled program less likely to be completed.
Washington Post: Op-Ed: Krauthammer: The Great Non Sequitur
Forget the pork. Forget the waste. Forget the 8,570 earmarks in a bill supported by a president who poses as the scourge of earmarks. Forget the "2 trillion dollars in savings" that "we have already identified," $1.6 trillion of which President Obama's budget director later admits is the "savings" of not continuing the surge in Iraq until 2019 - 11 years after George Bush ended it, and eight years after even Bush would have had us out of Iraq completely.
WSJ Op-Ed: Forbes: Obama Repeats Bush's Worst Market Mistakes
What is most astounding about President Barack Obama's radical economic recovery program isn't its breadth, but its continuation of the most destructive policies of the Bush administration. These Bush policies were in themselves repudiations of Franklin Delano Roosevelt, Mr. Obama's hero.
LA Times: Schwarzenegger cabinet member resigns after accepting speaking fees
A member of Gov. Arnold Schwarzenegger's cabinet resigned Thursday after questions about income she received for giving speeches to private companies, including some that were doing business with her agency.
International Herald Tribune: The (very) scripted president
As he introduced his new choice for secretary of health and human services in the East Room of the White House this week, President Barack Obama turned his head from right to left, but he wasn't looking at the audience. He was reading from two teleprompters, strategically set up outside the tight television camera shot.
U.S. News & World Report: Alaska's Mark Begich, a Pro-Gun Democrat Who Wants to Open Up Arctic Drilling
Arguably, Mark Begich is a Democrat in name only. Alaska's new U.S. senator joined a bipartisan group that whacked away at the economic stimulus, getting it down to $787 billion. He allied himself with Republican Sen. Lisa Murkowski of Alaska in a new push to allow oil drilling in the state's Arctic National Wildlife Refuge. And he joined several Republicans who wish to let gun owners who have permits carry concealed weapons across state lines.
NATIONAL/INTERNATIONAL
For the latest national and international news: www.CNN.com.
CNN: White House meets aid groups over Darfur
Officials of U.S. President Barack Obama's administration have met with non-governmental organizations currently operating in Darfur, after the Sudanese president announced all aid groups must leave the country.
CNN: S. Korea reroutes flights, cites 'threat'
South Korean commercial airlines have rerouted their planes after North Korea said it could not guarantee the safety of flights near its airspace.
CNN: Lawsuit accuses craigslist of promoting prostitution
An Illinois sheriff filed a federal lawsuit Thursday against the owners of craigslist, accusing the popular national classified-ad Web site of knowingly promoting prostitution.
NYT: Quiet Layoffs Sting Workers Without Notice
With the economy weakening, chief executives want Wall Street to see them as tough cost-cutters who are not afraid to lay off workers. But plenty of job cuts are not trumpeted in news releases.
Washington Post: Afghan Supply Chain a Weak Point
The U.S. military is laboring to shore up a vulnerable supply chain through Pakistan and Central Asia as it seeks to expand the flow of supplies into Afghanistan by at least 50 percent to support an influx of tens of thousands of troops, according to defense officials and experts.
CS Monitor: Why 10,000 Ugandans are eagerly serving in Iraq
Under a relentless equatorial sun and the gaze of her Zimbabwean instructor, Juliet Kituye quickly reassembles her AK-47. Next to her, a young man in a ripped red T-shirt discharges imaginary rounds at an invisible target.
NYT: Food Safety Problems Elude Private Inspectors
When food industry giants like Kellogg want to ensure that American consumers are being protected from contaminated products, they rely on private inspectors like Eugene A. Hatfield. So last spring Mr. Hatfield headed to the Peanut Corporation of America plant in southwest Georgia to make sure its chopped nuts, paste and peanut butter were safe to use in things as diverse as granola bars and ice cream.
NYT: Converting Cells Shows Promise for Parkinson's
In a striking instance of biologists' new prowess at manipulating human cells, researchers at the Whitehead Institute in Cambridge, Mass., have converted skin cells from people with Parkinson's disease into the general type of neuron that the disease destroys.
Chicago Tribune: Security of wireless networks often leaves retailers, credit card firms at risk
Richard Rushing has walked the Champs-Elysees in Paris and strolled an underground mall in Seoul. But he's not a shopper. He's a wireless security expert who scans the airwaves in busy retail areas to study how stores are protecting your data.
BUSINESS
For the latest business news: www.CNNMoney.com.
CNN: Worst is yet to come for job market
It's no secret that the job market is bad. The Labor Department will release its latest jobs report Friday. Economists surveyed by Briefing.com forecast that the unemployment rate rose to 7.9% in February and that 650,000 jobs were lost.
CNN: Senate delays vote on spending bill
The Senate postponed a planned vote on a $410 billion spending plan Thursday, with Democratic leaders saying they would allow Republican changes to the bill to be considered after coming up just short of the support they needed.
BBC: Worldwide downturn 'to hit women'
In a report assessing employment trends for women, the ILO warns that they will not escape the downturn.
USA Today: How to make some extra money by selling your extra stuff
The economy's tanking, cash is tight at home, and there are seemingly few ways to quickly make a little extra money. But selling household goods — dare we say, junk — is a proven way, and spring cleaning can provide the perfect impetus.
CNN: Asian markets slide on Wall Street's bearish outlook
Asian markets slumped Friday, latching onto Wall Street's bear market slide to levels not seen since 1997. Tokyo's Nikkei average was off 2.7 percent in early afternoon trading and the All Ordinaries index in Australia tumbled 1.6 percent. In Seoul, the KOSPI fell 0.5 percent, while Hong Kong's Hang Seng index dropped 1.1 percent.
In Case You Missed It
To watch the latest interviews and reporting: http://www.cnn.com/video.
CNN: Same sex marriage hearings
Anderson Cooper talks with a panel about the same sex marriage hearings being held in the California Supreme Court.
CNN: Gupta pulls from consideration
Larry talks with Dr. Sanjay Gupta about why he chose to withdraw from consideration for the post of Surgeon General.
CNN: Legislators: No more Octomoms
State lawmakers are introducing bills to limit the number of embryos transfer into women. Ines Ferre reports
CNN: Kennedy leads health-care fight
Even in absentia, Sen. Ted Kennedy continues his lifelong fight to expand health care.