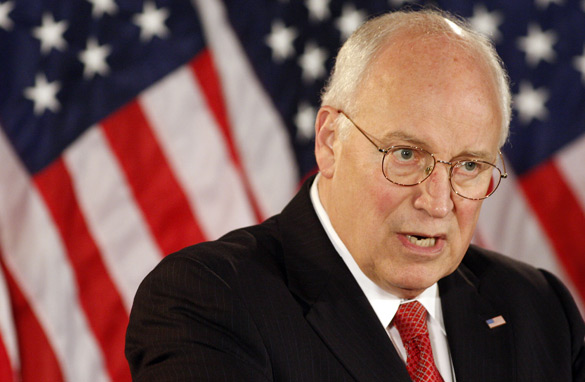 Photo Credit: Jeff Fusco/Getty Images
(CNN) - In his first television interview since leaving the vice president's mansion, Dick Cheney will be interviewed live this Sunday on State of the Union with John King.
In his few statements since leaving office, the former vice president has been critical of both former President George W. Bush and the man who replaced him.
The same week President Obama was inaugurated, Cheney said publicly that Bush should have pardoned I. Lewis "Scooter" Libby.
"He was the victim of a serious miscarriage of justice, and I strongly believe that he deserved a presidential pardon. Obviously, I disagree with President Bush's decision," Cheney told Stephen Hayes of the Weekly Standard.
Libby, Cheney's former chief of staff, was convicted of obstructing a federal investigation into the revelation that Valerie Plame Wilson was a CIA agent. He was sentenced to 30 months in prison and fined $250,000. Bush commuted the sentence, which he called "excessive," so that Libby served no jail time, but did not pardon him, much to the aggravation of many influential conservatives.
Last month, Cheney said the Obama administration's new policies on Guantanamo Bay prison and the treatment of detainees make it more likely a terrorist attack against the United States will succeed.
The blunt comments came two weeks after President Obama issued executive orders that will close Guantanamo Bay within a year, and shut down secret CIA prisons abroad. Obama also signed an executive order calling on U.S. personnel to follow the Army Field Manual's guidelines when it comes to interrogation.
In an interview with Politico, the former vice president issued a stringent defense of the Bush administration's record on the war on terror, and said he worried the President Obama has already made the country more vulnerable.
"When we get people who are more concerned about reading the rights to an Al Qaeda terrorist than they are with protecting the United States against people who are absolutely committed to do anything they can to kill Americans, then I worry," he said.
Cheney also predicted the Obama administration was likely to backtrack on its pledge to end coercive interrogation techniques, since the protection of the United States from terrorists is a "tough, mean, dirty, nasty business."
"These are evil people. And we're not going to win this fight by turning the other cheek," he said. He suggested Obama was irresponsibly adhering to "campaign rhetoric," and called Guantanamo Bay a "first-class program."
Watch John King's full interview with the former vice president this Sunday on State of the Union, from 9 am to 1 pm ET.