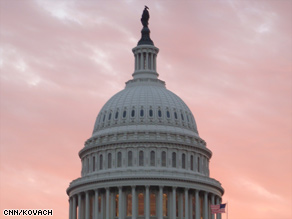 WASHINGTON/POLITICAL
For the latest political news: www.CNNPolitics.com.
CNN: Nancy Pelosi open to second stimulus package
House Speaker Nancy Pelosi said Tuesday that another stimulus package might be needed to help the ailing economy.
CNN: Senate passes $410 billion spending bill
A spending bill that funds the U.S. government for the rest of the budget year passed the Senate on Tuesday despite complaints about nearly $8 billion in what critics called "pork-barrel" projects.
CNN: Photo emerges that might be last taken of Lincoln
An expert on Lincoln photography thinks a photograph found in Gen. Ulysses S. Grant's family-owned album showing President Abraham Lincoln in front of the White House could be one of the last photos taken of the 16th president before he was assassinated in 1865.
NYT: Obama's Court Nominees Are Focus of Speculation
President Obama will soon begin naming a small stream of nominees to the federal appeals courts, administration officials said, a step that will provide the first signs of how much he intends to impose any ideological stamp on the nation's judiciary.
NYT: U.S. Undecided About Its Vote for NATO Top Job
Vice President Joseph R. Biden Jr. said Tuesday that the United States was still weighing which candidate to support for NATO's top post, in a sign that Prime Minister Anders Fogh Rasmussen of Denmark, who has been viewed as the favorite to become secretary general, may not have sufficient support among NATO's 26 members.
Washington Post: D.C. to Share Data About Top Youth Offenders
The District is compiling a list of 60 of the most serious juvenile offenders in detention and will share information on their backgrounds with police and some community groups before allowing the youths to return home, especially to high-crime neighborhoods.
WSJ Op-Ed: Greenspan: The Fed Didn't Cause the Housing Bubble
We are in the midst of a global crisis that will unquestionably rank as the most virulent since the 1930s. It will eventually subside and pass into history. But how the interacting and reinforcing causes and effects of this severe contraction are interpreted will shape the reconfiguration of our currently disabled global financial system.
LA Times: Obama budget puts nuclear waste on hold
In a pool of water just a football field away from Lake Michigan, about 1,000 tons of highly radioactive fuel from the scuttled Zion Nuclear Power Station are waiting for someplace else to spend a few thousand years. The wait just got longer. A lot longer.
CS Monitor: The emerging Obama doctrine
As President Obama carves out his own foreign policy, there are signs that his use of military force overseas will be tempered by his views on the limits of American power.
The Atlantic: The Shrinking Superpower
While the Obama administration seeks to improve America's position vis-à-vis Iraq, Afghanistan, Israel-Palestine, Europe, and Asia, the most critical foreign-policy front of all – the home front—is looking brittle. This development is new, as for almost seven decades – ever since Pearl Harbor—policymakers have taken for granted that the homefront would cooperate with military missions and expenditures. America could build ships, planes, and tanks, and assert itself as the pivotal outside power in many parts of the world, and the home front (despite sometimes outspoken political opposition, as during the Vietnam War) would financially support those efforts. This held true from the time of the end of the Great Depression right up until the onset of our current great recession. The emergencies of World War II and the early Cold War years, coupled with a constantly expanding economy, allowed the home front to write blank checks for our endeavors abroad. But the big question in foreign policy today is, Will this continue in the face of the greatest economic crisis since the 1930s?
USA Today Op-Ed: Hoyer: Opposing view: 'Pork' doesn't fatten budget
Congressional initiatives, added to the president's specific priorities, have come to be known as "earmarks." The power of the purse is expressly bestowed upon Congress by the Constitution and must be protected to maintain the balance of power between the branches of government. Earmarks, however, actually make up a tiny portion of the budget but have received a disproportionate share of attention. This attention is due in part to some appropriate criticism of wasteful earmarks and, in part, to purely political motives.
NATIONAL/INTERNATIONAL
For the latest national and international news: www.CNN.com.
CNN: North Korea vows to protect itself
North Korea vowed Wednesday that it "will take every necessary measure to protect its sovereignty" in the midst of 12-day U.S.-South Korea joint military exercises.
CNN: FedEx prints free resumes
With an economic crisis swirling and unemployment numbers climbing, one company declared Tuesday "free resume printing day."
London Times: 'Difficult' Americans hamper G20 efforts to secure a global deal
A rift between Europe and America over the crux of the G20 summit was last night threatening Gordon Brown's hopes for a deal to rescue the world economy.
NYT: Arrests of Right-to-Die Officials Draw Notice to Assisted Suicide
An undercover state investigator told a right-to-die network that he wanted to kill himself. In response, he later testified, officials of the network planned to have him asphyxiate himself with a helium-filled face mask while holding down his arms.
WSJ: Local Economies Seek Own Revival
Cities, counties and states across the nation are launching home-grown economic-stimulus plans aimed at spurring local spending and keeping small businesses afloat during the recession.
LA Times: Driving through Tenaha, Texas, doesn't pay for some
You can drive into this dusty fleck of a town near the Texas-Louisiana state line if you're African American, but you might not be able to drive out of it - at least not with your car, your cash, your jewelry or other valuables.
Boston Globe: Economy fuels rise in crime, police say
As more people lose their jobs and savings to the swooning economy, police officers across the state are grappling with sharp rises in burglaries, larcenies, and car break-ins, which many of them believe are tied to the financial gloom.
BBC: Threats from ocean acidification
Carbon dioxide emissions from human activities are acidifying the oceans and threaten a mass extinction of sea life, a top ocean scientist warns.
LA Times: L.A. Unified board OKs layoff notices to about 9,000 employees.
The Los Angeles Board of Education approved issuing preliminary layoff notices to about 9,000 employees Tuesday despite a large demonstration by the teachers union and some board members' concerns over potential harm to educational quality.
BUSINESS
For the latest business news: www.CNNMoney.com.
CNN: Asian stocks soar after Wall Street rally
A bull run on Wall Street put a spark in Asian markets Wednesday, pushing them solidly into positive territory.
NYT: Wal-Mart Plans to Market Digital Health Records System
Wal-Mart Stores is striding into the market for electronic health records, seeking to bring the technology into the mainstream for physicians in small offices, where most of America's doctors practice medicine.
WSJ: Airlines Plan Further Reductions in Flights, Staff
Some of the largest U.S. airlines said Tuesday they plan to continue grounding planes, trimming schedules and cutting workers as the recession hurts demand for air travel. But a few also said they think they still can be profitable this year.

Forbes: Paying For College In Tough Times
If there's one thing that might take your mind off the sorry state of your own retirement, it's worrying about how you'll pay for your kids' college education. Even parents who thought they'd saved enough are coming up short and wrestling with financial aid forms that make tax returns look like child's play.
Financial Times: Prosecutors probe Merrill's early bonuses
New York prosecutors are investigating whether the early payment of bonuses at Merrill Lynch last year gave the bank's traders an incentive to mark down the value of their trading positions in the last days of December, according to people familiar with the probe.
In Case You Missed It
To watch the latest interviews and reporting: http://www.cnn.com/video.
CNN: Stewart slams CNBC
The market was upbeat, but Jon Stewart's relationship with CNBC is anything but. CNN's Jeanne Moos reports.
CNN: $410B spending bill approved
The Senate approves a $410 billion spending bill that contains earmarks for pet projects. CNN's Dana Bash reports.
CNN: Grading Obama
CNN's Candy Crowley grades President Obama's first 50 days in office.
CNN: Million dollar taste buds
CNN's Adrian Finighan spends time with coffee taster Gennaro Pelliccia, whose taste buds are worth millions.