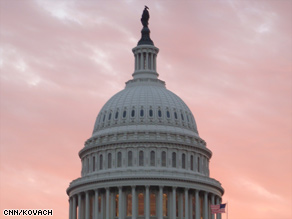 WASHINGTON/POLITICAL
For the latest political news: www.CNNPolitics.com.
CNN: House Dems say no new stimulus in the works
House Democratic aides denied Wednesday that work is already underway on a second stimulus package.
CNN: Bill Clinton: Road to health care reform easier now
Former President Bill Clinton said Wednesday that overhauling the nation's health care system should be easier now than when he tried in the early '90s, despite the current financial doldrums.
CNN: S.C. governor evokes Zimbabwe in arguments against stimulus
The United States faces a Zimbabwe-style economic collapse if it keeps "spending a bunch of money we don't have," South Carolina Gov. Mark Sanford said Wednesday.
Washington Post: Workers' Health Benefits Eyed for Taxation
With President Obama's plan to tax the rich to pay for health care facing deep skepticism on Capitol Hill, key lawmakers are pressing a different way to raise money: taxing the health benefits workers receive from their employers.
WSJ: Split Is Sought for Tanker Deal
House lawmakers are working to split a politically charged, $40 billion effort to replace the U.S. Air Force's fleet of flying gas stations between Boeing Co. and Northrop Grumman Corp.
Washington Times: Infighting knocks wind from energy plans
Bureaucratic infighting is holding up one of the Obama administration's top goals in renewable energy – the construction of wind turbines off the Atlantic and Pacific coasts that would generate clean electricity and create "green" jobs.
WSJ Op-Ed: Rove: The White House Misfires on Limbaugh
Presidents throughout history have kept lists of political foes. But the Obama White House is the first I am aware of to pick targets based on polls. Even Richard Nixon didn't focus-group his enemies list.
LA Times: Coleman vs. Franken Senate contest drags on in Minnesota
It is the election that never seems to end. Voters in Minnesota were no closer Wednesday to knowing whether their second U.S. senator will be Democrat Al Franken or Republican Norm Coleman, even as the latest installment, a trial in St. Paul challenging the Nov. 4 election, comes to a close.
Washington Post Op-Ed: Will: Paved With Magnificent Intentions
Charles Dickens, who visited in 1842, described Washington as a "city of magnificent intentions" because of the incongruity between the city's grand aspirations and muddy, swampy actuality. Today Washington's discrepancy is not architectural but political. It is between the extraordinary powers and competences the administration claims it has and the administration's inability to be clear or plausible about what it is doing.
International Herald Tribune: Israel stance was undoing of nominee for intelligence post
When Dennis Blair, the director of national intelligence, announced that he would install Charles Freeman Jr. in a top intelligence post, the decision surprised some in the White House who worried that the selection could be controversial and an unnecessary distraction, according to administration officials.
Washington Post: An Insider in an Unfamiliar Role
A couple of months ago, Steven Rattner knew little about the U.S. auto industry. But that didn't prevent President Obama from recruiting him to solve one of the most vexing problems of the financial crisis - how to avert a catastrophic collapse of Chrysler and General Motors.
Slate.com: Obama calls himself a New Democrat and shows what it means.
For conservatives still trying to fit Barack Obama into their old tax-and-spend-liberal box, Tuesday was a very bad day. In the morning, the president gave a tough-minded education reform speech demanding more accountability from schools, teachers, students, and parents. The same afternoon, he brought members of the House New Democrat Coalition to the White House and told them, "I am a New Democrat." According to Politico, Obama went on to describe himself as a fiscally responsible, pro-growth Democrat who supports free and fair trade and opposes protectionism.
USA Today: Meet Barry Rand, AARP's first African-American CEO
Barry Rand has had a long, successful career as the man in the grey flannel suit. But when he looks in the mirror, he sees "a son of the '60s."
NATIONAL/INTERNATIONAL
For the latest national and international news: www.CNN.com.
CNN: N. Korea notifies international community of plans to launch satellite
North Korea has informed an international organization that it plans to launch a satellite in early April, the South Korea's state news agency said Thursday.
CNN: Clinton defends stance on human rights
U.S. Secretary of State Hillary Clinton defended the Obama administration's commitment to human rights, calling their promotion "an essential aspect of American global foreign policy."
NYT: A Dirty Pun Tweaks China's Online Censors
Since its first unheralded appearance in January on a Chinese Web page, the grass-mud horse has become nothing less than a phenomenon.
WSJ: For More Mayors, School Takeovers Are a No-Brainer
More U.S. cities are considering scrapping a longstanding tradition in American education, the elected school board, and opting to let mayors rule over the classroom.
LA Times: California panel urges 'immediate action' to protect against rising sea levels
As California officials see it, global warming is happening so there's no time to waste in figuring out what to do. California's interagency Climate Action Team on Wednesday issued the first of 40 reports on impacts and adaptation, outlining what the state's residents must do to deal with the floods, erosion and other effects expected from rising sea levels.
The Boston Globe: Recession byproduct – a cut in emissions
New figures being released today show the recession helped drive down global warming emissions from Northeast power plants last year to their lowest levels in at least nine years.
Al Jazeera: UN evaluating Haiti peacekeepers
A delegation from the United Nations security council is due to arrived in Haiti to evaluate the UN's peacekeeping mission there.
Jerusalem Post: Anti-Semitism research center in Germany criticized for failing to urge boycott of Durban II
The scandal-plagued Berlin Center for Anti-Semitism Research has been thrown into a new crisis for its failure to advise the German government to pull out of the so-called Durban II meeting – the UN's World Conference Against Racism – which opens on April 20 in Geneva.
NYT: Five Beginners' Steps to a Greener Home
A RECENT Amazon.com search for "green home" pulled up more than 15,000 book titles. Who has time to read them all? So this week, The Green Home tracked down Eric Corey Freed, the author of "Green Building & Remodeling for Dummies," and asked him to distill this growing cottage industry of green advice into five must-do steps.
Seattle Times: Labor bill killed after e-mail links its fate to campaign cash
An e-mail from a state labor group linking campaign donations to contentious worker-rights legislation has prompted legislative leaders to kill the bill and request an investigation by law enforcement.
BUSINESS
For the latest business news: www.CNNMoney.com.
CNN: US Foreclosure Filings In February Up 30% On Year
Delays stalling the foreclosure process are prolonging the U.S. housing downturn, RealtyTrac said Thursday, as it reported a surprising jump in foreclosure filings.
CNN: Freddie Mac asks Treasury for $30.8 billion
Freddie Mac, the government-backed mortgage finance company, said Wednesday it has asked the government for $30.8 billion in additional funding to close a gaping hole on its books.
Washington Post Op-Ed: Marriott: Memo to Business: Let's Meet
When the Democrats held their national convention last August, 50,000 delegates, politicians, journalists and others descended on the Mile High City for several days. Forty thousand hotel rooms were booked. Restaurants and entertainment venues were packed. In the end, Denver benefited from more than $260 million in revenue, creating significant tax income for the city and state. Now that's what I call a great meeting.
Bloomberg: Wall Street Salaries May Jump as Bonuses Drop, Consultant Says
Wall Street employees' base salaries may double as bonuses, which can account for the bulk of pay for bankers and traders, shrink, said Alan Johnson, who runs a compensation consulting firm.
Forbes: Regulation Season Blooms In D.C.
Like Spring's first tentative crocuses bravely pushing through newly thawed dirt, ideas about how to reform the financial regulatory system are blooming in the U.S. capital. But getting these ideas to blossom into full-fledged policies won't be as easy as "place in dirt, add sun and water."
Business Week: EBay Outlines Three-Year Revival Plan
With few exceptions, tech companies that get tagged with the dinosaur label have a hard time shaking it. Executives at eBay (EBAY) are making a concerted effort to keep their company off the list.
In Case You Missed It
To watch the latest interviews and reporting: http://www.cnn.com/video.
CNN: Larry King: Bill Clinton
Guest host Dr. Sanjay Gupta asks former President Bill Clinton why the United States needs health care reform.
CNN: Geithner the Glum
CNN's Jeanne Moos found humor in the man at the center of the economic bad news.
CNN: W. Virginia's 'road to nowhere'
Critics say West Virginia's corridor H highway is an example of pork barrel spending. CNN's Drew Griffin reports.
CNN: NASA watchdog under fire
Some lawmakers want NASA's inspector general fired, as the agency gets $1 billion in stimulus. Abbie Boudreau reports.