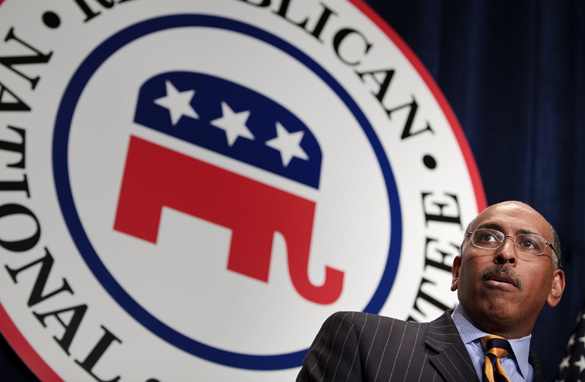 Steele's recent comments on abortion did not sit well with some Republicans (GETTY IMAGES)
(CNN) - Republican National Committee Chairman Michael Steele - already under fire from some in the GOP over his turbulent first month at the helm of the party — looked to ease conservative concerns Thursday over his comments suggesting abortion is an "individual choice."
"I am pro-life, always have been, always will be," Steele said in a statement. "I tried to present why I am pro life while recognizing that my mother had a 'choice' before deciding to put me up for adoption. I thank her every day for supporting life. The strength of the pro life movement lies in choosing life and sharing the wisdom of that choice with those who face difficult circumstances."
On Wednesday, GQ magazine published a recent interview with Steele on its Web site, during which the RNC chairman called abortion a "choice" and said the matter should be left up to the states to decide.
"I think that's an individual choice," he said of abortion, adding that he thinks Roe v. Wade was a "wrongly decided matter."
"The states should make that choice. That's what the choice is. The individual choice rests in the states. Let them decide."
The comments haven't sat well with some conservative activists, and Steele has reportedly reached out to several in order ease concerns on his abortion stance.
Tony Perkins, President of the Family Research Council, is among the group of conservatives who have publicly expressed concern:
"I expressed my concerns to the chairman earlier this week about previous statements that were very similar in nature. He assured me as chairman his views did not matter and that he would be upholding and promoting the Party platform, which is very clear on these issues," Perkins said. "It is very difficult to reconcile the GQ interview with the chairman's pledge."
Perkins is expected to have more to say on the matter later Thursday after speaking with Steele directly, according to a spokesman for the Family Research Council.
But in his statement, Steele said he is committed to the GOP's pro-life platform.
"The Republican Party is and will continue to be the party of life," Steele also said in the statement. "I support our platform and its call for a Human Life Amendment. It is important that we stand up for the defenseless and that we continue to work to change the hearts and minds of our fellow countrymen so that we can welcome all children and protect them under the law."
In the interview with GQ, Steele also suggested homosexuality is not a choice - another position that puts him at odds with some cultural conservatives.
"I don't think I've ever really subscribed to that view, that you can turn it on and off like a water tap. Um, you know, I think that there's a whole lot that goes into the makeup of an individual that, uh, you just can't simply say, oh, like, 'Tomorrow morning I'm gonna stop being gay.' It's like saying, 'Tomorrow morning I'm gonna stop being black,'" he told the magazine.