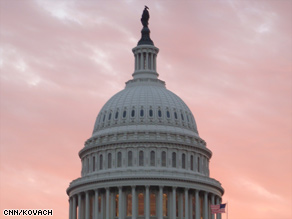 WASHINGTON/POLITICAL
For the latest political news: www.CNNPolitics.com.
CNN: Steele ally's plea: Support our RNC chairman
A top ally of embattled Republican National Committee Chairman Michael Steele called on GOP leaders and activists Thursday to publicly state their support for Steele, as criticism builds about his ability to lead the national party.
CNN: Stewart slings barbs face-to-face with Cramer
After a week of pointed verbal barbs, host Jon Stewart sat face-to-face with financial analyst Jim Cramer on Comedy Central's "The Daily Show" and continued the assault Thursday. Stewart blamed Cramer and cable network CNBC for being irresponsible cheerleaders in the lead-up to the stock market meltdown.
CNN: Obama info czar takes leave during FBI investigation
After just a week on the job, the Obama administration's new chief information officer is taking a leave of absence until further notice.
CNN: White House: No stimulus guidelines until next week
The president's guidelines on how economic stimulus money can be used will be announced next week, White House Deputy Press Secretary Bill Burton said Thursday.
WSJ: U.S. Arranging to Send Prisoners to Saudi Arabia
Some of the roughly 100 Yemenis held at Guantanamo Bay would go to Saudi Arabia under a plan being discussed by U.S. and Saudi officials, said people briefed on the talks.
NYT: Obama on Spot as Rulings Aid Gay Partners
Just seven weeks into office, President Obama is being forced to confront one of the most sensitive social and political issues of the day: whether the government must provide health insurance benefits to same-sex partners of federal employees.
Washington Post: How Obama Will Handle U.S. Attorney Posts Still Unclear
One of the better spoils of winning the presidency is the power to appoint nearly 100 top prosecutors across the country. But filling the plum jobs has become a test of competing priorities for President Obama. While he pledged bipartisanship during his campaign, replacing the cadre of mostly conservative U.S. attorneys would signal a new direction.
Washington Times: Everyman Obama courts socialites
While publicly identifying with the nation's have-nots, the Obama administration has been cultivating the Beltway social elite behind the scenes.
The Atlantic: How Steele Can Get His Groove Back
If, in their fit of determination this January, Republican Party members elected Michael Steele to be the taut new face on a corpulent vessel of a political party, to be the brand-changer that would remake the party's image – well, Steele has turned out not to be that guy. Voluble, unselfconscious, ambitious, and too eager to please, Steele can't seem to open up his mouth without getting in trouble. He's become clownish. And that judgment could endure until the end of his tenure.
NYT: Congresswoman, Tied to Bank, Helped Seek Funds
Top federal regulators say they were taken aback when they learned that a California congresswoman who helped set up a meeting with bankers last year had family financial ties to a bank whose chief executive asked them for up to $50 million in special bailout funds.
LA Times: Moneygall, Ireland: A village of Obama family-tree huggers
Until recently, Moneygall's most famous son wasn't even human. It was a horse, Papillon, who streaked to the title as a long shot in a nail-biter at Britain's prestigious Grand National race in 2000.
Washington Times: EXCLUSIVE: Fenty pushes for school vouchers
D.C. Mayor Adrian M. Fenty called for continued federal funding for a program that permits underprivileged children to attend private school, breaking with the congressional leaders of his own Democratic Party who ended the initiative.
Washington Post Op-Ed: Ensign: Gun Rights on The Line
The recent Senate vote to ensure that D.C. residents can purchase and own firearms without unreasonable restrictions and the House's subsequent delay of legislation to give the District a voting representative - the result of pressure from centrist Democrats to include this amendment - were crucial victories for all Americans.
NATIONAL/INTERNATIONAL
For the latest national and international news: www.CNN.com.
CNN: World faces 'irreversible' climate change, researchers warn
The world is facing an increasing risk of "irreversible" climate shifts because worst-case scenarios warned of two years ago are being realized, an international panel of scientists has warned.
CNN: Report: Japan to fight piracy off Africa
Japan's defense minister has ordered two destroyers to help fight piracy in the waters off Somalia, officials with the defense ministry told CNN.
CNN: Police: U.S. teens were hit men for Mexican cartel
Rosalio Reta sits at a table inside a Laredo Police Department interrogation room. A detective, sitting across the table, asks him how it all started.
CNN: Ex-president of Israel blasts legal 'lynching' after rape indictment
Former Israeli President Moshe Katsav on Thursday accused the country's authorities of "lynching" him, four days after the attorney general said Katsav would be indicted for rape and sexual assault.
CS Monitor: Recessions expose financial scandals
Low tide in the economy sometimes reveals financial scandals that otherwise might not have been easily detected.
International Herald Tribune: China 'worried' about safety of U.S. Treasuries
China, the world's biggest holder of United States government debt, on Friday expressed concern about the safety of those assets as American deficits have ballooned with costly stimulus and bailout packages aimed at rescuing the economy.
WSJ: Grain Costs Down, Groceries Not
Commodity prices are down, but the bad news for consumers is that U.S. farmers are responding by cutting back their planting and production, reducing the chances of lower prices reaching the supermarket.
Chicago Tribune: Chicago will get at least $1 billion in stimulus funds
Chicago will get at least $1 billion in federal stimulus money, a sum Mayor Richard Daley considers "better than nothing" but insists will not solve the city's budget woes.
Washington Post: Push to Reduce Greenhouse Gases Would Put a Price on Emitting Pollution
President Obama's endorsement of climate legislation to clamp down on greenhouse gases has set off a lobbying rush in Congress and made the air thick with rival proposals.
International Herald Tribune: For Sweden, tiny Latvia, Lithuania and Estonia are too big to fail
For Sweden, tiny Latvia, Lithuania and Estonia are too big to fail. Sweden's banks plowed billions of kronor into the three booming but small countries across the Baltic Sea over the past decade. But severe recessions in the Baltic states are turning them into the Swedish equivalent of subprime U.S. mortgages — once favored investments that are now in decline.
BUSINESS
For the latest business news: www.CNNMoney.com.
CNN: A three-peat for Wall Street's bulls
Stocks jumped Thursday, gaining for the third session in a row, as investors scooped up banks and other shares hit in a selloff that left the Dow at 12-year lows.
CNN: Ex Google executive named CEO of AOL
Tim Armstrong, a former Google executive, was named the new chairman and Chief Executive Officer of AOL, according to a statement released Thursday.
CNN: Household net worth sinks $11.2 trillion
Household net worth in the United States declined by $11.2 trillion last year, according to a government report issued Thursday, and Americans curbed their spending as they watched the value of their assets fall.
WSJ: Behold the Appearance of the Invisibility Cloak
Magicians make things on stage vanish with mirrors and sleight of hand. Physicists are learning to make objects disappear by crafting artificial blind spots from strange new fabrics that deflect revealing electromagnetic waves.
In Case You Missed It
To watch the latest interviews and reporting: http://www.cnn.com/video.
CNN's Campbell Brown talks with a panel about where all of the money Bernard Madoff ripped off is now.
CNN: Obama mulls border troops
President Obama considers lawmakers' requests to move troops to the U.S.-Mexico border. CNN's Casey Wian reports.
CNN's Jill Dougherty looks at how the Obama administration may use a letter to reach out to Iran.
CNN: RNC chair faces criticism
Senior Political Correspondent Candy Crowley speaks with Wolf Blitzer about Michael Steele's recent abortion comments.