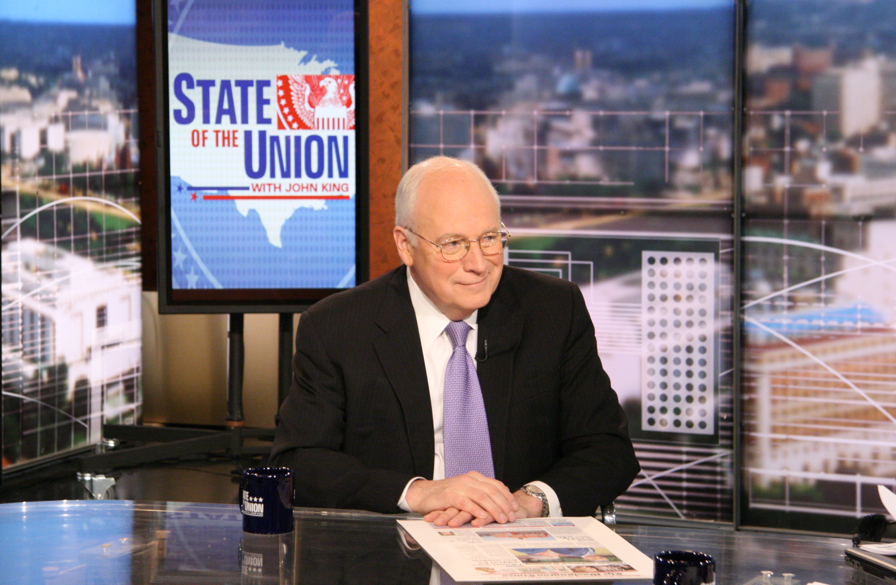 Photo Credit: Josh Rubin/CNN
(CNN) — In his first television interview since leaving the vice president's mansion, Dick Cheney told CNN's John King the Bush administration had accomplished "nearly everything we set out to do" in Iraq - and took aim at a key member of the Bush diplomatic team who's been tapped for the Obama administration.
"I think it's my general sense of where we are with respect to Iraq at the end of now, what, nearly six years is we accomplished nearly everything we set out to do," he said on State of the Union Sunday. He pointed to falling levels of violence, and recent democratic elections: "We have succeeded in creating in the heart of the Middle East a democratically-governed Iraq, and it is in fact what we set out to do."
But he declined to say whether those conditions meant "Mission Accomplished" in Iraq: "I wouldn't use that, just because it triggers reactions that we don't need," he said. "But I would ask people, and the press too, to take an honest look at the circumstances in Iraq today, and how far we've come."
He was critical of the Obama administration's decision to tap Chris Hill, the Bush team's point man on North Korea, to serve as ambassador to Iraq. "He's not the man I would have picked," said Cheney, saying Hill "doesn't have experience in the region, none of the skills and talents that [former ambassador] Ryan Crocker had," adding that he would not have made that choice.