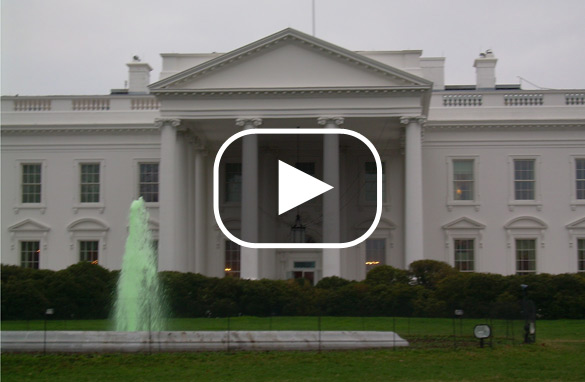 Watch the White House fountain go green. (Photo Credit: CNN/Becky Brittain)
(CNN) – Just call him President O'bama.
President Obama is celebrating Ireland Tuesday, welcoming Irish leaders to the Oval Office for St. Patrick's Day - and turning the White House fountain water green.
The president, along with Vice President Joe Biden — who often points to his own Irish Catholic roots - will receive Taoiseach Brian Cowen and first minister of Northern Ireland Peter Robinson and his deputy, Martin McGuiness, at the White House Tuesday. The president is set to participate in the traditional shamrock ceremony, where Taoiseach Cowen will present him with a bowl of shamrock, an event honored by past presidents.
But a touch of a Chicago tradition has come to 1600 Pennsylvania Ave. The White House fountains have been dyed green to mimic Chicago's tradition of dyeing the river green for St. Patrick's Day. White House Social Secretary Desiree Rogers made the suggestion to the Obamas and they "loved it," according to a White House aide.
President Obama also took the holiday to announce his intent to nominate the ambassador to Ireland. In a statement released Tuesday, President Obama said Pittsburgh Steelers Chairman Daniel Rooney will become the highest-ranking diplomat to Ireland.
Later in the day, the president and Irish leaders will head to Capitol Hill for Speaker Nancy Pelosi's St. Patrick's Day lunch. Irish festivities will continue into the evening as the first family hosts a holiday reception in the White House. The Obamas will welcome several traditional Irish music groups for a St. Patrick's Day party in the East Room and State Dining Room, including have invited Shannon Rovers, the official pipe band of the Chicago St. Patrick's Day Festival, along with Celtic Thunder, a group of five male Celtic singers. Also on the program will be Pulitzer Prize-winning poet Paul Muldoon.