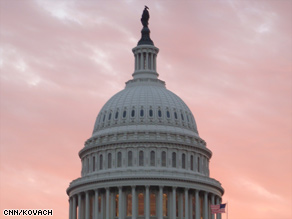 WASHINGTON/POLITICAL
For the latest political news: www.CNNPolitics.com.
CNN: Robert Gibbs takes verbal slap at Cheney
White House Press Secretary Robert Gibbs launched a sarcastic barb at former Vice President Dick Cheney on Monday, but then the Obama administration spokesman pulled back a bit as he acknowledged the "seriousness" of the subject - terrorism.
CNN: Obama tries to stop AIG bonuses: 'How do they justify this outrage?'
President Obama said Monday he will attempt to block bonuses to executives at ailing insurance giant AIG, payments he described as an "outrage."
Washington Post: Research Center's Role Faces Scrutiny
A Pennsylvania defense research center regularly consulted with two "handlers" close to Rep. John P. Murtha (D-Pa.) as it collected nearly $250 million in federal funding through the lawmaker, according to documents obtained by The Washington Post and sources familiar with the funding requests. The center then channeled a significant portion of the funding to companies that were among Murtha's campaign supporters.
WSJ: Hamburg, Pick for FDA, Faces an Agency in Crisis
President Barack Obama's choice to lead the Food and Drug Administration faces several crises at the beginning of her term.
Bloomberg: Obama Slow to Repudiate Bush in Race, Terrorism Court Cases
The change sweeping Washington has been slow to show up in President Barack Obama's legal stances on issues such as terrorism and racial preferences.
Forbes: Discharge Incapable Commanders
President Obama should take a cue from his hero, Abraham Lincoln. During the Civil War Lincoln never hesitated to fire generals he thought weren't up to the task. Obama should do the same thing with his economic commanders. Clearly Treasury Chief Timothy Geithner has been about as effective in fighting the credit crisis as George McClellan or Joe Hooker were in fighting Robert E. Lee's Army of Northern Virginia. Geithner has been in the midst of this crisis since it erupted in the summer of 2007. You would think he'd have been ready for decisive, bold action as soon as Obama took the oath of office. Instead, he has discouraged markets with his vague generalities.
Washington Times: Obama-ites wait for jobs - and sit tight
Visit almost any coffee shop in Washington these days, and you'll see them. Twenty-somethings, sitting with laptops adorned with Obama campaign stickers, jumping between job-search Web sites and their G-Mail accounts.
Washington Times: 'Recession gardens' sprouting up
With the recession in full swing, many Americans are returning to their roots – literally – cultivating vegetables in their backyards to squeeze every penny out of their food budgets.
CNN Commentary: Cheney says U.S. can torture but can't heal
Dick Cheney has finally found the limits of government power.
Providence Journal: GOP's Sliding Scale for Self-Discipline
In his essay "Why the GOP Can't Win With Minorities," conservative scholar Shelby Steele almost nails the half-question in the title. An African-American, Steele contrasts the "moral activism" of liberals with conservative calls for personal discipline.
NATIONAL/INTERNATIONAL
For the latest national and international news: www.CNN.com.
CNN: North Korean premier arrives in China
North Korea Premier Kim Yong-Il arrived in China on Tuesday for a five-day visit that coincides with the 60th anniversary celebration of diplomatic ties between the two countries, state media said.
CNN: Financier Stanford owes at least $226 million, IRS says
American financier Robert Allen Stanford and his wife, Susan, owe back taxes, penalties and interest of at least $226.5 million, the IRS said in court documents filed in Dallas, Texas.
NYT: Drones Are Weapons of Choice in Fighting Qaeda
A missile fired by an American drone killed at least four people late Sunday at the house of a militant commander in northwest Pakistan, the latest use of what intelligence officials have called their most effective weapon against Al Qaeda.
WSJ: Detroit's Pain Begins to Spread Into Wealthy Suburbs and Schools
Here in the wealthiest city in Michigan's wealthiest county, millionaires and billionaires live in stately brick mansions alongside winding wooded roads and sparkling lakes. But officials of the Bloomfield Hills School District have taken a hard look at the future, and it isn't so pretty.
USA Today: Poll: More view Afghan war as 'mistake'
American support for the war in Afghanistan has ebbed to a new low, as attacks on U.S. troops and their allies have hit record levels and commanders are pleading for reinforcements, a USA TODAY/Gallup Poll shows.
Washington Times EXCLUSIVE: Israel's national security aide barred from U.S.
Uzi Arad, who is expected to serve as national security adviser in the next Israeli government, has been barred from entering the United States for nearly two years on the grounds that he is an intelligence risk.
International Herald Tribune: Pakistan turns onto a new and uncertain path
It was a signal moment in Pakistan's political development: A huge demonstration forced the restoration of a dismissed chief justice, Iftikhar Muhammad Chaudhry, a symbol of democracy and the rule of law. The army did not stage a coup, but insisted that the government accept a compromise.
LA Times: Cities and counties rely on U.S. immigrant detention fees
At a time when local law enforcement agencies are being forced to cut budgets and freeze hiring, cities across Southern California have found a growing source of income - immigration detention.
Boston Globe: Library budget cuts put book borrowing at risk
At a time when libraries are more popular than ever, residents in cities and towns across Massachusetts risk losing many of their borrowing rights as communities consider cutting library budgets below minimum levels set by the state.
Chicago Tribune: Gov. Pat Quinn seeks consensus in break from past
Step by step, Gov. Pat Quinn is reversing the decisions of the impeached and ousted Rod Blagojevich as he seeks to build a bond with lawmakers weary of battling the state's chief executive and voters who watched the last self-proclaimed populist governor go up in flames.
USA Today: Amnesty, public shame considered for tax dodgers
Cash-strapped states and local governments are trying to lure in overdue fines and taxes by offering scofflaws amnesty and threatening a dose of public humiliation.
Newsweek: Researchers find pint-sized meat-eating dinosaur
Imagine a vicious velociraptor like those in "Jurassic Park," but only as big as a modern chicken. That's what Canadian researchers say they have found, the smallest meat-eating dinosaur yet discovered in North America.
USA Today: Website-infecting SQL injection attacks hit 450,000 a day
Cybercriminals are spreading invisible infections far and wide across the Internet by hammering hundreds of thousands of websites each day with so-called SQL injection attacks.
BUSINESS
For the latest business news: www.CNNMoney.com.
CNN: Bonus rage closes in on AIG
Anger over $165 million in bonuses doled out to American International Group senior employees reached a fevered pitch on Monday, prompting the Obama administration to vow to recoup the money and a New York prosecutor to subpoena the firm for recipients' names.
CNN: Mexico to raise tariffs on 90 U.S. exports
Mexico has announced plans to raise tariffs on almost 90 U.S. exports, Mexican and U.S. officials confirmed Monday.
NYT: Goldman Offers Loans to Stretched Employees
Goldman Sachs got its bailout. Now some of its bankers, those aristocrats of Wall Street, apparently need a bit of a bailout too. Goldman, which accepted billions of taxpayer dollars last fall and, as learned Sunday, was also a big beneficiary of the rescue of the American International Group, is offering to lend money to more than 1,000 employees who have been squeezed by the financial crisis. The loans, offered via e-mail last week, could range from a few thousand dollars to hundreds of thousands.
Denver Post: Scams prey on jobless
As desperate job-seekers look for work, law enforcement agencies are warning of companies that take advantage of the unemployed by misrepresenting the jobs available or engaging in outright fraud.
WSJ: Wall Street Pursues Pay Loopholes
Some Wall Street firms are looking for ways to sidestep tough new federal caps on compensation.
NYT: As Stimulus Cash Arrives, States Seek First Spender Status
Emotions were running high on Monday in the San Bernardino National Forest. The first shovel, held in the hands of the first set of workers, made its way into the first bit of ground broken for the "first project" financed by the federal stimulus bill.
Washington Post Op-Ed: Cohen: Don't Blame Jim Cramer
What Jon Stewart needs is Jon Stewart. He could use a droll comedian to temper his ferocity and correct him when he's wrong, as he was about the financial media, particularly CNBC and its excitable analyst Jim Cramer. They didn't cover up the story of financial shenanigans. They didn't even know it existed.
NYT: In Downturn, China Exploits Path to Growth
The global economic downturn, and efforts to reverse it, will probably make China an even stronger economic competitor than it was before the crisis.
In Case You Missed It
To watch the latest interviews and reporting: http://www.cnn.com/video.
CNN: Are AIG bonuses legal?
Campbell Brown talks with her panel about the case AIG is making for paying the bonuses to its executives.
CNN: Afghanistan's supply route dangers
CNN's Paula Newton on the 'jingle drivers' ' role in the military supply pipeline.
CNN: Seattle paper stops the presses
The Seattle Post-Intelligencer halts its print edition after 146 years. Publisher Roger Oglesby explains.
CNN: Networking to a new job
Los Angeles Times columnist Gregory Rodriguez explains how networking is the key to finding that next job.