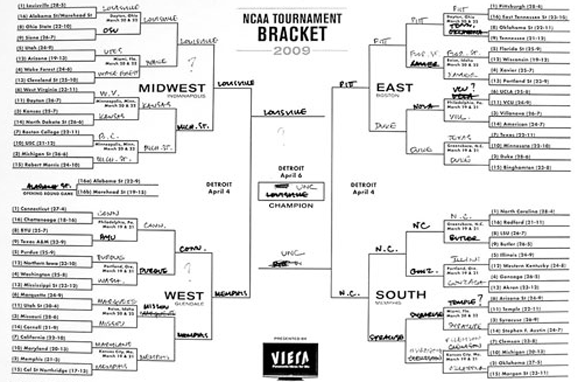 The White House posted Obama's bracket online Wednesday. (WhiteHouse.gov)
(CNN) - President Obama's NCAA Men's basketball Final Four picks, unveiled Wednesday, reveals the nation's first hoops fan picked Big East powerhouses Louisville and Pittsburgh, along with Memphis and the University of North Carolina.
In all, the president is taking few risks when it comes to his Final Four teams: Louisville, Pittsburgh, and North Carolina are all No. 1 seeds, while Memphis is seeded No. 2.
But the picks are sure to anger the state of Connecticut, whose Huskies are the only No. 1 seed Obama doesn't have going to the final four.
The president is also not picking an upset many observers have predicted - he has No. 12 Arizona falling to No. 5 Utah in the first round.
Watch: Basketball legends critique Obama's skills on the court

But the decision has nothing to do with the fact Obama battled a senator from Arizona for the presidency last year, he assured ESPN.
"It has nothing to do with McCain - I think Arizona is a great state: I love playing golf there. But hey just squeaked in based on reputation," Obama said.
UPDATE: ESPN has released Obama's full bracket