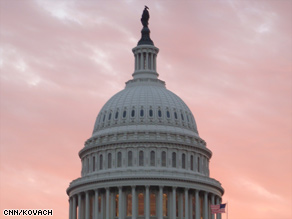 WASHINGTON/POLITICAL
For the latest political news: www.CNNPolitics.com.
CNN: U.S. – with firms – to buy 'bad' assets
The Obama administration on Monday will formally unveil a program to help banks clean up their books by subsidizing private investors' purchase of troubled assets.
CNN: White House officials won't endorse tax on bonuses
President Obama's economic advisers on Sunday refused to endorse a House bill that would levy a 90 percent tax on bonuses paid out by companies that receive bailout money, with one administration official describing the plan as potentially "dangerous."
CNN: On '60 Minutes,' Obama rebukes Cheney criticism
President Obama said in an interview aired Sunday that the hardest decision he's made since taking office was to send more troops to Afghanistan.
CNN: Granholm to Obama: Rein in health care costs
Michigan Gov. Jennifer Granholm told President Barack Obama to ignore persistent Republican criticism that he is trying to do too much in a time of economic crisis and, instead, urged the new president to tackle the nation's health care costs as part of a larger effort to get the economy back on track.
Washington Post: Local Realty Executive to Direct FHA
David H. Stevens, president of Long & Foster, the Washington real estate firm, is expected to be selected today to run the Federal Housing Administration.
WSJ Op-Ed: Geithner: My Plan for Bad Bank Assets
The American economy and much of the world now face extraordinary challenges, and confronting these challenges will continue to require extraordinary actions.
Washington Post: Foreign Firms Eye Stimulus Dollars
Spain's Prince Felipe and his wife, Princess Letizia, visited New York and Washington last week on an unusual mission for one of Europe's most glamorous celebrity couples: to drum up business for Spanish companies from the U.S. economic stimulus package.
USA Today: Report targets Army policy on combat fitness
The Army's process for determining a soldier's fitness for combat is so confusing that it increases the chance of sending ailing troops to war, an Army inspector general's report obtained by USA TODAY says.
Weekly Standard: Obama's message of weakness.
"Liberty" isn't a word you'll find in President Obama's Iranian New Year message to "the people and leaders of the Islamic Republic of Iran." Nor is "freedom." Nor "democracy." Nor "human rights."
CNN: Obama re-enlists volunteers to build support for agenda
Democrats mounted a nationwide effort Saturday to try to harness the grassroots support that helped propel President Obama's campaign and use it to push for his administration's initiatives.
CS Monitor: Economy forces Obama to rein in foreign-aid goals
The Obama administration is hinting that the economic downturn means the president is unlikely to reach his goal of doubling foreign aid by the end of his four-year term.
London Times: Soon there may be nobody left to lend to America
Anyone who thought Ben Bernanke and his Federal Reserve Board colleagues were out of ammunition received a rude, or pleasant, shock last week. Rude, if you worry that a few extra trillions sloshing around the economy might one day trigger a wave of inflation; pleasant, if you worry that the economy is sinking fast, and the Obama administration and Congress haven't a clue what to do about it.
Washington Post Op-Ed: Pickering and Sessions: Moving Forward by Looking Back
President Obama declared in his inaugural address that the United States is "ready to lead once more." Not content to merely say the right thing, he took several significant steps to act on his words within the first days of his presidency - signing, for instance, executive orders to close the prison at Guantanamo Bay and secret CIA facilities around the world.
Washington Post: Multiracial Pupils to Be Counted in A New Way
Public schools in the Washington region and elsewhere are abandoning their check-one-box approach to gathering information about race and ethnicity in an effort to develop a more accurate portrait of classrooms transformed by immigration and interracial marriage. Next year, they will begin a separate count of students who are of more than one race.
CNN: Republican stalked by gossip site like he's a Hollywood starlet
Having mastered the Hollywood gossip scene, celebrity site TMZ apparently has set its sights on a new conquest — Capitol Hill.
US News & World Report: The First 100 Days: Clinton and Ford Got Off to a Rocky Start
It's not a perfect measure, but it's a useful one—the 100-day standard for gauging presidential effectiveness. The underlying truth is that presidents tend to be most effective when they first take office, when their leadership style seems fresh and new, when the aura of victory is still powerful, and when their impact on Congress is usually at its height. There is nothing magic about the number, and many presidential aides over the years have complained that it is an artificial yardstick. But it has been used by the public, the media, and scholars as a gauge of presidential success and activis m since Franklin D. Roosevelt pioneered the 100-day concept when he took office in 1933. He was faced with the calamity of the Depression—and he moved with unprecedented dispatch to address the problem. "The first hundred days of the New Deal have served as a model for future presidents of bold leadership and executive-legislative harmony," Cambridge University historian Anthony Badger writes in FDR: The First Hundred Days. In this series, U.S. News looks at the most far-reaching 100-day periods in presidential history, starting with FDR.
NATIONAL/INTERNATIONAL
For the latest national and international news: www.CNN.com.
CNN: U.S. troop withdrawal through Turkey may get PM's OK
Turkey's prime minister said Saturday he would be receptive to the possibility of allowing American troops to withdraw from Iraq across Turkish territory, if the United States asks for permission.
CNN: S. Korea, Europe hold free trade talks
South Korean and European Union trade officials began an eighth and likely final round of free trade talks on Monday, a South Korean Ministry of Foreign Affairs official said.
CNN: Alaska's Mount Redoubt erupts
Mount Redoubt, a volcano in southern Alaska, began erupting late Sunday, according to the U.S. Geological Survey.
Washington Post: American Muslim's Case Poses a Test
One day last July, Naji Hamdan was summoned to the U.S. Embassy in the United Arab Emirates. He drove two hours through the desert heat from Dubai to answer questions from FBI agents who had arrived from Los Angeles, where Hamdan had gone to school, started a family, built a successful auto-parts business and become a U.S. citizen.
NYT: Trade Barriers Rise as the Recession's Grip Tightens
After repeated pledges by world leaders to avoid erecting trade barriers, protectionism is on the march, provoking nasty trade disputes and undermining efforts to plot a coordinated response to the deepest global economic downturn since World War II.
WSJ: U.S. Troop Withdrawals Could Quicken in Iraq
The most senior U.S. general in Iraq said that if security continues to improve and political progress advances, he may recommend further troop reductions by the end of this summer.
LA Times: Oil's decline threatens Sudan government
Ask a Sudanese citizen what troubles him these days and he might not even mention Darfur or the International Criminal Court arrest warrant against the president.
NYT: Drug Cartel Violence Spills Into U.S. From Mexico
Sgt. David Azuelo stepped gingerly over the specks of blood on the floor, took note of the bullet hole through the bedroom skylight, raised an eyebrow at the lack of furniture in the ranch-style house and turned to his squad of detectives investigating one of the latest home invasions in this southern Arizona city.
LA Times: Drug cartels raise the stakes on human smuggling
Mexican drug cartels and their vast network of associates have branched out from their traditional business of narcotics trafficking and are now playing a central role in the multibillion-dollar-a-year business of illegal immigrant smuggling, U.S. law enforcement officials and other experts say.
Washington Post: On D.C. Streets, the Cellphone as Lifeline
To the usual trappings that help many homeless people endure life on the streets - woolen blankets, shopping carts or cardboard box shelters - add the humble cellphone.
WSJ: Drug Wars Get Attention From Cabinet
Two Obama cabinet members work this week to assuage concerns both at home and abroad about the drug wars along the Mexican border.
LA Times: Some schools are cutting back on homework
Rachel Bennett, 12, loves playing soccer, spending time with her grandparents and making jewelry with beads. But since she entered a magnet middle school in the fall - and began receiving two to four hours of homework a night - those activities have fallen by the wayside.
Forbes: The Next Mortgage Mess: Loan Servicing?
When Texas billionaire Wilbur Ross sued a Connecticut hedge fund Thursday, he shined a light into one of the murkier regions of the subprime mortgage morass: loan servicing.
WSJ: Texas School Board Set to Vote on Challenge to Evolution
The Texas Board of Education will vote this week on a new science curriculum designed to challenge the guiding principle of evolution, a step that could influence what is taught in biology classes across the nation.
NYT: Free Room and Board Give a Job New Allure
As a resident assistant at Seton Hall University, Mark Cantine has brokered peace between warring roommates, called for medical transport after a student became dangerously drunk, nudged one freshman who was sleeping all day into counseling and rescued another who had locked himself in his bathroom — twice.
Business Week: The Tables Have Turned on Big Energy Players
Less than a year ago, the price of oil was close to $150 per barrel and many oil and natural gas producers were riding high with strong ratings and record profits. At the same time, nations whose economies were tightly tied to energy prices saw increasingly favorable trade balances. Those inflows also fueled the growth of powerful sovereign wealth funds that became major global investors. The oilfield services companies also profited from the boom, as demand for rigs and drilling services stayed strong.
Chicago Tribune: A new economy: Job clubs offer hope and help in difficult times
There were 70 unemployed men and women at this meeting of Naperville's Community Career Center job club, squeezing into rows of stacking chairs, standing along the wall, sitting on the floor and on desks. A year ago Maguire-Dooley, director of adult services for Lisle Township, who runs this club and another offered by the township, might have seen 20 or 30.
Boston Globe: Alcoholism drug not an easy sell
For years, Kyle was a slave to alcoholism. Every day after work, he returned to his Burlington home to down malt liquor and vodka, slowly surrendering relationships with friends and family. "It wasn't a life to live," said Kyle, 29, who asked that his last name not be used.
Boston Globe: More students get subsidized lunches
The number of Massachusetts families seeking free and reduced-price meals for schoolchildren is rising as economic hardships extend to school lunchrooms.
USA Today: In-flight entertainment systems raise safety issues
Frequent flier Ron Goltsch loves Continental Airlines' (CAL) entertainment system, which lets him choose from thousands of movies, TV shows, songs and games on long flights between Newark, N.J., and Frankfurt.
BUSINESS
For the latest business news: www.CNNMoney.com.
CNN: Stocks: A look at the week ahead
The next week - the last full week in the quarter - promises to be a critical one for investors looking for reasons to either resurrect the stalled rally or retreat even further.
CNN: The 7 new rules of financial security
Old thinking: If you can stomach the ups and downs that come with risk, you'll be rewarded. New rule: Risk isn't about your stomach. It's about making or missing an important goal.
NYT: G.M. Bondholders Express Skepticism of Restructuring Plan
A group of prominent General Motors bondholders told the federal government's auto industry task force on Sunday that it did not think the company's restructuring plan was aggressive enough to avoid bankruptcy.
WSJ: Financial Stocks: Will Good News Follow the Bad?
Investors looking for signs the stock market has bottomed are again obsessed with the nation's battered banks. Their reasoning: Financial stocks led the market down and will likely lead it back up.
Bloomberg: Stock-Option Repricing Wave Lets Workers Sidestep Crash of 2008
EBay Inc., Advanced Micro Devices Inc. and dozens of other companies are asking shareholders to do something for employees that investors can't do for themselves: sidestep the worst market crash since the Great Depression.
BBC: World's cheapest car goes on sale
India's Tata Motors is due to launch its extra-cheap 10 feet (3 metres) long Nano car in Mumbai, selling for 100,000 rupees or $1,979 (£1,366).
Bloomberg: Costco, Whole Foods Offer Alternative to Union Bill
Costco Wholesale Corp., Starbucks Corp. and Whole Foods Market Inc. offered an alternative to the union-backed "card-check" legislation that U.S. business groups are spending millions of dollars to defeat.
CS Monitor: Can US let AIG fail?
Outrage about employee bonuses at AIG has put new focus on a larger question: whether saving the economy also means saving all the largest financial firms.
Denver Post: Taxi: Up for greener fare
Chris Cotter boasts that Denver's Metro Taxi is one of the nation's greenest cab companies. After all, 10 percent of its fleet of 400 cabs is made up of the Toyota Prius, a gas-electric hybrid efficient on city streets.
In Case You Missed It
To watch the latest interviews and reporting: http://www.cnn.com/video.
CNN: Sen. Gregg on the Economy
Sen. Judd Gregg sits down with John King and discusses the economy, AIG and Treasury Secretary Tim Geithner.
CNN: Obama team tries to fix banks
CNN's Kate Bolduan reports on President Obama's bank rescue plan and the tough sell it faces.
CNN: Bill Gates 'quite optimistic'
Bill and Melinda Gates discuss the challenges of reforming the US education system & the future of the 'IT Revolution.'
CNN: Republican stalked by TMZ
CNN's Howard Kurtz sits down with Rep. Aaron Schock to discuss how gossip site TMZ has taken an interest in Congress.
CNN: GPS: Spitzer speaks out
Fmr. Gov. of NY Eliot Spitzer discusses the economic crisis and the scandal that led to his resignation.