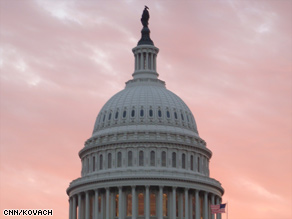 WASHINGTON/POLITICAL
For the latest political news: www.CNNPolitics.com.
CNN: Jindal defends those who want Obama to fail
It's OK for Republicans to want President Obama to fail if they think he's jeopardizing the country, Louisiana Gov. Bobby Jindal told members of his political party Tuesday night.
CNN: Obama defends his budget as essential to recovery
President Obama presented a sober assessment of the state of the economy in his prime time news conference Tuesday, but he insisted his administration has a strategy in place to "attack this crisis on all fronts."
CNN: Obama to host online town hall
President Barack Obama will host an online town hall meeting Thursday morning to discuss the economy, streamed live on the Web site whitehouse.gov.
Washington Post: Handling Of 'State Secrets' At Issue
Civil liberties advocates are accusing the Obama administration of forsaking campaign rhetoric and adopting the same expansive arguments that his predecessor used to cloak some of the most sensitive intelligence-gathering programs of the Bush White House.
NYT: Labor Agency Is Failing Workers, Report Says
The federal agency charged with enforcing minimum wage, overtime and many other labor laws is failing in that role, leaving millions of workers vulnerable, Congressional auditors have found.
WSJ: White House to Hunt for New Tax Revenues
The White House said it would launch a search for new tax revenues, as Congressional leaders moved to scale back proposed spending increases and tax cuts in President Barack Obama's ambitious budget.
Washington Post: GAO Calls Iraq Pullout A 'Massive,' Costly Effort
The removal of about 140,000 U.S. troops from Iraq by the end of 2011 will be a "massive and expensive effort" that is likely to increase rather than lower Iraq-related expenditures during the withdrawal and for several years after its completion, government investigators said in a report released yesterday.
Slate.com: Obama tries to balance his calls for patience and urgency.
How does Barack Obama persuade people to be patient about their outrage over the ongoing bailout of Wall Street—while also persuading them to get impatient about long-term fiscal reforms that may not affect them for years?
CNN: Bishop to skip Notre Dame graduation over Obama's views
The Catholic bishop of South Bend, Indiana, will not attend graduation ceremonies at the University of Notre Dame because he disagrees with the stem-cell research and abortion views of the commencement speaker - President Obama.
CS Monitor: Pentagon to show softer side to the world
After seven years of war, American foreign policy has become nearly synonymous with the brawny side of its military. But the US armed forces may now be moving to show a different face to the world.
LA Times: Feinstein wants desert swath off-limits to solar, wind projects
While President Obama has made development of cleaner energy sources a priority, an effort is underway to close off a large swath of the Southern California desert to solar and wind energy projects.
NYT Op-Ed: Friedman: Secrets of a Pollster
Stan Greenberg, one of America's most experienced pollsters, sums up the key lesson he learned polling for Bill Clinton, Nelson Mandela, Ehud Barak and Tony Blair: "Bold leaders in tumultuous times always have at least one crash."
Washington Times: Sebelius in trouble with Catholic Church
President Obama's nominee to head the agency that guides federal abortion policy is the latest Roman Catholic politician to find herself torn between her political beliefs and her faith.
Washington Post Op-Ed: Sens. Bayh, Carper, Lincoln: Building Bridges on The Hill
Last week, the three of us announced the formation of a moderate Democratic working group in the U.S. Senate.
Boston Globe: Pension plan choices may shrink
The stock market's decline has already ravaged your 401(k) plan. Now it could hurt your pension, too.
This feels a little like one of those bold election-night calls. The returns are barely in. All sorts of things could still go wrong. But barring something completely unforeseen—a big "but," granted—I think it might be just about time to call the American economy for Tim Geithner.
Washington Post: Specter Will Vote To Block Union Bill
Sen. Arlen Specter (Pa.), the only Republican senator who did not actively oppose the Employee Free Choice Act in the previous Congress, said yesterday that he will vote to block it this year, dealing a blow to the pro-labor legislation.
Chicago Tribune: Obama seems less at ease
A lectern, a presidential seal, the red-carpeted hallway leading to the East Room of the White House. The familiar scene conveys to Americans that the presidency is the ultimate center of power — and serves as a favorite backdrop for news conferences in which presidents reach masses of viewers.
Washington Post Op-Ed: Kennedy Jr: Hope in the Mountains
Yesterday was a great day for the people of Appalachia and for all of America. In a bold departure from Bush-era energy policy, the Obama administration suspended a coal company's permit to dump debris from its proposed mountaintop mining operation into a West Virginia valley and stream. In addition, the administration promised to carefully review upward of 200 such permits awaiting approval by the U.S. Army Corps of Engineers.
CS Monitor: FBI and American Muslims at odds
Law enforcement efforts to root out home-grown terrorists are jeopardized by deteriorating relations between the Federal Bureau of Investigation and the Muslim and Arab-American communities.
Boston Globe: Trying to walk fine line on ethnicity
There is plenty about Councilor at Large Sam Yoon that makes him an atypical candidate for mayor of Boston: He did not grow up in the city; he has degrees from Princeton and Harvard; and he has held elected office for only three years.
Telegraph UK: Facebook could be monitored by the government
The Home Office is considering plans to force such sites to hold data about their users' movements to thwart criminals who use them to communicate.
NATIONAL/INTERNATIONAL
For the latest national and international news: www.CNN.com.
CNN: Obama to beef up Mexico border policy
President Obama on Tuesday vowed to invest the resources needed to address the threat posed by drug traffickers in Mexico.
CNN: One million people at risk in Darfur, U.N. says
More than one million people in Darfur are at risk of losing food, water and shelter in coming months, following the expulsion of international aid groups by Sudan's government, the United Nations' chief humanitarian coordinator said Tuesday.
CNN: UK: Nuclear, chemical terror threat growing
The threat from terrorists using chemical, biological and even nuclear weapons is growing, Britain said Tuesday, warning advances in technology will enable extremists to conduct more lethal attacks in the future.
CNN: Possible contamination at VA facilities sparks call for inquiry
Thousands of veterans in South Florida may have been exposed to hepatitis and HIV because of contaminated equipment after getting colonoscopies at the Miami Veterans Affairs Healthcare System, officials announced Monday.
NYT: To Cut Costs, States Relax Prison Policies
For nearly three decades, most states have dealt with lawbreakers in two ways: lock more of them up for longer periods, and build more prisons to hold them. Now many governments, out of money and buried under mounting prison costs, are reversing those policies and practices.
WSJ: Insurers Offer to End Prices Tied to Illness
The health-insurance industry said it would be willing to stop charging sick people more for coverage if all Americans were required to buy insurance.
Business Week: Jumbo Loans Could Make a Comeback
It soon might become easier again to buy a house worth $1 million or more.
LA Times: Israeli army rabbis criticized for stance on Gaza assault
The winter assault on the Gaza Strip was officially portrayed in Israel as an attempt to quell rocket fire by militants of Hamas. But some soldiers say they also were lectured about a more ambitious aim: to banish non-Jews from the biblical land of Israel.
Telegraph UK: Melting snow forces Italy and Switzerland to redraw borders
For the past 100 years, the surface area of the glaciers, which is crossed by the border, has been shrinking steadily. In the past five years the process speeded up.
Forbes: The Most Corrupt Countries
Corruption is on the march. In 2008, the number of countries sinking deeper into the clutches of influence peddling, bribery and scandalous business dealings outpaced improvements by a 2 to 1 margin. Countries falling by more than 10 spots outnumbered risers 8.5 to 1.
NYT: N. Korea Warns Over Stalled Talks
North Korea said Tuesday that if the United States pushed for United Nations sanctions against it after its planned satellite launching, that would spell a definitive end to the stalled six-nation talks on ending its nuclear weapons program.
WSJ: Kabul Opens Bidding by Energy Firms
Afghanistan is hoping to attract foreign energy companies to look for oil and natural gas in the war-torn country.
Jerusalem Post: Hamas to charge Fayad with aiding Israel, squandering funds
Hamas announced on Tuesday that it was planning to press charges against Palestinian Authority Prime Minister Salaam Fayad for "collaboration" with Israel and "squandering" public funds.
International Herald Tribune: Spain's retreat from Kosovo raises eyebrows
When Prime Minister José Luis Rodríguez Zapatero of Spain withdrew Spanish peacekeepers from Iraq in 2004, he got the cold shoulder from former President George W. Bush. So ever since the election of Barack Obama, Mr. Zapatero has relished the prospect of working with a U.S. leader with whom he shares not only a birthday but also, in his view, a progressive agenda and a desire to resolve conflict through dialogue.
CNN: Remittances expected to fall by $15B
The money that foreign workers send home will shrink by $15 billion this year, as the global economy limps along, the World Bank projects.
Telegraph UK: 'Oldest woman in the world' about to turn 130
If their records are correct, Sakhan Dosova is 16 years older than the oldest known human currently living.
Denver Post: China uses abortion pill to cut gerbil population
Forestry officials in far western China have resorted to scattering abortion pills near gerbil burrows in a bid to halt a rodent plague threatening the desert region's fragile ecosystem, state media said Wednesday.
BUSINESS
For the latest business news: www.CNNMoney.com.
CNN: Obama: 'No quick fixes' for recession
President Barack Obama presented a sober assessment of the state of the economy in his primetime news conference Tuesday, but he insisted his administration has a strategy in place to "attack this crisis on all fronts."
CNN: Car dealers face extinction
New Norris Chevrolet in Westfield, N.J., is gone now. Along with hundreds of other small dealers across the country, it was forced to shut down - swept under by mounting debts, dwindling car sales and industry consolidation.
WSJ: GE Wins Natural-Gas Contract in China
General Electric Co. said it has won a $300 million contract to supply compression equipment for the second phase of a natural-gas pipeline across China.
The New Yorker: Economy vs. Environment
The week before last, twenty-five hundred delegates, from more than seventy countries, met in Copenhagen to prepare for the United Nations Climate Change Conference, which will take place there in December and will produce a successor to the Kyoto Protocol, which was adopted in 1992 and will expire in 2012. The speakers in Copenhagen were united by a sense of urgency—and for good reason, given the poor record of most participating countries in meeting their Kyoto targets for reducing the emission of greenhouse gases.
Forbes: Street Trips Into Close
Stocks faltered in New York Tuesday, but after Monday's surge, investors were hardly upset at the mild declines. Much of the day's focus was on Washington, where Treasury Secretary Tim Geithner and Federal Reserve Chairman Ben Bernanke defended their bailout efforts and called for sweeping powers to prevent a repeat of the financial sector's collapse.
NYT: A Health Plan for All and the Concerns It Raises
It is one of the most contentious health care proposals President Obama has floated: offer a federal, Medicare-like insurance plan to anyone, at any age. And let commercial insurers offer their private health plans alongside it.
Bloomberg: YouTube Blocked in China for 2nd Day After Tibet Clip
YouTube, the video-sharing Web site owned by Google Inc., was inaccessible in China for at least a second day after Tibet's government-in-exile released video it said showed Chinese police beating protestors.
There is life after Google–though the increasing number of search alternatives popping up around the U.S. are careful not to take the search giant head-on.
Sidney Morning Herald: HSBC 'planning job cuts, office closures'
HSBC Holdings, Europe's biggest bank by market value, may cut about 1000 jobs in the UK, according to a person familiar with the situation.
Business Week: America's Most Promising Startups
Welcome to America's Most Promising Startups, an ongoing series profiling new companies from across the country that embody the creativity and resiliency common among today's entrepreneurs. Based on suggestions from our readers and staffers, we'll be adding more profiles on a regular basis, so check back often. Our goal is to showcase promising companies before they become household names.
In Case You Missed It
To watch the latest interviews and reporting: http://www.cnn.com/video.
White House Chief of Staff Rahm Emanuel talks about being chief of staff the economy and the President.
CNN: Pres. Dodging the Question?
CNN's Ed Henry explains President Obama did not answer his question on AIG.
CNN: Asia reaction to Obama speech
CNN's Emily Chang in Beijing and Kyung Lah in Tokyo have reaction to U.S. President Barack Obama's news conference.
CNN: Obama showed 'flash of anger'
CNN anchors and contributors weigh in on the effectiveness of President Obama's prime-time news conference.