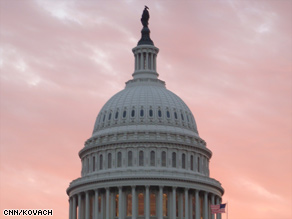 WASHINGTON/POLITICAL
For the latest political news: www.CNNPolitics.com.
CNN: Senators: Obama border initiative good step, but insufficient
The Obama administration's initiative to deploy additional federal resources in the fight against rising drug-related violence along the Mexican border was criticized as insufficient in a Senate committee hearing Wednesday.
CNN: 'It's all about border safety' for DHS, Napolitano says
Homeland Security Secretary Janet Napolitano unveiled a $700 million plan on Tuesday to help Mexico fight violent drug cartels, which includes a U.S. crackdown on the flow of weapons and money into Mexico.
CNN: Behind the scenes: Ed Henry's take on exchange with Obama
The most amazing part of the exchange to me is that I didn't go into the East Room intending to ask President Obama about AIG.
CNN: Steele: Open to prez run if that's 'where God wants me to be'
Embattled Republican National Committee Chairman Michael Steele told CNN Wednesday he'd consider running for president someday, but stressed he has never given serious thought to a potential White House bid.
Washington Post: President Shifts Emphasis From Wall Street to Budget
In attempting to harness public anger over the financial crisis on behalf of his budget, President Obama is confronting the politically uncomfortable fact that the success of his long-term agenda and Wall Street's recovery are intertwined.
LA Times: Deputy EPA chief nominee withdraws
Another Obama administration nominee withdrew his name Wednesday as questions emerged about a nonprofit group with which he had been affiliated.
Chicago Tribune: Rahm Emanuel's profitable stint at mortgage giant
Before its portfolio of bad loans helped trigger the current housing crisis, mortgage giant Freddie Mac was the focus of a major accounting scandal that led to a management shake-up, huge fines and scalding condemnation of passive directors by a top federal regulator.
WSJ: Obama Administration Revives Tax Battle With Oil Industry
The Obama administration's push to raise taxes on the oil industry is reigniting a battle the industry fought and won last year.
NYT Op-Ed: Collins: Everything Bad Is Good Again
In summary, there appears to be only two constants in our ever-changing world. One is that Barack Obama is going to be on television every day forever. No venue is too strange. Soon, he'll be on "Dancing With the Stars" ("And now, doing the Health Care, Energy and Education tango ...") or delivering the weather report. ("Here we see a wave of systemic change, moving across the nation ...")
CNN: Palin unplugged in speech to Alaska GOP dinner
Sarah Palin is teeing off on the media once again.
International Herald Tribune: McCain-Feingold law at risk
A quirky case about a slashing documentary attacking Hillary Rodham Clinton would not seem to be the most obvious vehicle for a fundamental re-examination of the interplay between the First Amendment and campaign finance laws.
Bloomberg Op-Ed: Baum: Congress Could Learn a Thing or Two From Nascar
Some people wear their hearts on their sleeve. Members of Congress should wear their sponsors on their chest.
LA Times: Democrats get 'vintage Obama' sales pitch on budget
Pressing Congress for a record $3.55-trillion federal budget, President Obama on Wednesday made a personal appeal to lawmakers on Capitol Hill, who have been enmeshed in crafting their own budget plans.
London Times: Barack Obama's pledges in peril as Blue Dogs take a bite at budget
President Obama was huddled in talks yesterday with congressional Democrats over proposals that would pare his $3.6 trillion budget, raising question marks over how he would fund promises on healthcare, climate change and tax cuts.
WSJ Op-Ed: Rove: Obama Points Back to the GOP's Future
Something powerful is stirring in the land, and it may not be good news for President Barack Obama, his agenda or the Democratic Party. Mr. Obama said Tuesday night his budget moves America "from an era of borrow and spend" to "save and invest." But people are realizing he would add $9.3 trillion to the national debt, doubling it in six years and nearly tripling it in 10 years, according to the Congressional Budget Office (CBO). How can that be "save and invest"?
CS Monitor: Obama weighs patient rights vs. doctor's conscience
The Obama administration will soon face a decision, bound to be controversial, on how to balance two important principles: freedom of conscience for healthcare workers versus unfettered access to healthcare, especially reproductive services.
Washington Post: Rural Roots Offer Benefits, Obstacles To Deeds's Run
Across a huge swath of central-west Virginia, where mountains and farms give way to interstates and cities such as Charlottesville, he is known simply as Creigh.
NYT: Gay Marriage in Vermont Faces Veto by Governor
Gov. Jim Douglas of Vermont said Wednesday that he would veto a same-sex marriage bill if it reached his desk, setting a new hurdle for a measure that had been moving swiftly through the legislature.
Washington Post: McAuliffe Criticized For Ties to Lobbyist
Terry McAuliffe came under fire from a Democratic opponent in the race for Virginia governor yesterday for accepting fundraising help from a top Republican lobbyist - the sharpest attack yet targeting McAuliffe's history as a Washington political insider.
NATIONAL/INTERNATIONAL
For the latest national and international news: www.cnn.com.
CNN: U.S. shares blame for Mexico drug violence, Clinton says
The United States shares the blame for Mexican drug trafficking and the attendant violence that has killed thousands in the past year alone, Secretary of State Hillary Clinton said Wednesday.
CNN: Fargo gets ready for possible evacuation
City officials spent much of Wednesday working on a revised plan after the National Weather Service issued a foreboding forecast for the Red River: a 41-foot crest predicted to hit Saturday.
CNN: Nonprofits expect permanent damage from recession
U.S. nonprofits are straining under the weight of the recession, with many expecting to sustain permanent financial damage, a survey shows.
CNN: Four receive organs from slain California officer
Organs donated by a slain Oakland, California, police officer saved four lives, and his donated tissue will enhance the lives of up to 50 others, the California Transplant Donor Network said Wednesday
WSJ: Auto Task Force Set to Back More Loans - With Strings
President Barack Obama last month handed his auto-industry team a seemingly impossible task: to engineer the most complicated industrial restructuring ever attempted by the federal government, and to do it fast.
Washington Post: Md. Likely to Pass Death Penalty Bill
Some of the nation's tightest restrictions on death penalty cases are expected to win final approval today in the Maryland General Assembly, allowing Gov. Martin O'Malley (D) to claim a partial victory after failing to persuade lawmakers to ban executions.
Boston Globe: Rushing to a standstill
Boston officials, eager to pump new life into the fragile Downtown Crossing neighborhood, set aside key elements of the city's zoning code and overlooked the absence of mandatory developer submissions in accelerating the $700 million commercial and residential project at the old Filene's site.
NYT: A Strategy When Times Are Tough: 'It's New!'
They say money is the mother's milk of politics. In marketing, it is new products, meant to pique the interest of consumers and thereby stimulate demand at stores, restaurants and dealer showrooms.
WSJ: More Cities Target Teens With Daytime Curfews
This city is considering joining a rising number of others across the country that are imposing criminal penalties on kids who skip school to hang out at the mall or on local street corners.
Boston Globe: A fraying lifeline to neediest children
Shannon Booker kneels in delight at her son Muhammed's tentative "steps" in a specialized walker. "You can do it!" she coos. Muhammed lifts his small face toward her. He's blind and nearly deaf, can't walk or talk, but he knows his mother is there. He rolls tentatively in her direction.
LA Times: Wilderness protection bill gets Congress' OK
Congress on Wednesday approved the largest expansion of the wilderness system in 15 years, bestowing the highest level of federal protection on 2 million acres in nine states and launching one of the most ambitious river restoration efforts in the West.
CNN: Pyongyang thought to have long-range rocket on launch pad, official says
North Korea has positioned what is thought to be a long-range rocket on its launch pad, a U.S. counter-proliferation official said on Wednesday. The official confirmed a Japanese media report. North Korea recently informed a pair of U.N. agencies that it plans to launch a satellite. The launch is slated for April 4 to 8, according to Yonhap, South Korea's state-sponsored news agency. North Korea is technically capable of launching a rocket in as little as two to four days, according to Kim Taewoo, an expert at the Korea Institute for Defense Analyses, but who doubts a launch will come that soon. It would not make sense for Pyongyang to make such a move after going through official channels with its plans, Kim said.
Washington Post: For N. Korea, a Pair Of Bargaining Chips
Two American journalists detained last week by North Korean soldiers are likely to become bargaining chips for North Korea in its feuds with the outside world, according to analysts and politicians in South Korea.
London Times: British-run orphanage in Bangladesh 'is Islamist training camp'
A raid on an orphanage in Bangladesh has uncovered a suspected Islamic militant training camp with links to a British charity run by a man acquitted of being part of an al-Qaeda bomb plot.
WSJ: Bosnia Risks Sliding Into Turmoil, Diplomat Says
The top diplomat overseeing the divided Balkan nation of Bosnia and Herzegovina says the country risks deep political instability unless the international community acts soon to break a deadlock over the country's future.
NYT: Afghan Strikes by Taliban Get Pakistan Help, U.S. Aides Say
The Taliban's widening campaign in southern Afghanistan is made possible in part by direct support from operatives in Pakistan's military intelligence agency, despite Pakistani government promises to sever ties to militant groups fighting in Afghanistan, according to American government officials.
Jerusalem Post: Egypt's leading newspaper slams Israel
On the thirtieth anniversary of the Egyptian-Israeli peace agreement Egypt's leading newspaper published a scathing criticism of the Jewish State.
Telegraph UK: IMF rescues Romania with €20bn aid while Serbia handed €4bn
The IMF-led rescue includes €5bn from the European Union's bail-out fund as well as project aid from the World Bank and the European Bank for Reconstruction and Development.
Al Jazeera: S Africa peace summit postponed
A peace conference of Nobel laureates in South Africa has been indefinitely postponed after the country denied a visa to the Dalai Lama, a Tibetan spiritual leader.
BUSINESS
For the latest business news: www.CNNMoney.com.
CNN: Treasury set to reveal top reforms
Treasury Secretary Tim Geithner returns to Capitol Hill on Thursday and is expected to reveal a much anticipated list of Obama administration priorities for preventing future financial collapses.
Is this the worst economy since the Great Depression? And what are the chances of the economy falling into another depression?
WSJ: Many U.S. Employers Cut 401(k) Matches
Workers and companies are making lots of cuts in 401(k) contributions, at what is probably the worst time in terms of potential impact on long-term savings.
Before the furor over pay at A.I.G., most Americans probably had never heard of a retention bonus. But like C.D.O. and credit-default swap, the term, a bit of sugar-coated corporate-speak, is quickly entering the popular lexicon.
Bloomberg: Health Insurers Propose End to Medical-Status Pricing
Health insurers proposed ending the industry's practice of charging people premiums based on their medical conditions, an offer that may stall an effort to create a new government-sponsored competitor.
Business Week: IBM Cuts Jobs as It Seeks Stimulus Money
Reports of deep job cuts at International Business Machines (IBM) come at a potentially delicate time for the company—just as it is hoping to secure money from the federal stimulus package. The company will lay off as many as 5,000 U.S. workers in its Global Business Services unit, transferring some of the work they performed to India, according to media reports.
WSJ: CVS Picks Up Golf-Trip Tabs
CVS Caremark Corp. paid $25,750 for top executives to take trips connected to its annual charity golf event last year, listing the sums in a report to its shareholders.
Forbes: Credit Suisse Says Investor Stole Hundreds Of Millions From Funds Unit
Under an unorthodox investment strategy backed by Credit Suisse, Dr. Louis Reijtenbagh made huge investments for more than three years in some of the biggest names in private equity. Funds run by Credit Suisse Strategic Partners lent and invested $751 million with Reijtenbagh, who used the funds to purchase stakes in funds run by the likes of Blackstone Group and Carlyle Group.
US News & World Report: The Truth About All Those Green Jobs
It's no wonder that the "green jobs" chant has become a chorus. What's not to like about the prospect of millions of newly created and hard-to-outsource positions? Particularly if they are filled by people hard at work designing and building and installing the very equipment that will overhaul the nation's energy habit—replacing, or at least diminishing, the nation's addiction to oil with plentiful, renewable, made-in-America energy. This idyllic vision is being trumpeted in newly Democratic Washington. As President Obama, who is planning to create 5 million jobs with a $150 billion investment, puts it, "A green, renewable-energy economy isn't some pie-in-the-sky, far-off future. It is now. It is creating jobs now."
LA Times: New program encourages low-income L.A. residents to open bank accounts
Juan Murillo used to spend hundreds of dollars a year at check-cashing outlets because he was too intimidated by the U.S. banking system to open an account and did not speak enough English to write a check himself.
London Times: Royal Bank of Scotland braced for exodus of traders as pay review starts
The two chiefs of Royal Bank of Scotland's highly profitable commodities trading joint venture have quit the nationalised bank before an expected review of pay and bonuses.
Forbes: Jolt For Durable Goods, Mortgages
There were scant signs of an economic turnaround Wednesday, as February durable goods orders jumped and weekly mortgage applications saw their largest increase on record.
In Case You Missed It
To watch the latest interviews and reporting: http://www.cnn.com/video.
CNN's Jill Dougherty talks with Secretary of State Hillary Clinton about violence and drug trafficking in Mexico.
CNN: Gregg on differences with Obama
Lou Dobbs talks to Sen. Judd Gregg about his differences with President Obama over the stimulus package.
CNN: Postmaster General dodges CNN
CNN's Abbie Boudreau asks the Postmaster General why the USPS buys million dollar homes from relocating employees.
CNN: Thompson on Obama 'failing'
Fred Thompson tells CNN's John Roberts that he wants some of President Obama's policies to fail.