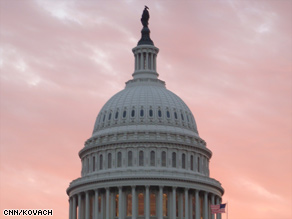 WASHINGTON/POLITICAL
For the latest political news: www.CNNPolitics.com.
CNN: Obama to send 4,000 more troops to Afghanistan, officials say
President Obama plans to send another 4,000 troops to Afghanistan along with hundreds of civilian specialists in an effort to confront what he considers "the central challenge facing [that] country," senior administration officials said Thursday.
CNN: McCain: People voted 'mostly for Sarah Palin' last year
Former Republican presidential candidate Sen. John McCain has no illusions about the 2008 White House race.
CNN: Palin's prayer remark angers former staffers
Some of Sarah Palin's former campaign aides are frustrated with the Alaska governor for remarking in a lengthy, freewheeling speech that she had refused to pray with them before last October's vice presidential debate.
CNN: Bachmann bill would prohibit global currency
Rep. Michele Bachmann has introduced a bill that would prohibit the president from signing on to a global currency, despite congressional testimony from Obama administration officials that they would reject any proposal to replace the dollar.
Washington Post: Freddie Mac's Duel With Regulator: Does It Report Government's Role in Its Losses?
Half a year after the government seized Freddie Mac, confusion about its role is stoking tensions between the company and its regulator, including a dispute this month over how much the mortgage giant should reveal to private investors about its financial troubles.
Bloomberg: Obama Spending Plan Faces First Test in New York Race
A special U.S. congressional election in Upstate New York may provide an early referendum on a politician who's not on the ballot: President Barack Obama.
The Economist: Say you're staying, Mr President
Who would have believed, Barack Obama mused on television the other day, "that the least of my problems would be Iraq?" He should hold on to that thought. Iraq's problems are far from over. But the fact is that a counter-insurgency campaign that looked almost completely unwinnable less than two years ago is now going well enough for America to begin to withdraw without leaving chaos behind. Now, as the president jets off for a series of meetings with America's allies in Europe, it is Afghanistan that is starting to look unwinnable—and the Europeans, especially those in NATO (see article), want to know if he will fight on.
Washington Times: EXCLUSIVE: Obama raised cash after leaving Senate
President Obama continued collecting money for his 2010 Senate re-election campaign even after he resigned his seat from Illinois, including a maximum $2,300 donation the day after Christmas from a top executive of a Wall Street firm that had received a government bailout.
Washington Post: Political Parties See Dramatic Decline in Fundraising
In the wake of a recession, months of falling stock markets and a marathon campaign that endlessly taxed donors, political party committees find themselves racked by declining revenue and mounting debt
NYT: As New Lawyer, Senator Defended Big Tobacco
The Philip Morris Company did not like to talk about what went on inside its lab in Cologne, Germany, where researchers secretly conducted experiments exploring the effects of cigarette smoking.
CS Monitor: States rebel against Washington
There's an old joke in South Carolina: Confederate President Jefferson Davis may have surrendered at the Burt-Stark mansion in Abbeville, S.C., in 1865, but the people of state Rep. Michael Pitts's district never did.
WSJ Op-Ed: Diebold & Skeel Jr.: Geithner Is Overreaching on Regulatory Power
One of the main proposals in the regulatory reforms outlined by Treasury Secretary Timothy Geithner yesterday would give the Treasury, FDIC and the Fed authority to take control when investment banks or other financial institutions (hedge funds, etc.) appear troubled, just as the FDIC presently does with deposit-taking banks.
NYT Op-Ed: Brooks: The Winnable War
I came to Afghanistan skeptical of American efforts to transform this country. Afghanistan is one of the poorest, least-educated and most-corrupt nations on earth. It is an infinitely complex and fractured society. It has powerful enemies in Pakistan, Iran and the drug networks working hard to foment chaos. The ground is littered with the ruins of great powers that tried to change this place.
LA Times: Squawking over Easter Egg Roll tickets
Maybe we should go back to standing in line. The White House's Internet distribution of free tickets to its South Lawn Easter Egg Roll appears to have begun with a splat.
Chicago Tribune: Chicago's 2016 Olympic competitors take a line from President Barack Obama
Chicago's rivals for the 2016 Summer Games distinguished themselves from the Windy City during sales pitches Thursday by trumpeting the full government guarantees behind their bids, something Chicago is not able to bring to the table.
NATIONAL/INTERNATIONAL
For the latest national and international news: www.CNN.com.
CNN: Obama adviser: Intel lacking in Afghanistan
The United States needs to improve its level of intelligence support for military operations in Afghanistan, the president's chief intelligence adviser said Thursday.
CNN: G-20 police: We won't tolerate violent protests
London police said Thursday they are planning one of the largest and most complex operations in their history as the city gears up to host the G-20 summit next week.
CNN: Natasha's lesson helps save Ohio girl
Connie and Donald McCracken were watching CNN one evening last week when they learned of the tragic death of actress Natasha Richardson from a head injury. Immediately, their minds turned to their 7-year-old daughter, Morgan, who was upstairs getting ready for bed
WSJ: U.S. Deters Hiring of Foreigners as Joblessness Grows
As more Americans lose their jobs, the U.S. government is actively discouraging the recruitment of foreign workers, from dude ranchers and fruit pickers to lifeguards and computer programmers.At least three avenues of legal immigration have seen roadblocks erected. In the most visible and controversial move, companies receiving federal bailout money now face extra hurdles before they can hire highly skilled guest workers on an H-1B visa.
LA Times: A risky new push for immigration legislation
With their prospects in Congress sinking along with the economy, liberal advocates of giving undocumented immigrants a path to citizenship are launching a risky strategy to push lawmakers and the White House to take up their cause.
The Economist: Shelter from the storm
Many come to the centre for homeless families in the Bronx with everything they own—a toddler in one hand, a suitcase in the other. New York is seeing a rising number of homeless families because of the recession.
London Times: Very hot tea and coffee linked to raised oesophagus cancer
You may be gasping for that freshly brewed cup of tea or coffee, but waiting five minutes before drinking it could save your life.
Chicago Tribune: Most corrupt state: Louisiana ranked more corrupt than Illinois
A couple of months ago, an obscure New Orleans tax assessor was ticketed for allegedly using flashing blue police lights illegally mounted on his car to weave his way through a traffic jam.
NYT: Defeat and Some Success for Texas Evolution Foes
In an evenly split vote, the State Board of Education on Thursday upheld teaching evolution as accepted mainstream science.
Washington Post: CDC Analysis Tracks Falls Related to Pets
Federal government researchers yesterday filled in a blank spot on the map of life's hazards - the part occupied by Spot, Fifi, the chew toy and the water bowl.
Boston Globe: Summertime could see fewer happy campers
As the ice melts on New England lakes and summer camps shake off their winter coats, another sound can be heard along with the usual hammering, scraping, and sawing: families discussing, sometimes painfully, whether they can afford to send their children to camp this year – and camp directors asking themselves whether they will fill those lakeside bunks.
Forbes: Where You Go To College Doesn't Matter
The 3.3 million students who are projected to graduate from high school this year are bracing themselves for what has become the most confusing college admissions cycle in history.
LA Times: Vows of hope for a dwindling Catholic community
As incense smoke danced in the sunlight streaming through the stained-glass windows, Anthonia Nwoga knelt in the hushed chapel for the long-awaited moment. It took but a few seconds. Off came the white veil she had worn for the last year. On went a black one that she may keep for life.
Boston Globe: Risks grow with spread of illegal apartments
As poverty and home foreclosures soar, illegal apartments like the basement unit where the Frawi family lived are a growing concern, from small towns to densely populated immigrant enclaves in Boston, Chelsea, and Lynn. The day of the Quincy fire, inspectors in Milford and Chelsea quietly shut down two hazardous apartments: One was packed with people. Another was heated with a toaster oven.
NYT: Pakistani and Afghan Taliban Unify in Face of U.S. Influx
After agreeing to bury their differences and unite forces, Taliban leaders based in Pakistan have closed ranks with their Afghan comrades to ready a new offensive in Afghanistan as the United States prepares to send 17,000 more troops there this year.
USA Today: Pakistan to get billions from U.S. despite oversight concerns
The Obama administration is planning billions in new assistance to Pakistan, yet the record of previous U.S. military and development aid to the strife-torn Muslim country has been marred by a lack of accountability and transparency, according to government reports.
Jerusalem Post: When soldiers are used as guinea pigs
In addition to the IDF's Anthrax vaccine trial, codenamed Omer 2, which has been severely criticized by the Israel Medical Association, the army's Medical Corps has carried out at least 22 other medical trials since 2005 involving soldier volunteers
Newsweek: A Self-Inflicted Gun Wound
After fierce resistance from the gun lobby and its allies in Congress, Attorney General Eric Holder has dialed back talk about reimposing a federal assault weapons ban to help curb the spiraling violence in Mexico.
BUSINESS
For the latest business news: www.CNNMoney.com.
CNN: Obama tax panel on treasure hunt
President Obama has now added tax reform to his to-do list. The administration said this week it will form a task force to propose ways to simplify the tax code, reduce evasion, close loopholes and make changes in corporate breaks.
Washington Times: Swiss bankers claim 'war' with U.S.
Swiss bankers see sinister motives behind the mounting international pressure on the country to loosen its strict bank-secrecy laws. The bankers said the United States and Britain – backed by France, Germany and other Group of 20 powers – are waging an "economic war" to force the staunchly neutral nation to bring its tax disclosure norms for offshore accounts into conformity with global transparency standards.
WSJ: Las Vegas Project Weighs Bankruptcy
And Tamara AudiCity Center, the $8.6 billion Las Vegas development owned by MGM Mirage and DubaiWorld, is preparing for a potential bankruptcy filing that could bring the massive project to a halt, according to people familiar with the situation.
Bloomberg: Wal-Mart's Retail Muscle Helps Expand Drug Sales
Wal-Mart Stores Inc., the world's largest retailer, is using its heft to offer lower-cost prescription drugs and stepping up competition with pharmacies at CVS Caremark Corp. and Walgreen Co.
WSJ: What's Left of TARP? Treasury Stays Mum
The Treasury has tried to revamp its $700 billion financial-rescue program, promising "a new era of accountability, transparency and conditions." But the Treasury isn't answering a key question: How much is left in the rescue fund?
NYT: I.R.S. to Ease Penalties for Some Offshore Tax Evaders
The Internal Revenue Service, under pressure to bring in money to the faltering economy, plans to give offshore tax evaders a big break.
Washington Post: WTO Says Protectionism Could Prolong Recession
Facing pressure to keep jobs at home, leaders around the world have edged closer to protectionism, which could eventually choke global trade and prolong the recession, the head of the World Trade Organization warned yesterday.
Business Week: Facebook Is Hunting for More Money
Facebook, the fast-growing social-networking Web site, is one of the many companies looking for additional financing as banks and other lenders become increasingly careful about extending credit.