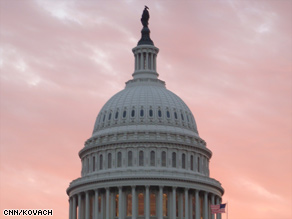 WASHINGTON/POLITICAL
For the latest political news: www.CNNPolitics.com.
CNN: General Motors CEO resigns as part of bailout deal
General Motors CEO Rick Wagoner announced his resignation early Monday - the latest change for the troubled automaker.
CNN: Obama: U.S. prepared to pursue targets in Pakistan
President Obama said Sunday that his administration remains prepared to order strikes against "high-value" targets within Pakistan.
CNN: McConnell: I'm 'disappointed' in Obama's lack of bipartisanship
A leading congressional Republican did not pull any punches Sunday when asked whether President Obama had kept one of his most prominent campaign promises.
CNN: Obama team deploys campaign tactics to get point across
From fielding questions online, to the staging of events across the country, to deploying thousands of volunteers, President Obama and Democrats are using the same tools that helped them win the White House to push the administration's agenda.
NYT: Rising Powers Challenge U.S. on Role in I.M.F.
Barely six months ago, the International Monetary Fund emerged from years of declining relevance, hurriedly cobbling together emergency loans for countries from Iceland to Pakistan, as the first wave of the financial crisis hit.
Washington Times: AIG chiefs pressed to donate to Dodd
As Democrats prepared to take control of Congress after the 2006 elections, a top boss at the insurance giant American International Group Inc. told colleagues that Sen. Christopher J. Dodd was seeking re-election donations and he implored company executives and their spouses to give.
New York Magazine: Obama courts the unlike-minded.
In last week's press conference, President Obama committed what's often thought to be the cardinal sin in politics: He neglected his base. He called on the Washington Times, not the Washington Post; Stars and Stripes, not the New York Times; Fox, not MSNBC. The message was that, in the midst of the political cacophony, Obama was going to talk to everyone.
LA Times Op-Ed: Lavan: Take the Limbaugh Challenge
If you are reading this newspaper, the likelihood is that you agree with the Obama administration's recent attacks on conservative radio talker Rush Limbaugh. That's the likelihood; here's the certainty: You've never listened to Rush Limbaugh.
Washington Post: In a Down Time Everywhere Else, K Street Bustles
Last month, just before Valentine's Day, business at Holland & Knight was so slow that the law firm laid off more than 240 lawyers and staff, victims of the economic downturn that has dented Washington's reputation for being recession-proof.
Chicago Tribune: The eldest Emanuel emerges
He's the eldest brother, a doctor and a scholar with a resume the size of a small book. Though brothers Ari and Rahm are both celebrities, he's the one they think could someday win the Nobel Prize.
LA Times: In Louisiana, the tide may be turning on corruption
A couple of months ago, an obscure New Orleans tax assessor was ticketed for allegedly using flashing police lights on his car to weave his way through a traffic jam.
US News & World Report: Cuba Waits for Obama as Ailing Fidel Castro Fades From Scene
At a dingy former Woolworth's here, the fluorescent lights bathe the store's pink walls and thinly stocked shelves in a dim, artificial glow. Still a variety store, though owned by the Cuban state, it sells a hodge-podge of items, including beer and pastries, motorcycle helmets and baseball jerseys, plastic utensils and used clothing. A wall placard lauds the recent 50th anniversary of the Cuban revolution. Customers amble about, although few find anything to buy, the pastries aside.
Newsweek: Obama's Nobel Headache
Traditionally, punditry in Washington has been a cozy business. To get the inside scoop, big-time columnists sometimes befriend top policymakers and offer informal advice over lunch or drinks. Naturally, lines can blur. The most noted pundit of mid-20th-century Washington, Walter Lippmann, was known to help a president write a speech—and then to write a newspaper column praising the speech.
The Weekly Standard: Obama's Fuzzy Math
In his press conference last Tuesday, Barack Obama said that America must reject the "borrow and spend" policies of the past in favor of a strategy of "save and invest." Sounds good. So why is Obama proposing to borrow and spend more than any president in the history of the republic? Already in the first 45 days of his administration, the federal government has authorized more debt spending than Ronald Reagan did in eight years in office.
NATIONAL/INTERNATIONAL
For the latest national and international news: www.CNN.com.
CNN: China dismisses cyber-espionage claims
Analysts in China are dismissing claims that nearly 1,300 computers in more than 100 countries have been attacked, and have become part of a cyber-espionage network apparently based in China.
CNN: Holbrooke: Afghanistan is no Vietnam
Just days after President Obama announced his comprehensive plan for the next phase of the U.S. war in Afghanistan, a senior diplomat in the new administration sought to put to rest any comparison between Afghanistan and Vietnam wars.
WSJ: The Dollar Awaits Policy Meetings
The dollar could retain a robust tone in currency markets this week, but trading will be volatile as a number of critical events, including the meeting of Group of 20 leaders in London, have potential to roil the market.
LA Times: AIG crisis could be the tip of an insurance iceberg
When insurance giant American International Group Inc. imploded last fall, the firm's problems were quickly blamed not on its core insurance business but on an obscure operation that traded exotic mortgage securities.
Boston Globe: Pension insurer shifted to stocks
Just months before the start of last year's stock market collapse, the federal agency that insures the retirement funds of 44 million Americans departed from its conservative investment strategy and decided to put much of its $64 billion insurance fund into stocks.
Paul Ridley awakens to waves slapping the side of his boat. He rises from the coffin-size cabin and wrestles gloves over callused hands as he prepares for 12 hours of rowing. Ridley, 25, is attempting to become the youngest American ever to row solo across the Atlantic, by completing a 2,950-mile course from the Canary Islands to Antigua. He's also aiming to raise $500,000 for research at Yale on skin cancer, the disease that claimed his mother, Kathie, in 2001.
NYT: For Top Colleges, Economy Has Not Reduced Interest (or Made Getting in Easier)
Representatives of Harvard, Stanford, Dartmouth, Yale, and Brown, among other highly selective institutions, said in telephone and e-mail exchanges in recent days that applications for the Class of 2013 had jumped sharply when compared to the previous year's class. As a result, the percentage of applicants who will receive good news from the eight colleges of the Ivy League (and a few other top schools that send out decision letters this week) is expected to hover at – or near – record lows.
WSJ: Skype to Launch iPhone Software
EBay Inc.'s Skype unit plans to release a version of its Internet-based phone software for Apple Inc.'s iPhone.
Chicago Tribune: Baby obesity: Rapid infant weight gain linked to childhood obesity
Rapid weight gain during the first six months of life appears to increase the chances that a child will be obese by age 3, according to a new study in the April issue of the journal Pediatrics.
Denver Post: Green push for schools
Lawmakers Sunday unveiled a plan to offer school districts low-interest loans to install solar panels on rooftops, build wind turbines or convert diesel-guzzling buses to battery power.
Washington Post: In Iraq, 2 Key U.S. Allies Face Off
A new and potentially worrisome fight for power and control has broken out in Baghdad as the United States prepares to pull combat troops out of Iraq next year.
LA Times: When a strong safety net begins to fray
Italian supermarkets report an increase in shoplifting by first-time offenders, especially among the middle class and the elderly. The most popular target for rookie thieves: Parmesan cheese.
WSJ: California Restarts Daily Electricity Auction
Nine years after its state-sanctioned energy auction went bust in the western energy crisis, California is preparing to launch another daily electricity auction on Tuesday that it hopes will be more successful.
Al Jazeera: France seals African uranium deals
Nicolas Sarkozy, the French president, has returned home after a two-day trip to Central and West Africa during which he signed uranium-mining deals.
BUSINESS
For the latest business news: www.CNNMoney.com.
CNN: Obama aides flunk GM and Chrysler
The Obama administration gave General Motors and Chrysler LLC failing grades Monday for their turnaround efforts and promised a sweeping overhaul of the troubled companies. The government plans to give the automakers more money, but it is also holding out the threat of a "structured bankruptcy."
WSJ: New Task Seen for Fannie, Freddie
The regulator of Fannie Mae and Freddie Mac is considering giving the government-backed mortgage companies another role: helping to finance small mortgage banks.
WSJ: Survey Finds Banks Aware of Pay Flaws
Banks almost unanimously agree that their compensation packages contributed to the global financial crisis but still are struggling to correct some of the flaws in their pay structures, according to a survey of financial institutions due for publication Monday.
Financial Times: Citi seeks Nikko Cordial bids
Citigroup is inviting bids for Nikko Cordial, Japan's third-largest brokerage, in a move that could raise more than $5bn for the troubled US bank and undo one of its most ambitious overseas forays.
NYT: Banks Starting to Walk Away on Foreclosures
Mercy James thought she had lost her rental property here to foreclosure. A date for a sheriff's sale had been set, and notices about the foreclosure process were piling up in her mailbox.
Bloomberg:Blackstone Rejects SEC Request for Fund Data as Fortress Agrees
Blackstone Group LP, the world's largest private-equity firm, rebuffed a request from securities regulators to publicly disclose the performance of its buyout and hedge funds while Fortress Investment Group LLC agreed.
WSJ: Report Finds Fraud Rife in SBA Program
A new report found widespread fraud in a government program designed to help small businesses secure federal contracts, a sign of the obstacles the government faces as it launches programs designed to help small businesses dig out of the recession.
NYT: The Steadfast Optimist Who Oversaw G.M.'s Long Decline
In recent years, despite many challenges to his leadership of General Motors, Rick Wagoner had managed to keep a firm grip on his job, like hands wrapped tight around a steering wheel.
In Case You Missed It
To watch the latest interviews and reporting: http://www.cnn.com/video.
Obama's approach to Iran, Iraq
Richard Holbrooke and Gen. David Petraeus discuss the challenges posed to Pres. Obama by Iran and Iraq.
CNN: Obama's 'Af-Pak' strategy
Watch aides to President Obama as they discuss the new administration's approach to Afghanistan and Pakistan.
CNN: Obama disappoints GOP leader
Sen. Minority Leader Mitch McConnell says he is disappointed with the Obama administration's first two months.