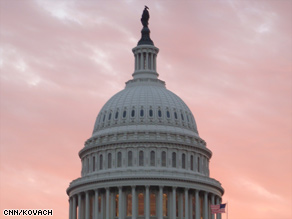 WASHINGTON/POLITICAL
For the latest political news: www.CNNPolitics.com.
CNN: Clinton doesn't rule out Iran talks at Afghanistan conference
Secretary of State Hillary Clinton was coy Monday about whether she would meet Iranian delegates at an international conference on Afghanistan, and she urged Tehran to play a positive role in helping stabilize its neighbor.
CNN: Local Congressional race may have national implications
Election Day is arriving once again for voters in New York's 20th Congressional District.
CNN: Obama talks up his budget to House Democrats
President Obama made a strong pitch for his budget to House Democrats in a closed-door meeting on Monday night, arguing that the budget includes key components to turning around the ailing economy, according to several Democratic sources who took verbatim notes in the meeting.
CNN: Financial crisis dominates G-20 agenda
This week's London Summit brings together the leaders of the world's 20 largest economic powers, known as the Group of 20, to discuss the global financial crisis and decide new measures to set the world on a more stable economic footing.
CNN: Analysis: Is first lady the president's secret diplomatic weapon?
What can the first lady accomplish when she accompanies her husband on his first trip to Europe? She can play a role in the rebranding of America.
Washington Post: Blame for Downturn Not Fixed on Obama
The number of Americans who believe that the nation is headed in the right direction has roughly tripled since Barack Obama's election, and the public overwhelmingly blames the excesses of the financial industry, rather than the new president, for turmoil in the economy, according to a new Washington Post-ABC News poll.

LA Times Op-Ed: An aid to Ahmadinejad: Iran to the U.S.: Where we go now
On March 20, at the start of the Persian New Year, President Obama delivered a speech offering "the promise of a new beginning" in relations between the U.S. and Iran. But Obama also told Iranian leaders that the right to be part of the world's "community of nations" came with responsibilities and could not be achieved "through terror or arms, but rather through peaceful actions." An aide to Iranian President Mahmoud Ahmadinejad submitted this Op-Ed article in response to Obama's speech.
Washington Post Op-Ed: Medvedev: Building Russian-U.S. Bonds
It is hard to dispute the pessimistic assessments of the Russian-American relationship that prevailed at the end of last year. Unfortunately, relations soured because of the previous U.S. administration's plans - specifically, deployment of the U.S. global missile defense system in Eastern Europe, efforts to push NATO's borders eastward and refusal to ratify the Treaty on Conventional Armed Forces in Europe. All of these positions undermined Russia's interests and, if implemented, would inevitably require a response on our part.
LA Times: Homeland Security shifts focus to employers
Stepping into the political minefield of immigration reform, Homeland Security Secretary Janet Napolitano soon will direct federal agents to focus more on arresting and prosecuting American employers than the illegal laborers who sneak into the country to work for them, department officials said Monday.
CNN: Biden, Central American leaders hold talks in Costa Rica
Vice President Joseph Biden is meeting Monday with Costa Rican President Oscar Arias and other Central American leaders to discuss U.S. aid to the area, the war on drugs and the global economic downturn.
NYT: Gates Securing a Role Under Yet Another President
Robert M. Gates spent 115 days on the road last year as President George W. Bush's defense secretary and the superintendent of the United States' two wars. He was in Iraq three times, Afghanistan twice, Russia, Kosovo, India, Kyrgyzstan — 26 countries in all.
Washington Post: Insurgent Threat Shifts in Pakistan
The brazen occupation of a Pakistani police academy Monday by heavily armed gunmen near the eastern mega-city of Lahore was the latest indication that Islamist terrorism, once confined to Pakistan's northwest tribal belt, now threatens political stability nationwide.
NYT Op-Ed: Brooks: Car Dealer in Chief
Some companies are in the steel business, some are in the cookie business, but General Motors is in the restructuring business. For 30 years, G.M. has been restructuring itself toward long-term viability.
Miami Herlad: Federal money unspent
Nearly $1 billion intended to improve the ability of emergency workers to talk to each other has been sitting in the federal Treasury for 18 months.
CNN: Reporter alleges secret 'assassination wing'
The Bush administration established a secret special operations unit unmonitored by Congress with authority to assassinate high-value targets in as many as a dozen countries, New Yorker reporter Seymour Hersh told CNN Monday.
Financial Times: 'Robust and stable' system is goal of US
The US and Europe are united in their desire for far-reaching regulatory reform to strengthen the global financial system, Tim Geithner, the US Treasury secretary, has told the Financial Times.
CS Monitor: Is auto rescue too big a role for government?
For better or worse, a federal government task force is becoming a guiding force in the automotive industry – stopping just short of actually coming to Detroit to install headlights.
Slate.com: From Détente to Taunts
Once upon a time, the Obama administration tried hard to show it listened to Republican ideas. Two months ago, when Congress was debating the stimulus bill, presidential aides pointed to tax cuts in the legislation that Republicans had requested (even though lots of Democrats asked for the same tax cuts). They said Minority Whip Eric Cantor had given them the idea of tracking stimulus spending online (even though they were already planning to do that).
Houston Chronicle: Stem cell research hits snag in Texas
Texas researchers who thought President Barack Obama's executive order lifting the restrictions on embryonic stem cell research would finally free them to ramp up work with the cutting-edge science are facing a new obstacle: the state Legislature.
NATIONAL/INTERNATIONAL
For the latest national and international news: www.CNN.com.
CNN: Yemeni held at Guantanamo since 2001 to be released
A Yemeni man held by the U.S. military since late 2001 is to be released from custody at the Guantanamo Bay military prison after the Obama administration asked a federal court Monday to postpone his pending case.
CNN: California plant recalls 1 million pounds of pistachio products
A California food processing plant is voluntarily recalling up to 1 million pounds of roasted pistachio products that may have been contaminated with salmonella, the Food and Drug Administration announced Monday.
Washington Post: Recession Puts a Major Strain On Social Security Trust Fund
The U.S. recession is wreaking havoc on yet another front: the Social Security trust fund.
NYT: Paying in Full as the Ticket Into Colleges
In the bid for a fat envelope this year, it may help, more than usual, to have a fat wallet.
WSJ: In the Exurbs, the American Dream Is Up for Rent
Kim and Robert Discianno had the American dream. Now, they rent a few streets away.
WSJ: Tighter Credit Prompts Concern About Food Supply
Tighter credit amid the global financial crisis could make it harder for farmers to expand production, increasing chances for a repeat of last year's soaring food prices, the head of the United Nations' food agency warned.
Miami Herald: Classical pianists inspire kids to create spoken-word poetry
There's a little rhythm and rhyme in the hallways at Horace Mann Middle School.
Denver Post: Recyclers in a heap of trouble
White signs on sides of Denver's curbside recycling pick-up vehicles declare: "Recycling. It's easier than ever." But today recyclers say it's increasingly difficult to move mounting heaps of plastics, cardboard, bottles and newspaper that Denver residents enthusiastically stuff into purple bins.
Miami Herald: In March, Action Line saves readers $11,312.36
We can't investigate or resolve every inquiry that comes our way, but this month, Action Line was able to help readers cut through red tape and save at least $11,312.36!
NYT: Often Split, Arab Leaders Unite for Sudan's Chief
Arab leaders may be divided over which Palestinian faction to support and what to do about Iran's rising influence, but they have found one cause to rally around: protecting the president of Sudan from charges that he orchestrated the rape, killing and widespread pillaging in Darfur.
London Times: Nicolas Sarkozy's threat to walk out of global summit
President Sarkozy yesterday threatened to wreck the London summit if France's demands for tougher financial regulation are not met.
BUSINESS
For the latest business news: www.CNNMoney.com.
CNN: Obama to Detroit: Restructure or else
The Obama administration offered General Motors and Chrysler LLC a huge carrot Monday – the possibility of billions of dollars more in loans if they can win additional concessions from creditors and unions.
CNN: Asian economic outlook 'bleak' for 2009
Asia's economic growth will tumble to the slowest pace since the 1997-1998 Asian financial crisis, the Asian Development Bank (ADB) said in a report released Tuesday.
CNN: Obama taps czar to help autoworkers
More pain is on the way for the people and communities that depend on the automotive industry. That's why President Obama has appointed an autoworker czar to look out for them.
Business Week: America's Backdoor Layoffs
The latest Labor Dept. job-loss figures came out Friday, Mar. 27, and they were predictably grim: Seven states now have unemployment rates of 10% or higher. And next Friday, Apr. 3, economists expect the federal government to report that another 650,000 jobs disappeared nationwide in March. But the official statistics don't record the misery of people like Lauren Bender.
WSJ: Life Insurers Are Finding Their Fates Tied to Stocks
Once a seemingly stable sector, life insurers are looking like a concentrated bet on the broader market.
Bloomberg: Hyundai Gets 'Once-in-Lifetime' Chance to Boost Sales
In the worst U.S. car market in 28 years, Hyundai Motor Co. is on a roll.
Business Week: Loan Deal for Spielberg Is Near
For months, Hollywood has been buzzing about whether superstar director Steven Spielberg could get a loan. Since October, when he broke away from Paramount Pictures to launch a studio with his longtime producing executive Stacey Snider, the director of such lucrative franchises as Indiana Jones, Jaws, and Jurassic Park has been stymied by the worldwide credit crisis. Now, after some serious restructuring efforts by bankers at JPMorgan Chase (JPM), Spielberg finally seems assured of getting his money.
Boston Globe: Cabbies' suit says hybrid rule threatens work
A group of taxi drivers and medallion owners is suing the City of Boston to block the requirement that all 1,825 cabs in the city be hybrids by 2015, saying the measure could put many of them out of business.
In Case You Missed It
To watch the latest interviews and reporting: http://www.cnn.com/video.
CNN: Obama unveils automaker plan
CNN's Kate Bolduan has the latest update about President Obama's auto industry bailout plan.
CNN: Computer worm coming
Computer expert Ken Colburn tells you how to find out if your computer is infected with the computer worm Conficker C.
CNN: Candy sales soar
CNN's Alina Cho reports that candy sales are soaring despite the recession.
CNN: Notorious jail a hot property?
A lawmaker has introduced legislation that would sell the famous San Quentin prison to developers. CNN's Dan Simon reports.