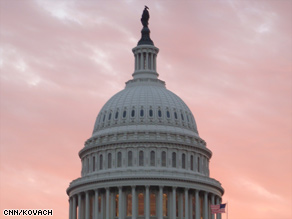 WASHINGTON/POLITICAL
For the latest political news: www.CNNPolitics.com.
CNN: Obama condemns North Korea rocket launch
American officials condemned the North Korean launch of a long-range rocket Sunday, with President Obama calling it a "provocative act."
CNN: Axelrod hits back at Cheney: Not behaving like a 'statesman'
Top Obama adviser David Axelrod sharply criticized Dick Cheney's recent contention that the president's national security policies have made the country less safe, suggesting the former vice president is not behaving like a "statesman."
CNN: Reed calls for UN action against North Korea
The United Nations Security Council should immediately respond to North Korea's recent rocket launch, Rhode Island Sen. Jack Reed said Sunday on CNN's State of the Union.
CNN: New GM chief: Can't take 'anything off the table'
Newly-minted General Motors CEO Fritz Henderson told CNN's John King that all options are in play as the beleaguered company struggles to steer clear of bankruptcy court.
CNN: GOP response: Obama fixing crisis or making it worse?
Rep. Paul Ryan of Wisconsin gave the republican response Saturday to the president's budget, saying that while there is "no doubt" that President Obama inherited a fiscal crisis, the question remains: "Is he fixing it or is he making it worse?"
NYT: Obama Seizes on Missile Launch in Seeking Nuclear Cuts
Hours after North Korea's missile test, President Obama on Sunday called for new United Nations sanctions and laid out a new approach to American nuclear disarmament policy — one intended to strengthen the United States and its allies in halting proliferation.
WSJ: U.S. Offers to Cut Nuclear Arms
President Barack Obama, in the face of a rocket launch this weekend by North Korea, announced an ambitious U.S. arms-control campaign aimed at drastically reducing atomic weapons globally while still recognizing developing nations' rights to pursue nuclear power.
Washington Post: Blacks at Odds Over Scrutiny of President
Jeff Johnson knows how to make his audiences squirm. The young, black radio and TV political commentator waits for the discussion to turn to the topic being talked about ceaselessly, incessantly, ad nauseam: the meaning of the barrier-breaking election of Barack Obama.
LA Times: For Obama, politics may be hard to avoid in auto bailout
With the White House positioned to reshape the future of the auto industry, Republican Sen. Bob Corker was so concerned about the prospects for his home state of Tennessee that he delivered a personal warning to the administration's point man on the issue.
The Guardian: With a rocket, Obama's hope is shot back down to earth
History may one day record it as a stark irony – and let us hope an amusing one rather than the tragic kind – that on the very day that Barack Obama was sketching out to an adoring throng in Prague his vision of a post-nuclear world, North Korea launched a rocket that may one day give it the capacity to fire a nuclear warhead as far as 3,700 miles. This means, to get down to brass tacks, that it could hit Alaska.The juxtaposition is worth dwelling on. Symbolically, it describes an age-old tension in statecraft, something scholars and writers have argued about down the ages. Is history made by great, mould-breaking leaders, or is change – both for the better and for the worse – more likely the result of a coming together of larger social forces?
WSJ Op-Ed: Bolton: Obama's NK Reaction: More Talks
Prior to North Korea's launch yesterday of a Taepodong-2 ballistic missile, President Barack Obama declared that such an action would be "provocative." This public statement was an attempt to reinforce the administration's private efforts to urge the Democratic Peoples' Republic of Korea (DPRK) not to fire the missile.
Washington Post: Short '06 Lebanon War Stokes Pentagon Debate
A war that ended three years ago and involved not a single U.S. soldier has become the subject of an increasingly heated debate inside the Pentagon, one that could alter how the U.S. military fights in the future.
NYT: A Rich Education for Summers (After Harvard)
Lawrence H. Summers plays down his stint in the hedge fund business as a mere part-time job — but the financial and intellectual rewards that he gained there would make even most full-time workers envious.
Washington Times: Congressman's foundation not so charitable
The top Republican on the House Energy and Commerce Committee operates a tax-exempt foundation that has raised donations from the industries his committee oversees, while giving less than a quarter of the foundation's money to charitable causes, tax records show.
NY Daily News: Sarah Palin's feud with Bristol Palin's ex-boyfriend Levi Johnston hits new level
The pit bull is back. Alaska Gov. Sarah Palin went on the attack Saturday, after Levi Johnston, the baby daddy of her first grandchild, revealed all sorts of family secrets on an episode of "The Tyra Banks Show" to be aired Monday.
NATIONAL
For the latest national news: www.CNN.com.
CNN: Military mortuary open to media for first time since 1991
For the first time since media coverage was banned in 1991, the return of the body of a fallen member of the U.S. armed forces was opened to news outlets late Sunday.
NYT: A List of the Most Wanted, by the E.P.A.
Albania Deleon started a business eight years ago to instruct and certify workers in the safe removal of asbestos. It was a growth industry, and pretty soon her company, Environmental Compliance Training in Methuen, Mass., was the largest in the state.
Washington Post: Most in Poll Back Outreach to Muslims
Most Americans think President Obama's pledge to "seek a new way forward" with the Muslim world is an important goal, even as nearly half hold negative views about Islam and a sizable number say that even mainstream adherents to the religion encourage violence against non-Muslims, according to a new Washington Post-ABC News poll.
LA Times: FBI database links long-haul truckers, serial killings
The FBI suspects that serial killers working as long-haul truckers are responsible for the slayings of hundreds of prostitutes, hitchhikers and stranded motorists whose bodies have been dumped near highways over the last three decades.
USA Today: Homelessness up as families on the edge lose hold
Cities and counties are reporting a sharp increase in homeless families as the economic crisis leads to job loss and makes housing unaffordable. In Seattle, 40% more people are living on suburban streets.
WSJ: Schumer Plans Legislation to Curb Ticket Resales
In the latest move in his battle with Ticketmaster Entertainment Inc., New York Sen. Charles Schumer unveiled plans for legislation that would ban the resale of concert and sports tickets until two days after they first go on sale to the public.
Newsweek: What Else Are We Wrong About?
A lot of premises have turned out to be wrong lately. I'm not talking about evanescent bits of conventional wisdom, but about overarching assumptions that were widely shared across the political spectrum. For instance, before 1989, virtually all Sovietologists agreed the U.S.S.R. was highly stable. Before 2001, few Middle East scholars worried that America was vulnerable to a major terrorist attack. Before 2003, neocon hawks and French lefties agreed that Saddam Hussein had weapons of mass destruction. Before 2008, few economists doubted the fundamental soundness of the U.S. financial system.
CS Monitor: States move against in-state tuition for illegal immigrants
Of all illegal immigrants, young people who were brought to the US as children have been the ones most likely to win concessions from the public. But the recession appears to be changing that, driving sentiment against educational benefits for undocumented college students.
Denver Post: Cut pills split insurers
Pushed by a growing demand to cut health-care costs in a tough economy, the stance on splitting pills is shifting at some insurance companies.
USA Today: Consumers fall behind on loans at record rate
A record number of consumers are falling delinquent or into default on their loans, a problem that some economists say will only get worse this year.
BBC: Baby broccoli 'controls gut bug'
Eating a daily portion of broccoli sprouts could help tame the H. pylori bacteria, linked to stomach ulcers and even cancer, research suggests.
Newsweek: The End of Christian America
It was a small detail, a point of comparison buried in the fifth paragraph on the 17th page of a 24-page summary of the 2009 American Religious Identification Survey. But as R. Albert Mohler Jr.—president of the Southern Baptist Theological Seminary, one of the largest on earth—read over the document after its release in March, he was struck by a single sentence. For a believer like Mohler—a starched, unflinchingly conservative Christian, steeped in the theology of his particular province of the faith, devoted to producing ministers who will preach the inerrancy of the Bible and the Gospel of Jesus Christ as the only means to eternal life—the central news of the survey was troubling enough: the number of Americans who claim no religious affiliation has nearly doubled since 1990, rising from 8 to 15 percent. Then came the point he could not get out of his mind: while the unaffiliated have historically been concentrated in the Pacific Northwest, the report said, "this pattern has now changed, and the Northeast emerged in 2008 as the new stronghold of the religiously unidentified." As Mohler saw it, the historic foundation of America's religious culture was cracking.
NY Daily News: Boon for tenants bane for landlords
More than 300,000 New York tenants could reap the rewards of a major court ruling that bars landlords who got special tax breaks from pushing apartments out of rent control.
INTERNATIONAL
For the latest international news: www.cnn.com/WORLD/
CNN: 'Satisfaction' from Kim over N. Korea launch
North Korean leader Kim Jong-Il expressed "great satisfaction" Sunday after his reclusive state launched a long-range rocket, according to state-run media.
CNN: Italian media: Quake kills 20
A 6.3-magnitude earthquake struck central Italy early Monday, killing 20 people, including four children, Italian media reported.
CNN: Karzai: Afghanistan to review criticized sharia law
Amid mounting pressure from the West, Afghan President Hamid Karzai says his government will review a recently approved version of a law that critics say legalizes marital rape and the U.S. president has called "abhorrent."
WSJ: Pakistan Wary as U.S. Gets Tough
Pakistan's leaders are bristling at a series of recent broadsides by U.S. officials accusing the South Asian nation's spy service of aiding the Taliban, setting the stage for what could be contentious meetings when top American officials visit Islamabad this week.
LA Times: North Korea shows progress in mastering missile technology
Although a crucial third stage of a North Korean rocket apparently failed in a launch Sunday, U.S. military and intelligence officials and weapons experts said the test raises new concerns about advancements in Pyongyang's mastery of missile technology.
Financial Times: IMF urges eastern EU to adopt euro
Crisis-hit European Union states in central and eastern Europe should consider scrapping their currencies in favour of the euro even without formally joining the eurozone, according to the International Monetary Fund.
Al Jazeera: US dollar eases Zimbabwe inflation
Zimbabweans have seen a slight fall in the price of everyday items since the government allowed shops to abandon the local currency in favour of the US dollar, government figures indicated.
Times of India: Taliban threaten 2 attacks per week in Pak
Pakistani Taliban chief Baitullah Mehsud, who had claimed responsibility for the attack on the police academy, which killed at least has vowed more assaults unless the US shelves the drone-fired missiles.
BBC: Russia to unveil spaceship plans
The Russian space agency is expected to unveil development plans for a next-generation manned spacecraft on Monday.
BUSINESS
For the latest business news: www.CNNMoney.com.
CNN: Bulls face a challenging week
As Wall Street comes off its best four-week run since the 1930s, investors are getting a bit more confident about the longevity of the current rally. But should they be?
CNN: IBM, Sun said to break off takeover talks
IBM Corp. and computer and software company Sun Microsystems Inc. broke off acquisition talks after Sun rejected IBM's offer of $9.40 or below per share, a source with the knowledge of the matter said Sunday.
WSJ: For Boston Globe, an Ultimatum
New York Times Co. has told employees at the Boston Globe it is prepared to shut down the newspaper within a month unless it gets labor concessions - a move that reflects both the financial pressure the Times Co. is under and the depths to which its once-prized property has sunk.
Bloomberg: IBM Talks to Acquire Sun for $7 Billion Said to Have Collapsed
International Business Machines Corp.'s talks to buy Sun Microsystems Inc. for $7 billion collapsed after the two companies failed to agree on a price and terms of the deal, a person familiar with the matter said.
Business Week: For the Jobless, the Stimulus Clock Is Ticking
The realities of the deteriorating job market were underscored again on Apr. 3 when the U.S. government announced that 663,000 jobs were lost in March, pushing the national unemployment rate to 8.5%. For many workers who lost their jobs weeks ago, the worst news is that they may be about to fall through the safety net.
Business Week: Soon TVs and PCs May Work Like the Wii
Walk into Building 99 on Microsoft (MSFT)'s Redmond (Wash.) campus, and you'll be greeted by a dark-haired receptionist named Laura. She isn't a real person. She's a digital creation peering out from a computer screen. Yet she talks and interacts with visitors. She responds to a nod or shake of the head, as well as other gestures and voice commands. The technology behind Laura is one example of how companies are looking to free consumers from keyboards and remote controls in favor of more natural interaction with computers, TVs, and mobile devices.
In Case You Missed It
To watch the latest interviews and reporting: http://www.cnn.com/video.
CNN's Ed Henry reports President Obama got some of what he wanted, but not all at the G-20 summit.
CNN: Obama advisor talks North Korea
Top Obama advisor David Axelrod discusses North Korea and hits back at recent criticisms from Dick Cheney.
CNN: U.S. reaction to North Korea
Sen. Jack Reed, D-Rhode Island, discusses what he thinks the proper response to North Korea should be.
CNN: John King behind the scenes
Go behind the scenes with John King as he discusses this week's trip to Tennessee.