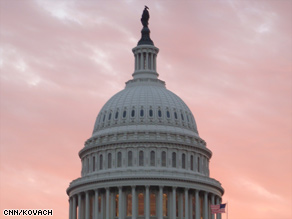 WASHINGTON/POLITICAL
For the latest political news: www.CNNPolitics.com.
CNN: Plot to assassinate Obama foiled in Turkey
U.S. officials have taken "very seriously" a plot to assassinate President Barack Obama involving a Syrian man who was arrested late last week in Turkey, according to two U.S. officials familiar with the matter.
CNN: Gates announces major Pentagon priority shifts
U.S. Defense Secretary Robert Gates announced a 2010 Pentagon budget Monday that reflects major changes in the "scope and significance" of Defense Department priorities.
CNN: New Cuba travel rules could come within 10 days
The Obama administration sent a fresh signal Monday that new rules on family travel and remittances to Cuba are coming soon, and may be announced before President Obama attends the Summit of the Americas on April 17.
CNN: Poll: U.S. split on Muslim allies
President Obama stood before the Turkey's parliament on Monday and told lawmakers that the Muslim nation is "a critical ally," but a new poll shows Americans are split about the level of trust the United States should have with Muslim allies.
NYT: Report Outlines Medical Workers' Role in Torture
Medical personnel were deeply involved in the abusive interrogation of terrorist suspects held overseas by the Central Intelligence Agency, including torture, and their participation was a "gross breach of medical ethics," a long-secret report by the International Committee of the Red Cross concluded.
Washington Post: Contracting Boom Could Fizzle Out
The recent surge in the Washington area's defense-contracting workforce would begin to ebb under Defense Secretary Robert M. Gates's latest budget proposal as the Pentagon moves to replace legions of private workers with full-time civil servants.