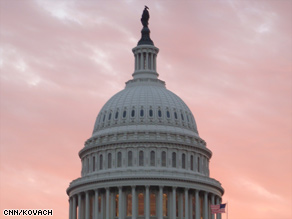 WASHINGTON/POLITICAL
For the latest political news: www.CNNPolitics.com.
CNN: Plot to assassinate Obama foiled in Turkey
U.S. officials have taken "very seriously" a plot to assassinate President Barack Obama involving a Syrian man who was arrested late last week in Turkey, according to two U.S. officials familiar with the matter.
CNN: Gates announces major Pentagon priority shifts
U.S. Defense Secretary Robert Gates announced a 2010 Pentagon budget Monday that reflects major changes in the "scope and significance" of Defense Department priorities.
CNN: New Cuba travel rules could come within 10 days
The Obama administration sent a fresh signal Monday that new rules on family travel and remittances to Cuba are coming soon, and may be announced before President Obama attends the Summit of the Americas on April 17.
CNN: Poll: U.S. split on Muslim allies
President Obama stood before the Turkey's parliament on Monday and told lawmakers that the Muslim nation is "a critical ally," but a new poll shows Americans are split about the level of trust the United States should have with Muslim allies.
NYT: Report Outlines Medical Workers' Role in Torture
Medical personnel were deeply involved in the abusive interrogation of terrorist suspects held overseas by the Central Intelligence Agency, including torture, and their participation was a "gross breach of medical ethics," a long-secret report by the International Committee of the Red Cross concluded.
Washington Post: Contracting Boom Could Fizzle Out
The recent surge in the Washington area's defense-contracting workforce would begin to ebb under Defense Secretary Robert M. Gates's latest budget proposal as the Pentagon moves to replace legions of private workers with full-time civil servants.
Boston Globe: Arms plan has pain, some gain for N.E.
Secretary of Defense Robert M. Gates yesterday proposed far-reaching cuts to weapons programs, a move that put at risk thousands of jobs in Massachusetts and Connecticut. But he also laid out plans for new investments in shipbuilding and other technologies assembled in New England that would cushion the economic blow to the region.
CNN: Obama says U.S., Turkey can be model for world
President Obama ended his first overseas trip in Turkey - a location he said he chose to send a clear message.
WSJ: Political Donations Slide Amid Slump
Political fund raising has suffered a rare decline since Election Day as corporate political-action committees have trimmed campaign donations amid an economic slump.
NYT: 'Survey' Calls Attack Bloomberg Rival
He is comfortably ahead in the polls. He has the vast powers of incumbency at his disposal. He has the backing of the city's most powerful business interests.But that does not seem to be enough for Mayor Michael R. Bloomberg.
Washington Post: Gates Proposal Reveals His Alienation From Procurement System
After reading a newspaper article's report that a particular armored vehicle had dramatically cut fatality rates in Iraq, Defense Secretary Robert M. Gates and other senior defense officials traveled 80 miles northeast to Aberdeen Proving Ground in spring 2007 to see for themselves how the V-shaped hull of the costly Mine Resistant Ambush Protected vehicle deflected the worst blast effects of buried explosives.
Washington Times: Perino: Americans answer a call to help
For months before the Bush administration came to a close, I was regularly asked, "What are you going to do next?" I had no answer – until traveling to Africa with President George W. Bush in February 2008.
NYT: Obama Impresses Many on Both Sides of Turkey's Secular and Religious Divide
To the world, Turkey is a Muslim country that is a logical starting point for President Obama's outreach to the Muslim world.
Providence Journal: Chafee preparing a run for R.I. governor
Declaring that he's "back in the saddle again" after his bruising 2006 defeat, former U.S. Sen. Lincoln D. Chafee on Monday took the first official step in a likely 2010 run for governor as an independent.
Roll Call: The Most Vulnerable Senator Up for Re-Election in 2010?
Move over, Jim Bunning. You have company. Veteran Sen. Chris Dodd (D) should not be vulnerable in his home state of Connecticut. As a longtime officeholder in a reliably Democratic state and the chairman of the Senate Banking, Housing and Urban Affairs Committee, Dodd should have the stature, political base and access to resources to dissuade even the most ambitious of Republicans from challenging him for re-election.
NATIONAL
For the latest national news: www.CNN.com.
CNN: Multistate plane chase ends on Missouri dirt road
The chase began with a stolen plane from a Canadian flight school, meandered through three states with U.S. fighter jets hot on the trail and forced the evacuation of the state capitol in Wisconsin.
CNN: Missing girl Sandra Cantu found dead
Authorities found the body of 8-year-old Sandra Cantu in a suitcase in a dairy-farm pond near her California home on Monday.
A California company has widened its recall of pistachios to raw nuts and all roasted nuts produced in 2008 after health inspectors raised concerns of salmonella contamination, the Food and Drug Administration said Monday.
NYT: Poll Finds New Optimism on Economy Since Inauguration
Americans have grown more optimistic about the economy and the direction of the country in the 11 weeks since President Obama was inaugurated, suggesting that he is enjoying some success in his critical task of rebuilding the nation's confidence, according to the latest New York Times/CBS News poll.
LA Times: Archer Daniels Midland project aims to bury carbon dioxide
The drillers have gnawed through a mile of rock here, almost down to a 600-million-year-old layer of sandstone where they hope to bury about 1 million metric tons of carbon dioxide - equal to the annual emissions of 220,000 automobiles.
WSJ: Hospital Gets Subpoena Tied to Doctor's Studies
Federal investigators have subpoenaed financial records related to Scott S. Reuben, a Massachusetts doctor accused of faking data used in at least 21 anesthesiology studies, according to the hospital where he worked until recently.
Chicago Tribune: Buying American: Helpful or hurtful for the struggling U.S. economy?
In the 1980s, Detroit autoworkers vented their frustration over lost jobs and a sagging economy by publicly smashing Toyotas with sledgehammers.
Boston Globe: Recession spurs egg and sperm donations
Charitable donations may be down because of the recession, but another type of donation is up for the very same reason: egg and sperm.
LA Times: Agents Make Record Heroin Seizure in Anaheim
In what was described as the largest heroin seizure in the history of California's narcotics bureau, agents found 95 pounds of the drug during an Anaheim raid, state Atty. Gen. Jerry Brown announced today.
Washington Times: D.C. eyes gay marriage recognition
The D.C. Council will consider Tuesday whether to recognize domestic partnerships granted in other states and countries – a decision that could serve as a prelude to the city's own attempt to legalize same-sex marriage.
INTERNATIONAL
For the latest international news: http://edition.cnn.com/
CNN: Italian quake death toll rises to 179
The death toll from Monday's 6.3-magnitude earthquake that ripped through Italy's mountainous Abruzzo region rose to 179 Tuesday, according to the mayor of the devastated city of L'Aquila.
CNN: Afghanistan 'rape' law puts women's rights front and center
"In Afghanistan, the sacrifice in the political game is women and children," female Afghan parliamentarian Fawzia Koofi said.
CNN: Photos reportedly show N. Korean rocket in flight
A nonprofit institution that focuses on stopping the spread of nuclear weapons on Monday night released what appears to be satellite images of North Korea's rocket in flight.
CNN: Poll: Most say Obama has improved U.S. image abroad
President Obama earned high marks for diplomacy during his first overseas trip, and a majority of Americans think that he will return home with some accomplishments in his pocket, according to results of a poll released Monday.
NYT: Damage to Historical Monuments 'Significant'
The earthquake in Abruzzo did not spare the region's artistic patrimony, though government officials said Monday that it was too soon to determine the extent of the damage to historical buildings or works of art.
LA Times: Did scientist predict Italy quake?
More than a week ago, a scientist little known in earthquake circles made a bold prediction of a destructive earthquake in the Abruzzo region of central Italy based on spikes in radon gas. Giampaolo Giuliani went so far as to tell the mayor of a town there that it would strike within the next 24 hours.
London Times: French burns victim first to get hands and face transplant
A 30-year-old burns victim has become the first man to receive two new hands and a new face after groundbreaking transplant surgery.
BBC: US envoy holds key Pakistan talks
Visiting US special envoy for Pakistan, Richard Holbrooke, has held key talks with President Asif Ali Zardari and Prime Minister Yusuf Raza Gilani.
Financial Times: G8 warns of hunger threat to stability
The world faces a permanent food crisis and global instability unless countries act now to feed a surging population by doubling agricultural output, a report drafted for ministers of the Group of Eight nations has warned.
BUSINESS
For the latest business news: www.CNNMoney.com.
CNN: Recovery hopes begin to blossom
Unemployment at a 25-year high. Housing prices continuing to fall. Corporate titans such as General Motors on the brink of bankruptcy. There's no lack of bad economic news.
CNN: Stocks stumble after sprint
Stocks slipped Monday, retreating after a four-week run, on a bearish analyst note about the bank sector and a breakdown in merger talks between IBM and Sun Microsystems.
CNN: Empire State Building: New energy role model
The Empire State Building kicked off a major energy-saving retrofit Monday, and promoters hope one of the world's most iconic skyscrapers can become an efficiency model for buildings worldwide.
WSJ: Buyers Arise for AIG Unit as Some Bids Scrape Floor
About a half-dozen bidders have emerged for American International Group Inc.'s asset-management business, according to people familiar with the matter. But the sale of the $100 billion portfolio has become complicated by client withdrawals and declines in asset prices.
Washington Post: Plan to Expand Financial Oversight May Add New Risks
The Obama administration's plan for a sweeping expansion of financial regulations could have unintended consequences that increase the very hazards that these changes are meant to prevent.
Forbes: Asia Stocks Slip On Renewed Bank Fears
Asian markets followed New York stocks lower Tuesday, with investors taking profits from the recent rally as worries flared anew over the health of U.S. banks.
Business Week: Growth Stocks: Ready for a Comeback?
Depending on who you ask, this is a great time for growth stocks or a terrible time to be buying those risky investments.
WSJ Op-Ed: Stoll: Anti-Semitism and the Economic Crisis
Walking down the street in my solidly upper-middle-class New York City neighborhood the other day was a neatly dressed man angrily cursing into his cell phone about "Jew Wall Street bankers."
Business Week: How Kaiser Permanente Went Paperless
When physician Andrew Wiesenthal needs to work out a problem, he runs around Lake Merritt, across the street from his Oakland (Calif.) office at Kaiser Permanente. As one of the main drivers behind Kaiser's decades-long, multibillion-dollar effort to overhaul the way patient health records are kept, Wiesenthal has had a lot of laps to run.
Washington Post: SLM to Transfer Overseas Jobs to U.S.
Sallie Mae yesterday announced plans to move 2,000 overseas jobs back to the United States from India and the Philippines, reversing a cost-savings measure the company took a year ago.
Bloomberg: GM Bankruptcy Plan Said to Speed Up as Board Seeks Savings Goal
General Motors Corp. is speeding up preparations for a possible bankruptcy filing even as directors scout for deeper savings this week to avoid that outcome, people familiar with the plans said.
Denver Post: Two Colorado banks get $77 million from TARP
Two additional Colorado banks have snared federal bank aid — and one pulled in the biggest statewide share to date.
WSJ: Teams Race to Build Super-Fuel-Efficient Car
A field of 111 teams - ranging India's Tata Motors Ltd., Silicon Valley startup Tesla Motors Inc. and a team backed by musician Neil Young - will compete for a $10 million prize to build a practical vehicle capable of getting the equivalent of 100 miles per gallon of gas, the contest's backers said Monday.
In Case You Missed It
To watch the latest interviews and reporting: http://www.cnn.com/video.
Move over FBI, EPA is tracking the most-wanted environmental criminals. CNN"s Elaine Quijano reports.
CNN: Truck driver serial killers
The FBI indentifies truck driving as a preferred profession of serial killers. CNN's Ted Rowlands reports.
Drugstores yank Chia Obama over racial issues. CNN's Jeanne Moos has the Chi-Chi-Chi Chia controversy.
President Obama, in Turkey, says the United States is not at war with Islam. CNN's Ed Henry reports.