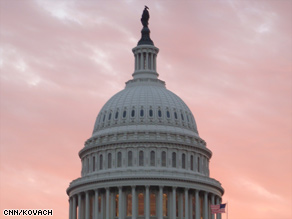 The CNN Washington Bureau's morning speed read of the top stories making news from around the country and the world.
WASHINGTON/POLITICAL
For the latest political news: www.CNNPolitics.com.
CNN: Bush-era interrogation memo: No torture without 'severe pain' intent
Interrogation tactics such as waterboarding, sleep deprivation and slapping did not violate laws against torture when there was no intent to cause severe pain, according to a Bush-era memo on the tactics released Thursday.
CNN: Ex-McCain aide to call for gay marriage support
Steve Schmidt, a key architect of John McCain's presidential campaign, is making his first public return to Washington a bold one.
CNN: Obama unveils high-speed passenger rail plan
President Obama unveiled his administration's blueprint for a new national network of high-speed passenger rail lines Thursday, saying such an investment is necessary to reduce traffic congestion, cut dependence on foreign oil and improve the environment.
CNN: Analysis: Don't expect deal with Mexico on assault weapons ban
President Obama visits Mexico with many issues on the table, but reinstating the ban on assault weapons in the U.S. isn't likely to be one on which the two countries can reach agreement.
CNN: Obama likely to get earful on Cuba at Americas summit
When President Obama arrives in Trinidad and Tobago this week for the Summit of the Americas, the one country in the region not present may be the one he hears the most about: Cuba.
Washington Post: Role of Bush NSA Plan Under Review
The Bush administration planned last year to direct the National Security Agency, which specializes in spying electronically on foreign adversaries, to take the techniques it has employed to defend military computer networks and use them to protect U.S. government civilian networks, according to current and former officials.
NYT: Obama Adviser Said to Be Tied to Pension Deal
The man leading the Obama administration's efforts to restructure the auto industry has been described in Securities and Exchange Commission documents as having arranged for his investment firm to pay more than $1 million to obtain New York State pension business.
USA Today: Budget crunches sharpen political differences in state tax fights
Democrats in state legislatures are seeking to raise taxes on the rich, and Republicans are trying to cut taxes for business — a replay of the fierce budget battles that have divided Congress.
Washington Post: Banks Rush to Repay U.S. Funds, but Cling To Other Lifelines
Six months after Washington rescued Wall Street, exasperated banks insist they want to leave the lifeboat.
LA Times: Injured war zone contractors fight to get care
Civilian workers who suffered devastating injuries while supporting the U.S. war effort in Iraq and Afghanistan have come home to a grinding battle for basic medical care, artificial limbs, psychological counseling and other services.
Boston Globe: Dodd faces steep road to reelection
The election is still more than 18 months away, but US Senator Chris Dodd is barnstorming Connecticut this week like an incumbent in trouble. Voters who have supported him for 29 years are showing anger over his personal finances and for legislation that allowed federal bailout money to be used for executive bonuses.
WSJ: Lawmakers Pressure NASA to Delay Shuttle's Retirement
The faltering economy threatens to disrupt plans to retire the U.S. space-shuttle fleet next year and free up funds to develop a new generation of manned spacecraft.
McClatchy: As crisis loomed last fall, NC Senator Burr told wife: Empty ATM
When the banking crisis hit last fall, U.S. Sen. Richard Burr told his wife to take as much money from the ATM as she could.
Washington Post: 3 Linked to Lobby Firm See Donations Drop
Three senior House Democrats revealed sharp declines in donations for the first quarter of 2009 after the shuttering of a lobbying firm that in previous election cycles helped steer millions of dollars in donations to their political committees from its lobbyists and earmark-seeking clients.
Dallas Morning News: Texas Senate defies Perry by voting to take stimulus money for jobless fund
In a sharp rebuff of Gov. Rick Perry, the Senate on Thursday tentatively voted to accept $555 million in unemployment aid from the federal economic stimulus plan.
NATIONAL
For the latest national news: www.CNN.com.
CNN: Crewman's e-mail gives harrowing details of hijacking
An e-mail from one of the crewmen aboard the Maersk Alabama tells a gripping tale of sailors fighting back against pirates who had taken over their ship.
CNN: Ashton Kutcher first to reach 1 million in Twitter battle with CNN
Celebrity Ashton Kutcher narrowly beat out CNN early Friday in an online popularity contest to see who could more quickly attract 1 million followers on the micro-blogging site Twitter.
CNN: Experts: Some foreclosed homes too damaged to sell
The economy in southern New Hampshire is not by any means among the worst in the nation. Still, according to city records, there are 29 foreclosed homes on the books in Nashua - many of which are in deplorable condition.
CNN: South Dakota finds clinic reused single-use supplies on patients
More than 5,000 patients at a South Dakota urology clinic may have been exposed to hepatitis and HIV after the facility reused single-use medical products on them, state health officials said.
NYT: To Fill Food Safety Gap, Processors Pay Inspectors
Clipboard in hand, Debra Anderson spent three hours one recent sunny morning trooping through a field of romaine lettuce looking for trouble.
The Economist: All together now
America receives more immigrants than any other country. But its system for dealing with them is a model of dysfunctionality, with 11.9m illegally present in 2008, up 42% since 2000. Past efforts at reform have failed dismally. In 2006 protesters filled city streets after the House of Representatives passed a bill making illegal immigration a felony; but the proposal failed to pass muster in the Senate. The Senate's own effort in 2007 fared even worse. Police clashed with a crowd in Los Angeles. Opponents of reform barraged senators with so many calls that their phone system crashed. The Senate's bill, designed to please all sides, ended up pleasing no one.
Washington Post: Hate Crime Bill Might Make Md. A Pioneer
Maryland would become the first state to list the homeless as a class protected from hate crimes under legislation that is headed to Gov. Martin O'Malley's desk.
LA Times: California faces shortage of college graduates for workforce, study finds
With college enrollment rates among the lowest in the nation, California will face a shortage of 1 million college graduates needed for the state's workforce in 2025, a report released Thursday warned.
Boston Globe: Mumps suspected in 4 NU students
Four Northeastern University students have suspected cases of the mumps, Boston public health officials said yesterday, urging any unvaccinated students and staff to get immunized against this once-common childhood illness
NYT: Task to Aid Self-Esteem Lifts Grades for Some
Some seventh graders who were struggling in class did significantly better after performing a series of brief confidence-building writing exercises, and the improvements continued through eighth grade, researchers reported Thursday.
LA Times: Gates hints at changes to ban on gays in military
Defense Secretary Robert M. Gates said Thursday that the Obama administration would move cautiously in shifting policies on gays serving openly in the military, but he signaled that service members should prepare for possible changes.
The Economist: It's all relative
Rising above the fields of Nevada, Iowa, advertised proudly as America's 26th-best small town, is an ethanol refinery. The air around is thick with the smell of yeast. Each day lorries drive up and park above a large grate, corn pouring from their bellies like milk from a cow, the kernels falling below to begin their transformation into ethanol. To see Lincolnway Energy is to recall Iowa's better days. Last year two ethanol companies filed for bankruptcy. Others have slowed production.
INTERNATIONAL
For the latest international news: http://edition.cnn.com/
CNN: Thai 'yellow shirt' political leader shot
A Thai political leader who helped topple that country's former prime minister was shot early Friday on the way to host his radio talk show, according to a spokesman for his political party.
CNN: U.S. issues warning to North Korea for expelling inspectors
As U.S. nuclear experts prepared to leave North Korea, the United States vowed consequences on Pyongyang for kicking them out, along with U.N. nuclear inspectors. This is after the United Nations condemned North Korea's recent missile launch.
Financial Times: French president criticises world leaders
Barack Obama is "not always up to standard on decision-making or efficiency", José Luis Rodríguez Zapatero is "perhaps not very intelligent" while Angela Merkel "had no choice but to come round to my position" when she saw the state of German banks.
NYT: Study Finds Pattern of Severe Droughts in Africa
For at least 3,000 years, a drumbeat of potent droughts, far longer and more severe than any experienced recently, have seared a belt of sub-Saharan Africa that is now home to tens of millions of the world's poorest people, climate researchers report in a new study.
McClatchy: U.S. experts: Pakistan on course to become Islamist state
A growing number of U.S. intelligence, defense and diplomatic officials have concluded that there's little hope of preventing nuclear-armed Pakistan from disintegrating into fiefdoms controlled by Islamist warlords and terrorists, posing the a greater threat to the U.S. than Afghanistan's terrorist haven did before 9/11.
WSJ: U.S. Pushes for U.N. Censure of Iran, Syria on Arms
The Obama administration is pushing for a formal censure of Iran and Syria at the United Nations over an arms-smuggling case that U.S. officials see as highlighting the risks that Iranian weapons shipments pose to regional stability.
Al Jazeera: Sudan to allow return of Darfur aid
The Sudanese government has agreed to allow some aid groups back into the war-torn western Darfur region, more than a month after over a dozen aid groups were expelled from the area, a visiting US senator says.
London Times: Council powers to spy on the public are cut
Councils are to have their powers to snoop on the public severely curtailed. Jacqui Smith, the Home Secretary, will signal government plans today to reverse the expansion of the surveillance society amid growing alarm at the extent of official spying.
BBC: China 'to increase naval power'
China is planning to boost the size and sophistication of its naval power, the head of the Chinese navy told state news agency Xinhua.
Sidney Morning Herald: Export prices fall 4.6%
The price of exports fell in the first quarter, dragged down by lower metals prices, undercutting a key source of revenue of the Australian economy.
BUSINESS
For the latest business news: www.CNNMoney.com.
CNN: US Government, Fiat To Decide Chrysler Future Leadership
Chrysler LLC's future leadership will be determined by the U.S. government and Fiat SpA (FIATY) if Chrysler succeeds at merging with the Italian auto maker.
CNN: Google profit beats estimates
Shares of Google Inc. rose in after-hours trading Thursday after the Internet search company said its first-quarter profit climbed 8.9% and topped Wall Street's forecast, amid a tough advertising environment.
Financial Times: GM seeks provision for parts suppliers
General Motorsis prepared to argue, if it seeks bankruptcy protection, that hundreds of its suppliers are "critical vendors" who require timely payments, setting the stage for what would be the most sweeping attempt ever to win special treatment for such contractors, people close to the matter say.
Business Week: Time Warner Cable Backs Away from Pricing Change
Time Warner Cable caved—for now. In the face of widespread consumer outrage over its plan to change its pricing for Internet access, the company said it will shelve plans to implement the new price formula in several new markets.
NYT: Google's Profit Is Up 8%, Beating Analysts' Estimates
The slumping economy has broken Google's streak: The Internet search giant said Thursday that it had its first decline in revenue compared with the previous quarter since it went public in 2004, as marketers reined in their online advertising budgets.
WSJ: Hilton Is Sued Over Luxury Chain
Starwood Hotels & Resorts Worldwide Inc. sued Hilton Hotels Corp. late Thursday, accusing its rival of using stolen confidential Starwood documents to develop a new luxury hotel chain.
Sidney Morning Herald: Personal bankruptcies near record high
Amid rising debt and unemployment, the number of filings for personal bankruptcy is just shy of a record, says a government agency.
In Case You Missed It
To watch the latest interviews and reporting: http://www.cnn.com/video.
CNN: Obama sees leaner, cleaner U.S.
President Obama lays out his vision of transportation change in the United States.
CNN: Hijacked by pirates!
Larry talks with John Cronan who was on board the Maersk Alabama when the ship was attacked by pirates.
CNN: Dad, daughter reunited
For 27 years, Dirk Pratt thought his daughter died while on a trip to Ecuador as a toddler. Now, KOMO is at their reunion.
CNN: YouTube Symphony Orchestra
Musicians from around the world met at Carnegie Hall to give the first performance as the YouTube Symphony Orchestra.