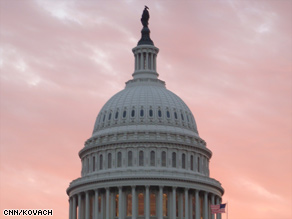 The CNN Washington Bureau's morning speed read of the top stories making news from around the country and the world.
WASHINGTON/POLITICAL
For the latest political news: www.CNNPolitics.com.
CNN: Obama to gather Cabinet, seeking $100 million in cuts
President Obama returned to Washington on Sunday night with his eye back on his domestic agenda and a plan to save government money.
CNN: Senator says Obama's appearance with Chavez 'irresponsible'
Sen. John Ensign, R-Nevada, told CNN Sunday it was "irresponsible" for President Obama to have been seen "laughing and joking" with Venezuelan President Hugo Chavez at the Summit of the Americas on Friday.
CNN: Napolitano defends 'right wing extremism' report, regrets offense
Homeland Security Secretary Janet Napolitano continued to defend her agency's recent report warning of right-wing extremist groups, saying the U.S. has active intelligence suggesting such groups are actively targeting disgruntled veterans.
CNN: Obama 'gravely concerned' about U.S. journalist in Iranian prison
President Obama called Sunday for the release of a U.S. journalist convicted of espionage in Iran.
CNN: Ex-CIA chief: Obama risks national security
A former head of the CIA slammed President Obama on Sunday for releasing four Bush-era memos, saying the new president has compromised national security.
NYT: U.S. May Convert Banks' Bailouts to Equity Share
President Obama's top economic advisers have determined that they can shore up the nation's banking system without having to ask Congress for more money any time soon, according to administration officials.
Washington Post: A Bigger, Bolder Role Is Imagined For the IMF
Inside a cavernous assembly hall in downtown Washington, dignitaries gather twice a year for routine meetings of the International Monetary Fund. Before long, though, the room could take center stage in the IMF's transformation into a veritable United Nations for the global economy.
Business Week: Barack Obama, Activist Investor
With more than $200 billion invested in U.S. banks, another $70 billion earmarked for American International Group (AIG), and $30 billion in credit for automakers and lenders, President Barack Obama may well qualify as the nation's Investor-in-Chief. And he's proving himself about as activist as an investor can get.
NYT: Waterboarding Used 266 Times on 2 Suspects
C.I.A. interrogators used waterboarding, the near-drowning technique that top Obama administration officials have described as illegal torture, 266 times on two key prisoners from Al Qaeda, far more than had been previously reported.
LA Times: Mental damage from CIA tactics is disputed
The conclusion in recently released Justice Department memos that CIA interrogation techniques would not cause prolonged mental harm is disputed by some doctors and psychologists, who say that the mental damage incurred from the practices is significant and undeniable.
Washington Times: NRA: WH pushing to reinstate gun ban
A top National Rifle Association official said the Obama administration is using the increased publicity surrounding drug cartels in Mexico as an opportunity to push for reinstating the ban on semi-assault weapons.
CNN: Paterson defends same-sex marriage bill
New York Gov. David Paterson Sunday strongly defended a proposed bill that aims to legalize same-sex marriage in his state.
WSJ: White House to Put Credit-Card Rates in Cross Hairs
President Barack Obama will soon turn his attention to high credit-card rates, giving a potential boost to congressional efforts to put limits on the industry.
LA Times: Getting to know the Obamas, on their terms
In the short time Americans have come to know their new first family, they've learned that the president doesn't want a puppy sleeping on his bed, the girls hate green veggies but at least one loves peanut butter, and the first lady believes her husband should stay out of her closet.
NATIONAL
For the latest national news: www.CNN.com.
CNN: 13-year-old's school strip-search case heads to Supreme Court
The case of a 13-year-old Arizona girl strip-searched by school officials looking for ibuprofen pain-reliever will be heard by the U.S. Supreme Court this week.
CNN: horses die just before polo match
Fourteen thoroughbred horses dropped dead in a mysterious scene Sunday before a polo match near West Palm Beach, Florida, officials said.
Washington Post: Study Finds Some Youths 'Addicted' to Video Games
A new study concludes that children can become addicted to playing video games, with some skimping on homework, lying about how much they play and struggling, without success, when they try to cut back.
USA Today: New Orleans housing project is model for recovery
Wendell Pierce, an actor best known for his role at Detective William "Bunk" Moreland on HBO's The Wire, splits a lot of his time lately between Los Angeles and his hometown of New Orleans.
LA Times: Layoffs are driving change among the Amish
The Amish are defined by their religious beliefs, shunning automobiles, insurance and electricity in their homes.
NYT Op-Ed: Brokaw: Small-Town Big Spending
During these uncertain times we've yet to hear a phrase with the resonance of Franklin Roosevelt's "The only thing we have to fear is fear itself," but there are a couple of minor-chord expressions that should have staying power.
WSJ: Crazy-Quilt Jobless Programs Help Some More Than Others
The U.S. unemployment system is an uneven field of haves, have-nots and borderline cases, all found among the laid-off workers of a Maine company that makes wood products such as rolling pins and levers for reclining chairs.
LA Times: Some influential Muslim groups question FBI's actions
As they sipped tea and nibbled on dates, more than 100 men and women listened to a litany of speakers sounding the same message: The FBI is not your friend.
Forbes: EPA Ruling Great News For Cleantech
Greentech investors and entrepreneurs are guardedly optimistic that the Environmental Protection Agency's ruling that greenhouse gases are harmful to human health will provide a boost to their industry.
Chicago Tribune: Pesticides linked to Parkinson's, UCLA researchers find
Researchers at the University of California, Los Angeles, have provided strong new evidence linking at least some cases of Parkinson's disease to exposure to pesticides. Researchers have suspected for some time that pesticides may cause the neurodegenerative disorder, and experiments in animals have shown that the chemicals, particularly the fungicide maneb and the herbicide paraquat, can cause Parkinson's-like symptoms in animals. But proving it in humans has been difficult because of problems in assessing exposure to the agents.
USA Today: Scams about foreclosures, jobs, IRS feed on desperation
Last September, Esmeralda Carmona only had enough money to pay a fraction of her mortgage. Her husband, laid off nearly a year earlier, had not worked in nine months. Debt was mounting, and the mother of four was prepared to give up.
WSJ: Medical-Helicopter Study on Safety Splits Industry
As industry groups continue to squabble over how to reduce the risks of emergency medical helicopter flights, a safety study commissioned by Textron Inc.'s Bell Helicopter is pitting industry factions against one another, forcing Bell to distance itself from the conclusions to avoid antagonizing some corporate customers.
Kansas City Star: More people flock to Twitter as a conduit for information
Maybe you know about Ashton Kutcher's obsession with Twitter. Last week the actor became the first tweeter to reach 1 million followers, and on Friday he got Oprah to join in.
INTERNATIONAL
For the latest international news: http://edition.cnn.com/
CNN: Jamaican PM negotiates with hostage-taker
An armed man released all passengers but continued to hold five crew members hostage early Monday inside a charter plane at a Jamaican airport, officials said.
CNN: Boycotts hit U.N. racism conference
A major United Nations anti-racism conference was thrown into further disarray Sunday when more countries joined a U.S. boycott amid concerns it was developing into a platform for attacking Israel.
CNN: New pirate attack thwarted in Gulf of Aden
NATO forces patrolling the Gulf of Aden foiled a pirate attack on a Norwegian tanker this weekend, a NATO spokesman said.
BBC: Chavez effect creates bestseller
A book which the Venezuelan leader Hugo Chavez presented to US President Barack Obama at the Americas summit has become a bestseller in just two days.
Al Jazeera: Mandela magic at final ANC rally
Nelson Mandela, the former South African president, has made a surprise appearance at the final election rally of the African National Congress,(ANC), urging his countrymen to return the ruling party to power in upcoming polls.
Times of London: Union tells Gordon Brown to end 'childish venom' of smears
Gordon Brown will be told by one of Britain's biggest unions today that Labour must stop wasting time in "childish venom".
Chicago Tribune: Free music lessons abound on the Web
On the ladder of starving artists, where musicians already perch on a splintered rung, this nasty blues we call the recession only adds insult to melody. How's a guy or gal supposed to take lessons to hone their craft when, to borrow from a certain soul smash, money's too tight to mention?
BUSINESS
For the latest business news: www.CNNMoney.com.
CNN: UBS Sells Brazilian Pactual At Loss; Small Cap Lift
UBS AG (UBS) said Monday it will sell Banco Pactual back to one of the Brazilian investment bank's original owners at a loss, a move that will lift the Swiss bank's capital.
WSJ: Pepsi Bids $6 Billion for Largest Bottlers
PepsiCo Inc. launched a $6 billion takeover bid for its two largest independent bottlers late Sunday, a major strategy shift that signals the company's intention to overhaul how it makes and distributes its products to consumers.
Financial Times: US to put conditions on Tarp repayment
Strong banks will be allowed to repay bail-out funds they received from the US government but only if such a move passes a test to determine whether it is in the national economic interest, a senior administration official has told the Financial Times.
NYT: Debt Settlers Offer Promises but Little Help
Tyna Carter, burdened with $25,000 in credit card debt, did not want to be a deadbeat. After looking for help on the Internet, Mrs. Carter, a West Virginia homemaker, wound up in the hands of a sweet-talking "credit specialist" from Texas.
Bloomberg: London Finance Firms May Cut 29,000 Jobs This Year, CEBR Says
U.K. financial services companies may cut fewer jobs than forecast as the government's bailout of the banking system and interest-rate cuts restore confidence, the Centre for Economics & Business Research Ltd. said.
In Case You Missed It
To watch the latest interviews and reporting: http://www.cnn.com/video.
CNN: Napolitano defends report
Homeland Security Secretary Janet Napolitano defended her agency's recent report warning of "right wing extremism."
CNN: Holbrooke takes aim at Taliban
CNN's Fareed Zakaria talks to Richard Holbrooke on the crises in Afghanistan and Pakistan, & how to deal with the Taliban
CNN: Race of the Eco-cars
Japan's top two automakers in a worldwide battle for the eco-minded consumer. CNN's Kyung Lah reports.
CNN: NY gay marriage bill
New York Gov. David Paterson talks to CNN's John King about his controversial bill to legalize gay marriage in his state.