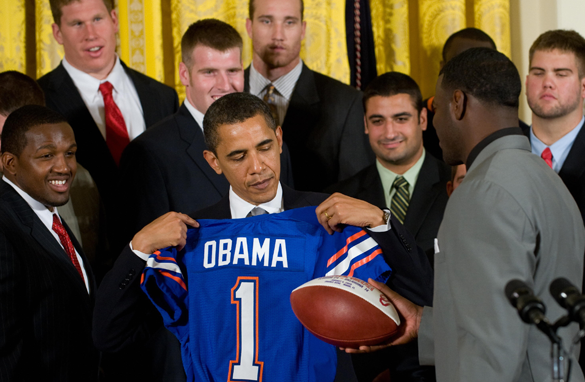 Photo credit: Getty Images
(CNN) - It must be 'great to be a Florida Gator.'
The University of Florida football team, winner of the 2009 BCS National Championship, met with President Obama Thursday at the White House. Led by coach Urban Meyer, the boys from old Florida posed for photos with the president after presenting him with a personalized "Obama 1" jersey and "Barack Obama" national championship football.
The president shook hands with Heisman trophy winner Tim Tebow as cameras flashed telling the group that the quarterback's leadership is what "you want to see from all our young people – taking responsibility, challenging yourself and others, and rising to the moment."
Last week, Florida Democratic Sen. Bill Nelson announced the team's upcoming White House visit during halftime at the Gators' traditional "Orange and Blue" game.
By tradition, the winner of the national championship is eligible for a visit to the executive mansion. The Florida football team traveled to Washington most recently in 2006 and 1996 after winning the national title.