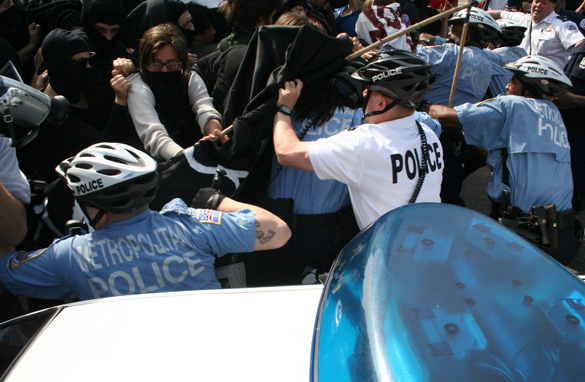 Protesters clash with police officers at a rally around the IMF and World Bank in Washington, D.C. on Saturday. Photo credit: CNN.
WASHINGTON (CNN) - Protesters clashed with police Saturday during a rally aimed at disrupting the International Monetary Fund and World Bank spring meetings.
Protesters assembled at various rallying points throughout Washington before converging in Franklin Square, a few blocks from the White House. A group of more than 100 protestors then marched to the IMF building chanting, "Down with the IMF, down with the World Bank, down with capitalism."
The marchers circled the IMF and World Bank buildings before attempting to turn onto Pennsylvania Avenue, which had been barricaded by police.
A shoving match ensued between protesters and police. One police officer fell to the ground shortly before pepper spray was released into the crowd. According to Cmdr. James Crane of the city's police department, one officer was injured in the scuffle, which occurred after protesters failed to follow police direction and move onto the sidewalk.
One protester was taken from the scene in an ambulance, and one police officer sustained minor injuries.
Earlier Saturday morning, six people were arrested in connection with the vandalism of two banks. Crane said the suspects were believed to be possibly connected to the IMF protest groups.