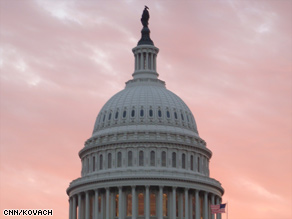 The CNN Washington Bureau's morning speed read of the top stories making news from around the country and the world.
FIRST 100 DAYS
National Report Card: First 100 Days
Live CNN.com and on CNN TV | Apr 29 | 7 p.m. ET
100 days after his inauguration, Obama is graded by you and the Best Political Team
http://www.cnn.com/SPECIALS/2009/44.president/first.100.days/
CNN: Amanpour: Obama's 100 days of foreign affairs
Judging by the hysterical reaction in some quarters, to President Obama's handshake with Venezuelan President Hugo Chavez, or his bow to Saudi Arabia's King Abdullah, you would think that America's national security rested solely on body language not sound policy.
CNN: Borger: GOP in search of change of its own
Since we are all obsessed with President Obama's first 100 days, let's get this out of the way: He's shown himself to understand the ways to communicate and lead as president. His aerobic first three months have taken the term "activist agenda" to a whole new level. He stands shoulder-to-shoulder with leaders on the world stage. He reaches out to the opposition, but only so far. He's an "all-in" president - checking off items on his to-do list almost daily. And more than 60 percent of the public actually likes him - although they don't agree with all of his ideas.
CNN: Reviewing Obama: How he's done so far
In his first 100 days in office, President Obama has made it very clear that he's not afraid to tackle the financial and economic mess he inherited.
Chicago Tribune: Obama at 100 days
A new president who came into office following a bitterly contested election, replacing a polarizing predecessor, gets credit for his low-key style, success in changing the tone in Washington and greater-than-expected popularity with the American people. Barack Obama on the eve of his 100th day in office? Yes, but also George W. Bush at the same juncture in 2001.
NYT: Obama's Stand in Auto Crisis Shows Early Resolve
For a new president, the automobile industry crisis has tested the boundaries of his activist approach and the acuity of his political instincts. As with so many issues in his action-packed 100 days in office, Mr. Obama confronted choices few of his predecessors encountered.
Washington Post: Bruised by Stimulus Battle, Obama Changed His Approach to Washington
During his first 100 days, Obama has moved quickly to strengthen the U.S. economy, refine the American strategy in two foreign wars and reverse Bush-era detention and interrogation policies that have drawn condemnation at home and abroad. But his first weeks in office have also showed a president who, rather than changing Washington, as he pledged during his historic campaign, was being changed by it.
US News & World Report: Obama's 12 Most Important Decisions in His First 100 Days
President Obama has been remarkably busy since he took office in January, making a series of important decisions that have, in some cases, moved the nation in a new direction from the past eight years. Whether the impact will be good or bad, here are the 12 decisions that helped shape Obama's first 100 days and could shape history.
WSJ: Making Sense of a Dizzying Ride
Some people have become a bit cynical about marking a new president's first 100 days, calling the milestone a kind of faux, Hallmark-card moment. Perhaps. But if ever there were 100 days worth marking, it would be those drawing to an end Wednesday.
Bloomberg: Obama Leads by Listening to World Used to Bush One-Way Approach
Barack Obama has used the first 100 days of his presidency to repudiate the go-it-alone tone of George W. Bush's foreign policy, announcing to friends and foes alike that America will lead the world by listening to it.
Business Week: Obama's First Business Report Card
How does the business community think President Barack Obama is doing? As he hits the 100-day mark, there's little doubt the new President is getting high marks overall for his 24/7 moves to revive the economy. And the favorable sentiment on Obama's job performance reflected in many public polls is also mirrored in the views of many business executives.
Denver Post: Potent voice of change
One hundred days into his administration — forced by events and prodded by his own driving leadership style — Barack Obama has brought change to Washington that is bigger, bolder and far more risky than anything he articulated in his historic campaign.
WASHINGTON/POLITICAL
For the latest political news: www.CNNPolitics.com.
CNN: 'Furious' Obama orders review of NY plane flyover
A "furious" President Obama has ordered a review of the decision to fly a Boeing 747 frighteningly close to the lower Manhattan skyline, White House press secretary Robert Gibbs said Tuesday.
CNN: Longtime GOP Sen. Arlen Specter becomes Democrat
Veteran Pennsylvania Sen. Arlen Specter switched from the Republican to the Democratic Party on Tuesday, saying he has found himself increasingly "at odds with the Republican philosophy."
CNN: Sebelius sworn in as Health and Human Services secretary
Kansas Gov. Kathleen Sebelius was sworn in Tuesday night as secretary of Health and Human Services.
CNN: Limbaugh to Specter: Please take McCain with you
Conservative host Rush Limbaugh said Tuesday he isn't sorry to see Arlen Specter leave the GOP — and that many Republicans wish the Pennsylvania senator would take a few others with him when he goes.
CNN: Steele: Specter 'flipped the bird' at GOP
A heated Michael Steele told CNN Tuesday longtime Republican Sen. Arlen Specter essentially "flipped the bird" at the GOP leadership with his decision to bolt from the party he has been a member of for more than four decades.
CNN: Halliburton, KBR sued for alleged ill effects of 'burn pits'
A series of civil lawsuits against defense contractors KBR and its former parent company Halliburton claims the companies endangered the health of U.S. troops and contractors in Iraq and Afghanistan by unsafely burning massive amounts of garbage on U.S. bases.
CNN: Smithsonian exhibit captures history of Obama inauguration
When you think about the Smithsonian, images come to mind of old documents, artifacts and other materials from years gone by. But an exhibit unveiled Tuesday hopes to put forth a snapshot of recent history in the making.
NYT: Official Defends Signing Interrogation Memos
Judge Jay S. Bybee broke his silence on Tuesday and defended the conclusions of legal memorandums he had signed as a Bush administration lawyer that allowed use of several coercive interrogation practices on suspected terrorists.
LA Times: U.S. training of Pakistan army to grow
The Pakistani government has agreed to allow the U.S. a greater role in training its military, part of an accord that will also send counterinsurgency equipment to help Islamabad step up its offensive against militants.
WSJ: Access to List of Clinton Backers Is Sold
Hillary Clinton dropped out of the presidential election last June, but her campaign committee continued to raise millions of dollars this year by selling access to a valuable asset: Mrs. Clinton's vast list of political supporters.
LA Times: Some Democrats skeptical of Specter's party switch
Sen. Arlen Specter's defection from the Republican Party drew cheers Tuesday from President Obama and other top Democrats. But some key players in the party base viewed the move with suspicion - demanding that if Specter wants to call himself a Democrat, he had better start acting like one.
Financial Times: Boost for Obama as Specter defects
President Barack Obama was presented with a timely 99th-day political windfall on Tuesday when Republican lawmaker Arlen Specter switched parties, giving the administration the prospect of a filibuster-proof 60-seat majority in the US Senate.
McClatchy: With Specter's defection, McConnell's job gets that much harder
For Senate Minority Leader Mitch McConnell, Pennsylvania Sen. Arlen Specter's announcement Tuesday that he is switching to the Democratic Party will mean a likely loss of perhaps the greatest tool in the Kentucky leader's arsenal — the filibuster.
Washington Post: 21 Regional Nonprofits Withdraw From United Way
Twenty-one area nonprofit groups have suspended their memberships in the United Way and joined a fledgling competitor, citing years of frustration with a steady decline in workplace giving in the Washington region and lingering distrust of the local United Way since it was nearly destroyed by scandal earlier this decade.
NATIONAL
For the latest national news: www.CNN.com.
CNN: Regular flu has killed thousands since January
There had been no confirmed deaths in the United States related to swine flu as of Tuesday afternoon. But another virus had killed thousands of people since January and is expected to keep killing hundreds of people every week for the rest of the year.
CNN: Dozens of French citizens injured in fatal California crash
Nearly all the passengers in a tour-bus crash that killed four people Tuesday in central California were French, police said.
CNN: Supreme Court rules against networks on indecent speech
The Supreme Court ruled on Tuesday federal regulators have the authority to clamp down on the broadcast TV networks that air isolated cases of profanity, known as "fleeting expletives."
LA Times: Schwarzenegger, Obama boost efforts against swine flu
As isolated outbreaks of swine flu continue to be confirmed around the world, with new cases reported Tuesday in Canada, Israel, France, New Zealand, Costa Rica and South Korea, Gov. Arnold Schwarzenegger proclaimed a state of emergency and the White House asked Congress for an additional $1.5 billion to fight the outbreak.
Chicago Tribune: Swine flu: Airlines work to stay ahead of outbreak
U.S. airlines are scrambling to calm jittery passengers and investors and to address growing concerns about the safety of air travel as swine flu spreads outside of Mexico.
NYT: Many Teachers in Advanced Placement Voice Concern at Its Rapid Growth
A survey of more than 1,000 teachers of Advanced Placement courses in American high schools has found that more than half are concerned that the program's effectiveness is being threatened as districts loosen restrictions on who can take such rigorous courses and as students flock to them to polish their résumés.
USA Today: College recruiters are Twittering, too
College admissions officials, keenly aware that their target audience grows more tech-savvy with every passing year, appear to be getting the hang of social media such as Twitter and Facebook.
Washington Post: Official May Be Fired for Authorizing N.Y. Flyover
White House press secretary Robert Gibbs pointedly refused to rule out a firing in the case of the Air Force One backup's flight that terrified some in New York City on Monday.
Bloomberg: Autistic Kids Have Altered Genes Controlling Brain Development
Autistic children have variations on genes that help neurons route themselves in the brain of a developing fetus, according to a new set of studies that provide evidence how the autistic mind's structure may go awry.
Denver Post: Libraries do balancing act as mentally ill find refuge
They're gathered outside the library before the doors open — the man in the Winnie the Pooh sweatshirt talking loudly to no one, the guy crouched behind the book drop, his torn backpack overflowing with everything he owns.
WSJ: Origin of Au Pairs Becomes Barometer of Labor Market
Mary Poppins is flying across the Atlantic - again.
NYT: Without Cafeteria Trays, Colleges Cut Water Use, and Calories
John Belushi memorialized them in "Animal House" as he stockpiled edible projectiles for an epic food fight. Generations of college students in the Northeast have deployed them as makeshift sleds. But the once-ubiquitous cafeteria tray, with so many glasses of soda, juice and milk lined up across the top, could soon join the typewriter as a campus relic.
CS Monitor: High-schoolers have made little progress since the 1970s, study says
American 17-year-olds aren't performing any better in reading and math than their bell-bottom-clad counterparts in the early 1970s. That's one conclusion from the latest round of a national test tracking long-term educational trends.
Washington Post: Recession Has Changed Lifestyles, Poll Shows
The recession has forced a majority of Americans to alter their lifestyles, and many are upset about it, according to a Washington Post-ABC News poll. Still, many are optimistic about their financial prospects over the next year.
NYT: As More Apply for Welfare, Concern for Those Denied
Even as the welfare rolls in New York State dropped steadily over the last decade, the number of applications in the state increased by 35 percent from 1999 to 2007, according to a report released on Tuesday by the Federation of Protestant Welfare Agencies.
INTERNATIONAL
For the latest international news: http://edition.cnn.com/
CNN: Three cleared of aiding London bombers
A jury Tuesday acquitted three men of charges that they helped the bombers who carried out the July 7, 2005, attacks on the London transportation system.
CNN: World battles swine flu as death toll rises
Governments and health officials around the world continued to take steps Wednesday against the outbreak of swine flu that has killed scores of people in Mexico and spread to the U.S., Europe and possibly Asia.
WSJ: Virus's Arrival Is Reported on Four Continents
More evidence of the global spread of a deadly flu emerged Tuesday, with new cases reported on four continents and a growing number of people in the U.S. requiring hospital treatment.
Al Jazeera: US 'losing control' in Afghanistan
Richard Armitage, a former US deputy secretary of state, has told Al Jazeera that the conflict in Afghanistan may be "spinning out of control".
Jerusalem Post: Obama congratulates Israel on 61 anniversary of independence
The US bond with Israel is "as unshakable as ever" as both nations pursue peace, US President Barack Obama said on Israel's 61st birthday.
Times of London: Taleban advance is halted by Pakistan's combined air and ground onslaught
Pakistani jets pounded Taleban positions and ground troops moved into the northwestern town of Buner yesterday in an escalation of a military offensive against militants seeking to strengthen their grip in a region close to the country's capital.
BBC: Auschwitz note leads to survivor
Auschwitz survivor Albert Veissid does not know who put his name on a list that remained hidden inside a bottle for more than 60 years.
LA Times: Suit by 5 ex-captives of CIA can proceed, appeals panel rules
Five men who claim to have been kidnapped and tortured at the direction of CIA agents are entitled to their day in court to expose alleged U.S. government abuse of terrorism suspects, a federal appeals panel ruled Tuesday.
BUSINESS
For the latest business news: www.CNNMoney.com.
CNN: Citi seeking OK to award bonuses – report
Citigroup is seeking U.S. government approval to award special bonuses to several of its key employees, the Wall Street Journal reported Wednesday.
CNN: Flu shakes travel industry
The swine flu outbreak has set off alarm bells for the $770 billion U.S. travel industry, which one expert warns could become the "ground zero" of the economic impact from this latest health threat.
NYT: Justice Dept. Opens Antitrust Inquiry Into Google Books Deal
The Justice Department has begun an inquiry into the antitrust implications of Google's settlement with authors and publishers over its Google Book Search service, two people briefed on the matter said Tuesday.
Forbes: High Noon For Ken
Bank of America Chairman Kenneth Lewis might not hold that title for much longer.
WSJ: Citi Seeks Approval to Pay Out Bonuses
Citigroup Inc., soon to be one-third owned by the U.S. government, is asking the Treasury for permission to pay special bonuses to many key employees, according to people familiar with the matter.
LA Times: U.S. home prices continue to drop in February
There was more bleak housing news as U.S. home prices continued to fall in February, according to a widely followed index released Tuesday.
NYT: Feeling More Secure, Some Banks Want to Be Left Alone
As Washington pushes banks to mend their finances, the banks are pushing back.
Business Week: Patching the Foreclosure Plan
The U.S. Treasury Dept. broadened the Obama Administration's foreclosure-prevention program on Apr. 28 in a bid to resolve a persistent obstacle to cleaning up problem mortgages. But some financial officials say the fledgling program's success still hinges on controversial legislation pending in Congress, which is also expected to take up another contentious bill that would allow bankruptcy judges to reduce the principal owed on a home.
In Case You Missed It
To watch the latest interviews and reporting: http://www.cnn.com/video.
CNN: Top ten faux pas
The Top 10 Obama faux pas in the first 100 days. Jeanne Moos counts down, from head bump to teleprompter trip-ups.
CNN: Obama vs. 'Truth-O-Meter'
President Obama has made some false statements, but no "pants on fire," according to PolitiFact. CNN's Josh Levs reports.
CNN: Specter switch 'political survival'
RNC chairman Michael Steele says Sen. Arlen Specter switched to the Democratic party for "political survival."