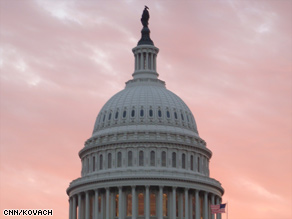 The CNN Washington Bureau's morning speed read of the top stories making news from around the country and the world.
WASHINGTON/POLITICAL
For the latest political news: www.CNNPolitics.com.
CNN: Obama says he doesn't have 'rubber-stamp Senate'
President Obama said Wednesday that he's under no illusions that he'll have a "rubber-stamp Senate" now that Sen. Arlen Specter has switched parties to join the Democrats.
CNN: GOP set to launch rebranding effort
Coming soon to a battleground state near you: a new effort to revive the image of the Republican Party and to counter President Obama's characterization of Republicans as "the party of 'no.'"
CNN: Congress approves $3.44 trillion budget resolution
Congress approved a $3.4 trillion budget for the coming year Wednesday, approving most of President Obama's key spending priorities including increasing in health care, education and alternative energy spending.
CNN: Torture tape delays U.S.-UAE nuclear deal, say U.S. officials
A videotape of a heinous torture session is delaying the ratification of a civil nuclear deal between the United Arab Emirates and the United States, senior U.S. officials familiar with the case said.
CNN: GOP using Specter's own campaign ads against him
After Arlen Specter bolted the GOP Tuesday, Republicans like party chair Michael Steele attacked him as a "leftist" with a history of "left-wing" stands.
Washington Post: Justice Department Backs Plan to Eliminate Cocaine Sentencing Disparity
Justice Department officials yesterday endorsed for the first time a plan that would eliminate vast sentencing disparities between possession of powdered cocaine and rock cocaine, an inequity that civil rights groups say has affected poor and minority defendants disproportionately.
Washington Times: Donors demand refund from Specter
Sen. Arlen Specter's switch to the Democratic Party is prompting his campaign donors large and small to demand their money back, including several Republican senators whose political action committees gave tens of thousands of dollars to the Pennsylvania lawmaker.
WSJ: Obama Aims for Fast Private Sector Exit
President Barack Obama said he wants to get the government out of the private sector as fast as possible - but that as long as his administration is acting as a major shareholder for large sectors of American commerce, from cars to finance, he won't hesitate to shape decisions at those firms.
LA Times: Obama 100-day crystal ball? Don't count on it
It has become more than a cliche: Every new president's first 100 days are a crystal ball foretelling the course of his administration.
Forbes: On 100th Day, Obama Given A Rest On Economy
On the 100th day of his presidency, Barack Obama wanted to have the final say on his progress thus far.
Financial Times: Caterpillar chief hits at 'buy American'
The Obama administration is likely to need another stimulus package if the US's industrial sector is to recover, Caterpillar's chief executive said on Wednesday.
Washington Post: On First Day as Democrat, Specter (Again) Bucks His Party
Sen. Arlen Specter (Pa.) began his first full day as a Democrat since the early 1960s at a party-switching celebration hosted by President Obama and Vice President Biden. He ended it by casting another vote against Obama, opposing his budget as too authoritarian in the rules it establishes for the health-care debate later this year.
Washington Times Exclusive: Steele fights back against RNC 'scheme'
The embattled Republican National Committee chairman angrily returned fire in his fight with current and former officers over control of the GOP's purse strings.
Times of London: Barack Obama invokes Churchill in repudiation of CIA 'torture'
President Obama last night waded back into the bitter controversy over the CIA's harsh interrogation of terror suspects by declaring clearly that the waterboarding authorised by the Bush Administration was torture.
CS Monitor: Obama channels FDR in prime time press conference
Banks failing and the economy in shambles, the new U.S. president reassured a nationwide audience that his administration was putting America back on the right track.
USA Today: Justice Kennedy questions need for voting rights rule
The Supreme Court justice who could cast the deciding vote on federal oversight of election law in states with a history of discrimination questioned the need for a core provision of the law during vigorous arguments Wednesday.
WSJ: Tough Call Looms for Minnesota Governor
By switching parties and handing Democrats a crack at a filibuster-proof majority, former Republican Sen. Arlen Specter could be putting another Republican - presidential hopeful and Minnesota Gov. Tim Pawlenty - in a political bind.
Washington Post: RNC Move Seen as Bid To Rein In Chairman
A group of Republican National Committee members is circulating a resolution that would limit how much Chairman Michael S. Steele could spend without authorization from other party leaders, a move some Steele backers say is an attempt to limit the authority of the sometimes controversial chairman.
WSJ Op-Ed: Rove: Obama Outsources His Presidency
While officials in the Obama White House dismissed yesterday's "100 Days" anniversary as a "Hallmark Holiday," they understood it was what sociologist Daniel J. Boorstin called a "pseudo-event." By that, Boorstin meant an occasion that is not spontaneous but planned for the purpose of being reported - an event that is important because someone says so, not because it is.
Washington Post: Milbank: Milk the Drama, Obama
There must have been 50 ways to celebrate the 100 days. Hop on the plane, Barack Hussein. Let the words flow, Joe. Go out and be glib, Gibbs. Get yourself on TV. Try some oratory, Harry. No need to be fancy, Nancy. Just do MSNBC, Valerie. The airtime is free.
NATIONAL
For the latest national news: www.CNN.com.
CNN: WHO raises pandemic alert to second-highest level
The World Health Organization on Wednesday raised its pandemic alert to 5, its second-highest level, warning of widespread human infection from the swine flu outbreak that originated in Mexico.
CNN: More than 100 U.S. schools closed because of swine flu
At least 74 schools have closed across the country because of confirmed or probable cases of swine flu and 30 more have closed as a precautionary measure, the Department of Education said Wednesday.
CNN: Lawyer in 2007 TB scare sues CDC
An Atlanta, Georgia, lawyer, whose well-publicized bout with tuberculosis caused an international health scare, is suing the Centers for Disease Control and Prevention for invasion of privacy.
NYT: Containing Flu Is Not Feasible, Specialists Say
"Containment is no longer a feasible option," Dr. Keiji Fukuda, deputy director general of the World Health Organization, announced Monday night in Geneva after a meeting of the agency's emergency committee on the spreading swine flu virus. "The world should focus on mitigation. We recommend not closing borders or restricting travel."
LA Times: Scientists see this flu strain as relatively mild
As the World Health Organization raised its infectious disease alert level Wednesday and health officials confirmed the first death linked to swine flu inside U.S. borders, scientists studying the virus are coming to the consensus that this hybrid strain of influenza - at least in its current form - isn't shaping up to be as fatal as the strains that caused some previous pandemics.
Boston Globe: Swine flu cases confirmed in N.E.
With global health authorities declaring that the world stands on the precipice of a pandemic, disease trackers in Massachusetts confirmed yesterday that swine flu had arrived in New England.
CS Monitor: Schwarzenegger tweets about swine flu. So does everyone else.
When two cases of swine flu turned up in northern California Tuesday, Gov. Arnold Schwarzenegger reached for his BlackBerry.
NH Union Leader: 13-11 vote sends gay-marriage bill to Lynch
A bill legalizing same-sex marriage in New Hampshire passed the Senate yesterday on a historic 13-11 vote.
Washington Post: Tracking How Stimulus Dollars Are Tracked
A vocal cross section of technology experts, academics, good-government groups and federal employees weighed in this week on the future of Recovery.gov, the Obama administration's Web site that officials promise will eventually track every single dollar of the federal stimulus.
WSJ: U.S. Gas Fields Go From Bust to Boom
A massive natural-gas discovery here in northern Louisiana heralds a big shift in the nation's energy landscape. After an era of declining production, the U.S. is now swimming in natural gas.
BBC: Cancer pill 'offers MS benefits'
Courses of a common cancer drug can dramatically reduce the risk of a patient with multiple sclerosis having a relapse or deterioration, work shows.
LA Times: Recession hits immigrant workforce harder than native workforce
Immigrants have been hit harder than native-born Americans by the recession, with larger increases in joblessness among both educated and uneducated workers, according to a study released today.
Chicago-Tribune: Victims of economy: 250,000 more forced into poverty in Chicago area, report says
The economic downturn will push another 250,000 Chicago-area residents into poverty, according to a report released Thursday by the Heartland Alliance Mid-America Institute on Poverty.
Telegraph UK: The wheelchair controlled by the mind
It could allow those whose disabilities prevent them from using a conventional joystick to get around merely by thinking about where they want to go.
Denver Post: Paralyzed teen wins $18 million
A former Weld County high school cheerleading captain who was left a quadriplegic after a rollover accident was awarded $18 million in damages by a U.S. District Court jury in Denver.
USA Today: First-time buyers find deals, help perk up house sales
Kelly Butler just got a bargain. Sure, her new three-bedroom home came with fake barn wood nailed to the bathroom walls, carpet that had to be ripped up, broken closet doors and a need for plumbing and tile work.
WSJ: Oakland Council Backs a Tax on Marijuana
Leaders of this economically hard-hit city are proposing to tax medical marijuana as a way to help close a record budget shortfall.
LA Times: LAPD ties 72-year-old man to two waves of serial killings
The first wave of slayings haunted Los Angeles in the mid-1970s. The killer slipped mostly unseen through the night, preying on older women who lived alone. He raped them and squeezed their necks until they passed out or died. On the 17 who were killed, he placed pillows or blankets over their faces.
NYT Op-Ed: Kristof: Is Rape Serious?
When a woman reports a rape, her body is a crime scene. She is typically asked to undress over a large sheet of white paper to collect hairs or fibers, and then her body is examined with an ultraviolet light, photographed and thoroughly swabbed for the rapist's DNA.
NYT: Many Derby Owners Silent on Drug Issue
The death of the filly Eight Belles at last year's Kentucky Derby, along with the revelation that Big Brown had been treated with steroids before his dazzling victory, spurred pledges of reform and accountability for the welfare of the American thoroughbred.
INTERNATIONAL
For the latest international news: http://edition.cnn.com/
CNN: Doctors target meningitis outbreak in Africa
Doctors Without Borders has embarked on a massive vaccination campaign in three African countries to combat an outbreak of meningitis that has killed hundreds of people, the organization said Wednesday.
CNN: Baghdad car bombings over 4 hours kill 48
Six car bombings in four hours killed 48 people and wounded 81 in various Baghdad neighborhoods Wednesday, according to Iraq's Interior Ministry
Bloomberg: Mexico Plans Partial Shutdown to Reduce Spread of Swine Flu
Mexican officials said the federal government will suspend all non-essential services and urged businesses to close to reduce the risk of spreading swine flu.
WSJ: Germany Considers Taking Guantanamo Detainees
Germany's Interior Minister agreed to consider accepting former inmates from Guantanamo Bay - a shift that could help the U.S. shut down the detention center for terrorism suspects - as a Spanish judge said he was opening a criminal probe into inmates' allegations they were tortured by U.S. officials.
LA Times: South Korea's wartime sex slaves: Hoping for closure at the end of their lives
Kang Il-chul rides in the back of a van packed with gossiping old women. The 82-year-old girlishly covers her mouth to whisper a secret.
BBC: India voting 'enters key phase'
Voting is taking place in India in the third of five stages of the country's marathon general election.
Jerusalem Post: PM to tell Obama he accepts 'some form' of Arab peace plan
Prime Minister Binyamin Netanyahu plans to tell US President Barack Obama that Israel will accept "some form" of the Arab Peace Initiative, The Jerusalem Post has learned.
McClatchy: At former British prison, Somali pirates tell their side
Their exploits have turned the inky-blue waters of the Indian Ocean into a perilous gantlet for ships and an unlikely security challenge for world leaders. But behind the bare brick walls of a desolate former British colonial prison here, five jailed Somali pirates didn't seem very fearsome at all.
BUSINESS
For the latest business news: www.CNNMoney.com.
CNN: Chrysler bankruptcy may be near
Chrysler LLC's struggle to avoid bankruptcy appeared to suffer a blow when talks between lenders and the Treasury Department aimed at cutting the automaker's debt broke down, according to published reports early Thursday.
CNN: Ken Lewis out as BofA chairman
Bank of America chief executive officer Ken Lewis was ousted from his role as chairman of the bank after shareholders approved a proposal to require that the company have an independent chairman.
NYT: Name Hurts Main Unit of A.I.G.
Less than two months after changing its name, the biggest and best-known unit of American International Group is preparing to change its name again, in the latest sign of damage to one of the world's most famous brands.
WSJ: Chrysler Chapter 11 Is Imminent
Talks between the Treasury Department and lenders aimed at keeping Chrysler LLC out of bankruptcy broke down Wednesday, making it all but certain the car maker will file for Chapter 11 protection Thursday, according to people familiar with the discussions.
Forbes: Asian Stocks Surge On Economic Optimism
Exporters led Asian stocks higher Thursday as a rise in U.S. consumer spending and positive comments from the U.S. central bank suggested the global recession may be easing. Sentiment in Japan was helped by a greater than expected rise in factory output in March, and drug and medical equipment makers continued to rally after the World Health Organization raised its threat alert for swine flu to level five.
Bloomberg: Obama Pushes Chrysler-Fiat Deal as Bankruptcy Is Said to Loom
President Barack Obama said he is hopeful that Chrysler LLC will be able to forge an alliance with Italian carmaker Fiat SpA as the U.S. company prepares for bankruptcy.
Financial Times: Fed expects weakness to persist
The Federal Reserve kept policy unchanged at Wednesday's policy meeting and noted that the "economic outlook has improved modestly since the March meeting."