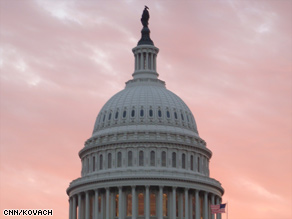 The CNN Washington Bureau's morning speed read of the top stories making news from around the country and the world.
WASHINGTON/POLITICAL
For the latest political news: www.CNNPolitics.com.
CNN: Obama likely to pick female nominee?
In the very early stages of the selection process to replace Justice David Souter, Obama administration officials say there is a strong inclination to pick a woman, but stress there is no short list and the field of candidates is wide open.
CNN: Rice: Bush wouldn't approve illegal interrogations
Former Secretary of State Condoleezza Rice defended the Bush administration's policies on the interrogation of terrorism suspects Sunday, saying former President George W. Bush would not have authorized anything illegal.
CNN: Specter: Switch should be 'wake-up call' to GOP
Veteran Pennsylvania Sen. Arlen Specter said Sunday that he hopes his recent switch to the Democratic Party will serve as a "wake-up call" to an increasingly conservative GOP.
CNN: Sestak says he's 'not sure' Specter's a Democrat yet
Pennsylvania Rep. Joe Sestak told CNN Sunday that he wasn't sure Sen. Arlen Specter is really part of the Democratic Party, the latest in a series of tough comments aimed at his potential Senate primary rival.
CNN: Former Republican VP candidate, congressman Kemp dies
Former congressman and Republican vice presidential candidate Jack Kemp died Saturday at age 73 after a battle with cancer, his family announced.
CNN: Conservatives prepare for Supreme battle
Few issues rally conservatives as much as a Supreme Court nomination - and activists are wasting no time gearing up for a battle.
NYT: Senators Accuse Pentagon of Delay in Recovering Millions
The Pentagon has done little to collect at least $100 million in overcharges paid in deals arranged by corrupt former officials of Kellogg Brown & Root, the defense contractor, even though the officials admitted much of the wrongdoing years ago, two senators have complained in a letter to Defense Secretary Robert M. Gates.
Washington Post: 4th-Grader Questions Rice on Waterboarding
Days after telling students at Stanford University that waterboarding was legal "by definition if it was authorized by the president," former secretary of state Condoleezza Rice was pressed again on the subject yesterday by a fourth-grader at a Washington school.
Forbes: What Souter's Exit Means For Business
Justice David Souter's retirement from the Supreme Court gives President Obama an opportunity to appoint a left-leaning justice. How scared should business be? Not very.
Jerusalem Post: Gingrich tells 'Post': Obama endangering the Jewish state
Former US House Speaker Newt Gingrich on Sunday blasted the Obama administration for setting itself on a collision course with Israel and endangering the Jewish state, ahead of his address to the American Israel Public Affairs Committee (AIPAC).
Newsweek: That's One Classy Mom
Michelle Obama likes to call herself the "mom in chief." Images abound of the first lady frolicking on the White House swing set with Malia and Sasha. Basically, you'd have to be living under a rock not to know that Michelle is a mama. Yet when people were asked in a recent Pew Research poll to pick one word to describe her, only seven out of the 765 surveyed used the word "mother." (The most common was "classy.") In a similar 2001 poll, 24 out of 1,212 described Laura Bush as a mother—a slightly higher ratio—even though her daughters were in college.
Baltimore Sun: GOP barely hangs on in Maryland
Even before Pennsylvania Sen. Arlen Specter switched to the Democratic side, Republican leaders were warning that their national party was in danger of becoming a regional one.
Boston Globe: Accidental deaths plaguing US in Iraq
The 130,000 American troops serving in Iraq are more likely to die in accidents, from natural causes, or in other "nonhostile" incidents than at the hands of insurgents, according to Defense Department statistics for the past eight months ending in April.
NATIONAL
For the latest national news: www.CNN.com.
CNN: Confirmed cases of H1N1 virus approach 900
The World Health Organization cautioned that the swine flu outbreak could gain momentum in the months ahead, despite claims by the health secretary of Mexico - the epicenter of the outbreak - that the virus "is in its declining phase."
CNN: Cowboys scout paralyzed after canopy collapse
A Dallas Cowboys scouting assistant suffered a broken back and has been permanently paralyzed after the collapse of the team's practice canopy during a heavy thunderstorm, the Cowboys announced Sunday.
CNN: Image shows what missing tot Madeleine McCann may look like
The parents of missing English toddler Madeleine McCann on Friday unveiled a digitally enhanced picture showing what she might look like today if she is still alive.
Washington Post: The Pork Lobbyists, Ready to Reassure
It was Day 7 of the great swine flu outbreak, and inside the eighth-floor conference room in a concrete hulk of an office building on Capitol Hill, the pork lobbyists were in crisis mode. The National Pork Producers Council, whose members were watching with dismay as hog prices fell, labored to reverse the public dialogue about the fast-spreading virus and to convince consumers that the "other white meat" was still safe to eat.
WSJ: The Age of Pandemics
In 1967, the country's surgeon general, William Stewart, famously said, "The time has come to close the book on infectious diseases. We have basically wiped out infection in the United States." This premature victory declaration, perhaps based on early public health victories over 19th-century infectious diseases, has entered the lore of epidemiologists who know that, if anything, the time has come to open the book to a new and dangerous chapter on 21st-century communicable diseases.
LA Times: Schools consider four-day weeks
Facing deep funding cuts during the economic downturn, increasing numbers of school districts nationwide are contemplating trimming the traditional school week to four days to save money.
USA Today: Seniors at home in co-housing
Projects such as Silver Sage are called co-housing. European-inspired housing built around a common area and a social compact that all residents agree to, co-housing has existed on a small scale in the USA for years. Now, the concept is coming to senior housing, a trend supported by advocates who favor independent living for the old.
Washington Post Op-Ed: Spellings: 'No Child' in Action
Student achievement results from the "nation's report card" published last week show that we are on the right track. Since enactment of the bipartisan No Child Left Behind Act, which called for all students to be on grade level in reading and math by 2014, students have been making progress in reading and math in elementary and middle school. Improvement has been greatest for African American and Hispanic students and those students who are lowest-achieving.
LA Times: Army extends immigrant recruiting
Starting today, 10 Los Angeles-area Army recruiting offices will begin taking applications from some foreigners who are here on temporary visas or who have been granted asylum.
Boston Globe: Agree or else, Globe tells unions
Boston Globe management was continuing to negotiate concessions with its major unions well past a midnight deadline, but said it was prepared to file a plant closing notice with the state today if they failed to reach agreement. That would allow the paper's owner, the New York Times Co., to follow through on its threat to shutter the 137-year-old newspaper.
Chicago Tribune: Fast-food chains push lower-priced items, seek higher profit margins
Before the recession, Andrew Puzder, who heads the Hardee's and Carl's Jr. burger chains, liked to joke about how sharp-priced competitors were "giving food away."
Kansas City Star: FBI's art crime team is finding missing masterpieces
The art crime team formed in 2004 to combat the multimillion-dollar trade in stolen art and items of cultural and historical significance that transcends international boundaries. It has recovered more than 1,000 items worth more than $135 million.
INTERNATIONAL
For the latest international news: http://edition.cnn.com/
CNN: Tribunal: Opposition leader wins Panama presidential race
Opposition leader and supermarket mogul Ricardo Martinelli has won Panama's presidential election, the head of the country's electoral tribunal said Sunday.
CNN: Nepal government splits over general's firing
Nepal's government ordered the country's army chief of staff fired Sunday, touching off street protests and a split in Nepal's Maoist-dominated ruling coalition.
CNN: Egyptian farmers protest mandatory swine slaughter
Pig farmers threw rocks at police officers in Cairo, Egypt, on Sunday as health workers gathered the farmers' herds for slaughter in what the government says is a precaution against the spread of swine flu, an interior ministry official told CNN.
CNN: Pirates seized after threatening French navy ship
The French Navy said they seized 11 pirates Sunday after they apparently mistook a French military vessel for a commercial ship and made a run at it.
Times of London: Government to close lifeline for Iraqi interpreters in two weeks
The Government has been accused of deserting former Iraqi interpreters who risked their lives for Britain, after announcing that it would close its assistance scheme in a fortnight.
NYT: Pakistan Strife Raises U.S. Doubts on Nuclear Arms
As the insurgency of the Taliban and Al Qaeda spreads in Pakistan, senior American officials say they are increasingly concerned about new vulnerabilities for Pakistan's nuclear arsenal, including the potential for militants to snatch a weapon in transport or to insert sympathizers into laboratories or fuel-production facilities.
WSJ: Slump Hits Armenia Despite Its Isolation
Most countries hammered by the financial crisis ran into trouble because their banks crumbled, their exports collapsed or they ran up too much debt. Armenia, a landlocked nation of three million in the Caucasus, has a different problem.
Bloomberg: Iraq Bombs May Slow U.S. Pullout as Splits Fuel Fresh Violence
The recent spate of bombings in Iraq means U.S. officials may have to keep troops there longer than they planned, and Iraqis may have to live with a higher level of violence than they wish.
Al Jazeera: Tsvangirai: Zimbabwe is broke
Zimbabwe's unity government is out of money and is unable to meet demands by unions for higher wages, the country's prime minister has said at a May Day rally.
BUSINESS
For the latest business news: www.CNNMoney.com.
CNN: Buffett: Berkshire looking to deal
Berkshire Hathaway is ready to make a deal at the right price, but it has nothing in its shopping cart right now, CEO Warren Buffett said Sunday.
CNN: Freelance is the new full-time
As unemployed Americans struggle to find full-time work, many will have to settle for positions that are easier to come by – freelance.
CNN: Obama: Reduced role for financial sector – report
The financial sector will make up a smaller part of the U.S. economy in the future as new regulations clamp down on "massive risk-taking," President Barack Obama said in an interview published Saturday.
Bloomberg: Citigroup Said to Weigh Capital Boost That Averts U.S. Control
Citigroup Inc., girding for results of the Federal Reserve's bank stress test, may try to wring capital from private investors instead of U.S. bailout funds as a way of bolstering equity without ceding control to the government, people briefed on the matter said.
WSJ: New York Fed Chairman's Ties to Goldman Raise Questions
The Federal Reserve Bank of New York shaped Washington's response to the financial crisis late last year, which buoyed Goldman Sachs Group Inc. and other Wall Street firms. Goldman received speedy approval to become a bank holding company in September and a $10 billion capital injection soon after.
Financial Times: Fiat plans European car supergroup
Sergio Marchionne, Fiat chief executive, is on Monday due to outline plans to transform the global automotive landscape by spinning off Fiat's core cars division, joining it with Chrysler and General Motors Europe, and creating a new publicly traded European car company.
Washington Post: How OpenTable Could Actually Matter
Dot com meltdown survivor and restaurant reservation software company OpenTable had been a rumored IPO candidate for a while. Still, it shocked many when it finally filed its intention to debut on the Nasdaq back in January. What? Does this company just have a thing for market meltdowns?
Business Week: GM: The Government Is in Charge
The Obama Administration has "no desire to run an auto company on a day-to-day basis," says White House spokesman Robert Gibbs. If so, somebody forgot to tell the team of Treasury Dept. staffers and management consultants now camped out at the Detroit Renaissance Center, a hotel and office complex anchored by General Motors' (GM) headquarters. There, GM executives are mapping out a survival strategy ahead of a government-imposed June 1 deadline to squeeze concessions from bondholders and the United Auto Workers union or face bankruptcy.
In Case You Missed It
To watch the latest interviews and reporting: http://www.cnn.com/video.
CNN: New face of homelessness
Out of work and with nowhere to go. CNN's Kate Bolduan reports on the changing face of homelessness.
CNN: 9-year-old patient rocks out
9-year-old cancer patient Noah O'Neal makes his debut as a rock star. KSDK's Mike Bush reports.
CNN: Immigration back in focus
Former Massachusetts Gov. Mitt Romney offers his take on the immigration debate making a return appearance in the nation's capital.
CNN: Cantor, Romney on GOP future
House Minority Whip Eric Cantor and former GOP presidential candidate Mitt Romney talk turnign the GOP around.