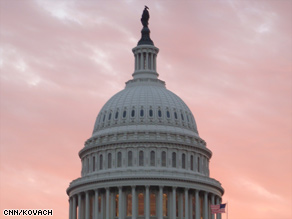 The CNN Washington Bureau's morning speed read of the top stories making news from around the country and the world.
WASHINGTON/POLITICAL
For the latest political news: www.CNNPolitics.com.
CNN: Obama: Afghanistan, Pakistan, U.S. working to defeat extremists
President Barack Obama said Wednesday that the leaders of Afghanistan, Pakistan and the United States are meeting "as three sovereign nations joined by a common goal: to disrupt, dismantle and defeat" al Qaeda and the Taliban.
CNN: White House plans to release plane flyover report, photo
The White House indicated Wednesday that a report and a photo from the controversial low-altitude New York flyover by a 747 plane used as Air Force One could be released soon.
CNN: Obama tones down National Day of Prayer observance
For the past eight years, the White House recognized the National Day of Prayer with a service in the East Room, but this year, President Obama decided against holding a public ceremony.
CNN: Limbaugh to Powell: 'Become a Democrat'
Rush Limbaugh fired back at Colin Powell for his critical comments earlier this week, saying Wednesday that the former secretary of state should join the Democratic Party.
CNN: Reid discusses Obama's 'I have a gift' quote
In his interview with CNN Wednesday, Senate Majority Leader Harry Reid discussed a 2005 encounter with then-Sen. Barack Obama, when the newly-elected senator declared, "I have gift."
Washington Post: U.S. Halts Pilot Program in New York to Detect Biological Attacks
The Department of Homeland Security is dismantling a next-generation biological attack warning system in New York City subways because of technical problems, U.S. officials said.
NYT: F.B.I. To Pay for Anthrax Inquiry Review
The Federal Bureau of Investigation has agreed to pay $879,550 to the National Academy of Sciences for a 15-month review of its scientific work on the anthrax investigation, academy officials said, but the review will not assess the bureau's detective work or its conclusion that an Army microbiologist, Bruce E. Ivins, sent the deadly letters in 2001. The academy panel will review genetic fingerprinting that led agents to Dr. Ivins's Maryland laboratory, as well as clues to how and where the anthrax was grown and dried. Some colleagues of Dr. Ivins, who killed himself in July, have expressed doubt that he mailed the anthrax.
WSJ: Audit Faults FBI Handling of Terrorist Watch List
The Federal Bureau of Investigation is sometimes dangerously slow to add suspects to the nation's terrorist watch list, and even slower to remove those cleared of suspicion, an internal audit found.
WSJ: Budget Proposes Cuts in 121 Programs
President Barack Obama's detailed 2010 budget plan, due out Thursday, will propose to eliminate or consolidate 121 domestic and defense programs to save $17 billion, administration officials said Wednesday.
USA Today: Rice glad to be out of political spotlight
Condoleezza Rice does not miss her old job.
LA Times: Democrats face hard time over Guantanamo
President Obama's decision to close the Guantanamo Bay detention facility in Cuba, one of his first acts after taking office, is putting fellow Democrats on the political hot seat as word spreads that terrorism suspects and other detainees would be relocated to the U.S. or transferred to domestic prisons.
Bloomberg: 'Blue Dog' Democrats Ask for Billions in Spending
U.S. Representative Jim Marshall is a Georgia Democrat and a member of his party's Blue Dog Coalition, a group of lawmakers bound by a desire to restrain federal spending. The Blue Dogs have something else in common: a fondness for funding pet projects.
Washington Post: N.Y. Federal Judge Likely on Shortlist
George M. Pavia remembers being instantly impressed with the young woman he hired for his law firm in 1984. Sonia Sotomayor had graduated summa cum laude at Princeton, edited the Yale Law Journal in law school and had courtroom experience in the Manhattan prosecutor's office.
NYT Op-Ed: Geithner: How We Tested the Big Banks
THIS afternoon, Treasury, the Federal Deposit Insurance Corporation, the Office of the Comptroller of the Currency and the Federal Reserve will announce the results of an unprecedented review of the capital position of the nation's largest banks. This will be an important step forward in President Obama's program to help repair the financial system, restore the flow of credit and put our nation on the path to economic recovery.
Washington Times: Senator, defying other Dems, to seek Gitmo funds
The Senate's top appropriator Monday vowed to restore funding President Obama requested to close the Guantanamo Bay prison camp, challenging his own Democratic Party leaders who expressed skepticism about the administration's plan.
NYT: Emphasis on Al Qaeda at Three-Way Talks
Confronting a deteriorating situation in Afghanistan and Pakistan, President Obama said Wednesday that the United States was deeply committed to helping the two countries defeat Al Qaeda and its extremist partners, and in helping democracy endure and flourish.
Washington Post Op-Ed: Sen. Kerry & Dreier: A Friend To Georgia And Russia
As the Obama administration seeks a fresh start in our strained relationship with Russia, the case for cooperation with Moscow on everything from nuclear terrorism to global finance is clear and compelling. So, too, is the case for protecting the freedom and sovereignty of the fledgling democracies on Russia's borders. We must do both
LA Times Op-Ed: Amar & Ayers: Why not nominate vice justices for the Supreme Court?
As if President Obama did not have enough on his plate! He will soon need to nominate a Supreme Court justice to replace David H. Souter, who intends to retire. While Obama is at it - and to make things easier next time around - perhaps he should consider nominating a second justice now, to fill whatever vacancy might arise after Souter's departure.
WSJ Op-Ed: Rove: Republicans and Obama's Court Nominees
Few events mobilize as many interest groups and set Washington atwitter as much as a Supreme Court vacancy. In the Bush White House, I served on a five-person committee charged with recommending nominees for Supreme Court vacancies. We had the opportunity to do so twice, though admittedly it took us three nominees.
USA Today: FDA is failing to meet its food-safety inspection audit goals
The Food and Drug Administration is failing to meet its goals for auditing food-safety inspections that states do on its behalf, FDA data show. The FDA fell short of its goal in at least 17 of 39 states it paid to do inspections in the 2007-08 contract year, according to data the FDA gave USA TODAY. In five states, the FDA did no audits. State agencies do half the FDA's food inspections. The FDA aims to audit 7% to help make sure states do good inspections
NATIONAL
For the latest national news: www.CNN.com.
CNN: Lawmakers approve same-sex marriage in N.H., Maine
Lawmakers voted in favor of same-sex marriage in New Hampshire and Maine on Wednesday, leaving Rhode Island as the only other New England state without legislation in favor of the issue.
CNN: Texas police will return cash in case that prompted lawsuit
Authorities who seized $8,500 and assorted jewelry from a Tennessee man after a traffic stop in east Texas have agreed to return the property after his case drew attention from CNN.
CNN: Florida priest removed after beach photos with woman published
An internationally known Catholic priest sometimes called "Father Oprah" has been removed from his posts in Florida after published photos showed him lying down bare-chested in an embrace with a woman on a beach.
CNN: Another racy Prejean photo emerges; site promises more
A second lingerie-modeling photo of Miss California USA Carrie Prejean has appeared after she assured pageant officials this week that the earlier shot was the only one she had appeared in.
USA Today: No stimulus for police after past violations
Twenty-six police agencies in 16 states are barred from receiving shares of $1 billion in federal stimulus money to hire more officers after misusing millions of dollars in prior aid, Justice Department documents show.
WSJ: Civil-Rights Gains Test New Memorials' Relevance
Does the America of 2009, led by an African-American president, need any more museums or monuments to the struggle for civil rights? The question hangs over the proposed Center for Civil and Human Rights in Atlanta where organizers in Martin Luther King Jr.'s hometown are trying to raise a total of $125 million for the planned facility. Last month, they unveiled renderings of the museum's design and said the facility, scheduled to open in 2011, already has commitments for about $20 million in private support and $40 million in publicly backed funding.
NYT: With Gay Issues in View, Obama Is Pressed to Engage
President Obama was noticeably silent last month when the Iowa Supreme Court overturned the state's ban on same-sex marriage.
NYT: Mothers in Crisis Turn to Temporary 'Parents'
After resolving to leave her longtime but violent partner in March, Janai Parahams, 25 and jobless, wanted to make a fresh start. But she felt trapped: she was tending four small children with no family support or child care. She could scarcely leave her house, let alone find a job and a new place to live.
Bloomberg: Swine Flu Travels to Poland as 1,893 Confirmed Ill
A 58-year-old Polish woman was hospitalized with swine flu after returning home from a trip to New York, bringing the number of influenza cases worldwide to 1,893 in 24 countries.
Boston Globe: State seeks to revamp way doctors, hospitals are paid
Massachusetts soon may embark on another bold healthcare experiment, with a state commission poised to recommend this month that insurers radically change how they pay doctors and hospitals.
Times of London: Wrongly accused people could have DNA on database for 12 years
The DNA profiles of people released without charge or found not guilty by a court could be stored for up to 12 years on a national police database.
Washington Post: U.S. Running Out of Time to Join Shanghai Expo
The Web site for the Shanghai 2010 Expo displays picture after picture of gleaming national pavilions that are under construction in anticipation of the grand opening a year from now. Virtually every country in the world is participating in a six-month event that is expected to attract 70 million visitors at a site twice the size of Monaco, with the Chinese government spending $7.3 billion to demonstrate its new global standing.
WSJ: U.S., Europe Are Ocean Apart on Human Toll of Joblessness
In Germany, losing his factory job didn't stop Alfred Butt from taking a Mediterranean vacation this winter. Thanks to generous jobless benefits, being out of work "hasn't changed my life that much," Mr. Butt says.
CS Monitor: California prisons could get tougher on cellphones
California state senators on Wednesday passed a bill making it a crime for prisoners to possess a cellphone or for anyone to smuggle one into an inmate. The bill, which passed by a 35-0 margin, now heads to the Assembly, where it will be heard this summer.
Bloomberg: Shaved Heads Keep Barbers Idle as Drought Sears California
The drought in California's Central Valley is so severe that it's drying up money for haircuts.
Anchorage Daily News: Gasoline-powered car now runs on batteries
Mel Langdon's 1985 Toyota Tercel got a new lease on life Sunday when, after 21 hours of work, University of Alaska Fairbanks undergraduate Michael Golub turned the key on a new electric motor.
INTERNATIONAL
For the latest international news: http://edition.cnn.com/
CNN: Blackwater era ending in Iraq
The troubled Blackwater era ends in Iraq on Thursday as another firm takes over the once-dominant company's security services contract in Baghdad.
CNN: China: 2008 quake killed 5,335 students
A magnitude-7.9 earthquake that struck southwestern China last year killed 5,335 students and left an additional 546 children disabled, state media reported.
CNN: Germany refuses to halt Demjanjuk transfer
A German court Wednesday rejected an effort by suspected Nazi war criminal John Demjanjuk to block his expected transfer from the United States to Germany.
NYT: Economic Crisis Raises Fears of Extremism in Western Countries
A solid majority of people in the major Western democracies expect a rise in political extremism in their countries as a result of the economic crisis, according to a new poll.
LA Times: Pakistan appears unprepared for 'massive displacement'
As the number of people leaving their cattle sheds and mountain houses increases, so do the questions: Why was Islamabad apparently caught off guard by the large numbers of displaced? Why hasn't there been better coordination between the army and provincial agencies? What impact will these legions of dispossessed have on Pakistan's fight with the Taliban and its political stability?
Chicago Tribune: The Other Dangers in Pakistan
If you want Americans to pay attention to Pakistan - not an easy thing to do - your best bet is to conjure up images of Armageddon. The Obama administration, being put out with the Islamabad government, has decided understatement is no virtue. Secretary of State Hillary Clinton recently pronounced Pakistan nothing less than "a mortal threat" because it is "abdicating to the Taliban."
BBC: Delhi's turn in Indian election
Polling is under way in the fourth stage of India's marathon five phase general election with the capital, Delhi, one of the key battlegrounds.
BUSINESS
For the latest business news: www.CNNMoney.com.
CNN: Regulators put bank CEOs on notice
Banks that need more capital under the stress tests will have a month to present regulators with a fundraising plan, federal officials said Wednesday.
CNN: Stress test day arrives at last
At long last, investors will get some much-needed answers about whether the nation's biggest banks need more capital - and how much.
CNN: VW and Porsche to merge
Iconic German automakers Volkswagen and Porsche have reached an agreement to merge operations - the latest move in an industry that has seen whiplash changes in recent weeks.
NYT: As Stress Tests Are Revealed, Markets Sense a Turning Point
The results of the bank stress tests have been trickling out for days, from Washington and from Wall Street, and the leaks seem to confirm what many bankers feel in their bones: despite all those bailouts, some of the nation's largest banks still need more money.
WSJ: Banks Need at Least $65 Billion in Capital
The Federal Reserve directed at least seven of the nation's biggest banks to bolster their capital levels by $65 billion while effectively blessing the stability of six others, marking for the first time a bold line between some of the nation's stronger and weaker banks.
LA Times: Amazon's Kindle has a big job: saving the newspaper industry
It's not even 10 inches tall, it's just one-third of an inch thick, and it costs nearly $500. But Amazon.com Inc.'s Kindle DX, unveiled Wednesday, has already been assigned a huge job: reversing the fortunes of the struggling newspaper industry.
WSJ: As SEC Steps Up Vigilance, It's Policing Some New Beats
The Securities and Exchange Commission has put credit-derivatives traders on notice: Their once-inscrutable corner of Wall Street is now in regulators' cross hairs.
Financial Times: Porsche and VW agree merger
Volkswagen and Porsche announced plans to merge on Wednesday in a move that would relieve the sports carmaker from its debt burden and bring the 3½-year takeover saga surrounding Europe's largest carmaker to an end.